Back to Blog
How to have video meetings—without downloading apps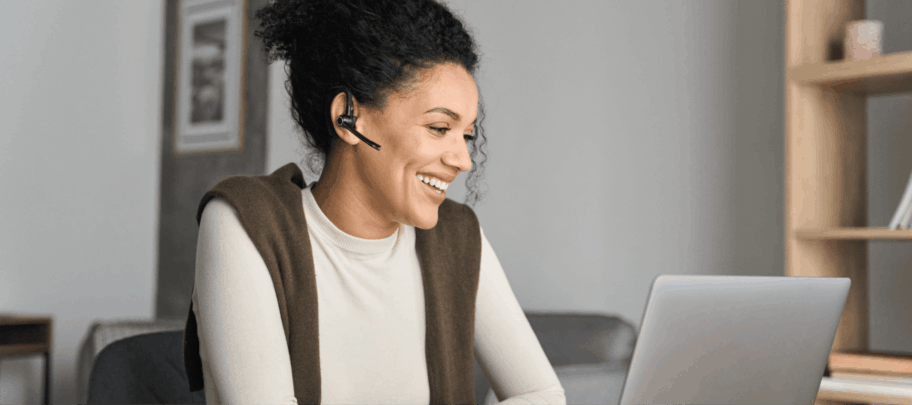 Video conferencing is essential for today's businesses, especially as remote and hybrid work becomes commonplace. They let us connect with colleagues, coworkers, customers, and clients from anywhere, whether we're at the office or working from the comfort of home, while providing a face-to-face meeting experience.
So why are they often still so inconvenient?
Too many video meeting platforms give us users a hundred little hoops to hop through. You have to download an app, set up an account, verify the account, enter a meeting number, and so on. It's time-consuming and, above all else, annoying.
And when your business works with multiple clients, they may all be using different devices and operating systems, which may not be compatible with your app. On top of that, many clients and prospects (you know, the people who don't work in your company) often find it inconvenient to download apps or software packages just to join a conference call or video meeting. Some are even wary of downloading new apps; who knows what permissions they may grant it when they click "I have read and agree to these terms" right after signing up?
So, how can you have video meetings without needing to download an app?
The answer: Web browser-based video meetings
All you should need to join a video meeting is an internet connection and browser. Apps are great for instantly launching or joining meetings from a mobile device, but they don't need to be a requirement.
There are video meeting solutions out there that can be launched directly from a web browser, no downloads needed. Sometimes, these will require attendees to enter a meeting PIN or set up an account, but that doesn't have to be the case.
For the greatest ease of use and convenience, all a video meeting really needs is a link to join the meeting, so that attendees can join from whatever web browser they're using.
But wait, one might ask, what about all the tools and functions that you can get on meeting apps? Can a browser-based video meeting offer those too? Well, yes, they can! Today, even browser-based meetings can still provide features like screen sharing, call recording, transcriptions, virtual whiteboards, and so on:


How browser-based video meetings work
For an example of browser-based meetings, we can look at Dialpad Meetings.
Yes, Dialpad Meetings does allow people to create and join meetings from the desktop and mobile app, but the apps aren't a requirement. Meetings can be scheduled, launched, and joined all from a web browser. You can even have a personal, dedicated meeting room (or just create a new one for a meeting).

And with Dialpad's Microsoft 365 and Google Calendar integrations, you can schedule a meeting from those tools, and they'll automatically populate the meeting invite with the video link. Once the meeting starts, your participants can join just by clicking the link from the invitation or their calendar and it'll launch in their web browser.
Depending on how secure you want it to be, you can require a PIN to join or not:

And of course, all the functionality of Dialpad Meetings is still there. You can still record calls, get transcripts, use picture-in-picture, and enjoy all the other features Dialpad Meetings offers, while Dialpad Ai continues to transcribe and note important information in real-time:


For instance, the National Juneteenth Observance Foundation uses Dialpad for their virtual meetings because it's so easy to use. When they need to start a meeting with anyone outside of the organization—including government officials, organizers, and constituents—they just send over a link.
According to their President, Steve Williams: "When we were talking to people on Capitol Hill and other dignitaries on Dialpad, they could easily dial in—which they loved. They were like, 'Man, you just click a link and you're in?' It was such a smooth operation."
In short: there's no need to overcomplicate video meetings by requiring apps, PINs, and so forth. All you really need is a web browser.
Holding video meetings should be as easy as clicking a link. And with Dialpad, it is.

See how easy Dialpad Meetings is to use
Sign up for Dialpad Meetings' free plan to get unlimited video meetings and allow your guests to join virtual calls without downloading any apps!