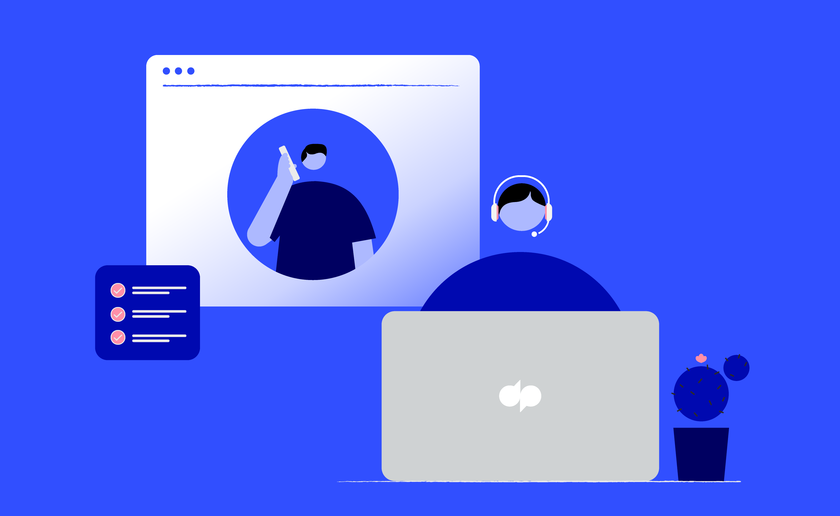 October 21, 2020
One of the most important jobs a call center manager has is ensuring that agents have all the resources they need to succeed. Sometimes coaching sessions can provide much-needed guidance to meet company goals, and agents can feel empowered in their roles.
Here are seven coaching tips to improve agent performance:
1. Use Gamification in Training Techniques
An effective way to keep team members engaged and help them apply what they're learning is to incorporate gamification — using gaming tactics to keep your agents motivated or teach them how to perform tasks. This strategy works for companies in any industry, as it encourages team building and friendly competition.
Techniques can be implemented in many different ways, from contests where agents compete against each other to role-playing exercises during training sessions.
Role-playing is especially helpful for call center agents, as you can provide realistic scenarios of challenges and situations they will face on calls. One person plays the caller, and one plays the agent. Then they switch roles so that everyone can view multiple perspectives. Role-playing can help agents better understand customers from their perspective so they can provide better assistance.
2. Address Challenges Head-On
Your call center coaching sessions should be centered on issues you've witnessed in real-life scenarios. Observe what employees do well and what needs improvement. What would most help them? Don't be vague, either. They need to have a clear understanding of what the issues are. They need to know how to break patterns of unacceptable behavior or poor performance.
Discuss what you've seen and provided specific examples of what problems look like and what success looks like. Otherwise, team members won't know what steps they have to take to solve issues.
3. Fill in any Knowledge Gaps
There are always areas where agents could use more support. Sometimes an agent's only issue is not having all the resources needed to perform well.
Pay attention to any knowledge gaps your agents exhibit. If you're unsure, send out an email or survey requesting their feedback. Ask them what kind of training and support they could use more of. What would help them do their jobs better? What do they feel is lacking? Is there anything they never have the answer to? Do they know where to turn when they have a question?
Gathering this information will help you become a better coach and manager. Instead of looking at poor performance as an agent's issue, remember that the company could be part of the problem. Try to do everything you can to fill in the gaps to help them succeed.
4. Give Feedback Regularly
Feedback should be a regular part of both training and management. When you have to provide constructive criticism to a team member, make sure you tie in some positive feedback. What are they doing well? How can you show encouragement? Instead of focusing only on the negative, provide both to ease and motivate them to keep improving.
If there's a recurring issue with your agents, remember that they won't know it's there or how to fix it unless they hear from you.
While no news is usually good news, you still need to show positive reinforcement and enthusiasm even when nothing is wrong. This helps team members know they're on the right track and should keep doing what they're doing.
5. Leverage Call Data
One of the best and most effective ways to provide the right coaching techniques is to pull data from calls. Data analytics can help you identify patterns of behavior. What needs improvement based on these facts? Define areas where the team needs more training. Leveraging call data empowers you to find new opportunities for support, technology, and coaching.
Another way to use data analytics is to reference actual numbers when coaching agents. You can tell them their metrics have risen or fallen over a certain period of time. For example, they may be answering calls on the third or fourth ring instead of the first or second, which you've noticed is becoming a pattern. Or they complete only half of their support tickets by the deadline.
Whatever it is you're working on, data can help you show agents exactly how they're performing. And you can't argue with numbers.
6. Be Clear About Expectations
No matter the industry, one major challenge that employees face is uncertainty. If expectations and goals aren't clear, they won't know what they're working toward. Be specific about things like:
Customer response times.
Call answering expectations.
Scripts to use for each type of call.
What to say if they don't have the answer.
What they can never say to a customer.
If you work toward a specific goal for the team as a whole — whether weekly, monthly, or quarterly — make sure agents know the goal, why it's important, and where their performance fits in. This information helps them stay on the same page and understand their place in its success.
7. Don't Micromanage
You may think that coaching your agents means guiding and critiquing their every move. But if you become a micromanager, they won't feel empowered to perform to the best of their ability. They need a little space and freedom after you give them the tools they need to succeed.
Instead of always telling team members the answers during coaching sessions, ask them to take a guess. Allow them to use what they've learned to fill in the blanks themselves. They need to be able to bring their own strengths and creativity to their role. Otherwise, they won't feel challenged or engaged, and turnover will likely increase.

---
These seven tips will get you started with better call center coaching. Providing your agents with plenty of support and technology, in addition to positive and constructive feedback, will help ensure that they perform well for the company while growing in their roles.
When you need effective cloud communications software to support your call center team, sign up for Dialpad to find all the solutions you need for your contact center.