Back to Blog
The NATO phonetic alphabet: What it has to do with contact centers + the UK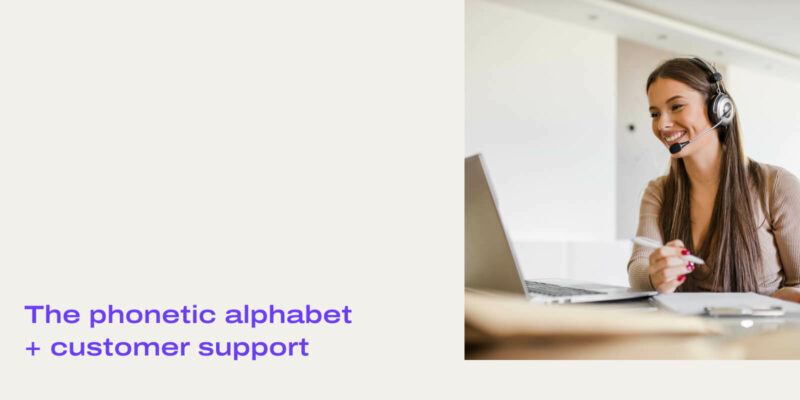 "P as in Phoebe, H as in Hoebe, O as in Oebe, E as in Ebe, B as in Bebe, and E as in…'ello there, mate!"
If you've ever watched this scene in Friends, you probably get why we need to have a universal phonetic alphabet.
The NATO alphabet is a universal spelling alphabet, and probably the most well-known alphabet in the world. It's been around since 1955, and even though most of us have no idea what the ABCs stand for (I only remember "C as in Charlie," for some reason) it's still a huge resource for contact center teams and any business that works in telephone communications.
If you and your customers have to exchange information on the phone regularly (like addresses, names, and so on), then being familiar with the phonetic alphabet is absolutely crucial.
It's honestly pretty fascinating, and this guide will be a deep dive into the NATO phonetic alphabet, its origins, and how it's used today.
What is the phonetic alphabet anyway?
So, what is a phonetic alphabet, why do you need it, and how can a contact center team best use it?
Definition
Essentially, a phonetic alphabet is a list of 26 words, one for every letter of the alphabet. When spoken aloud, these code words represent the letters they are assigned to, indicating what they sound like.
Basic usage
The rationale for a spelling alphabet is to make oral communications easier and prevent confusion where letters sound similar (like "D" and "E," or "K" and "A").
You've probably seen movies or TV shows where the NATO alphabet is used in military situations and other circumstances where accuracy is essential. But that's not all it can be used for!
Contact centers and businesses providing customer-facing solutions can also benefit from the clarity that a phonetic alphabet gives you.
As you can imagine, mistakes in spelling are a pretty frequent occurrence in telephone communications, so the phonetic alphabet can help you avoid situations where you're making a customer repeat themselves.
Who should care about the phonetic alphabet?
Basically, if you work in:
Finance or banking
Insurance
Real estate
Travel or hospitality
Medical / healthcare
Or any other industry where you have to take down and/or spell out information like addresses and names verbally, you (or your employees) should know the phonetic alphabet!
✨ UPLEVEL YOUR CONTACT CENTER
Grab the Contact Center Playbook, which breaks down everything you need to know, from setup to improving customer satisfaction—with examples from real contact center teams across different industries.
Okay, what is the NATO phonetic alphabet?
So that's what a phonetic alphabet is, but where does NATO come in? Here's a quick history lesson.
A brief history of the phonetic alphabet
The International Telecommunication Union (ITU) was the first official body to create a formal phonetic list of words in the 1920s. After this, the concept was adopted by the International Civil Aviation Organisation (ICAO), and was used until the end of World War II.
Much of the original ICAO list is the same today—which is why code words like "foxtrot" and "yankee" will bring to mind probably every war film you've ever seen.
Since 1955, the phonetic alphabet has become more standardized and widely adopted, forming what we now know as the NATO phonetic alphabet. Fun fact: It was designed for comfortable use by English, French, and Spanish speakers. Today, it governs all military, civilian, and amateur radio communications for both the US and UK, alongside other NATO members.
Different versions of the phonetic alphabet over the years
Royal Navy (1914 - 1918)
While the origins of the Royal Navy's phonetic alphabet are debatable, it's believed that it emerged in 1914 and was promoted by the British Post Office. Rather than NATO's recognizable ABC of "Alpha", "Bravo", "Charlie", the Royal Navy's list began with "Apple," "Brother," and "Charlie."
Western Front slang (1924 - 1942)
Western Front Slang or "signalese" was commonly used by the Allies post-WWI and was designed for clarity of pronunciation among French, Italian, British, and American troops.
Royal Air Force (1943 - 1956)
The British RAF had their own phonetic English alphabet (similar to the one used by the Royal Navy in World War I) before the creation of the NATO phonetic alphabet.
United States (1941 - 1956)
From 1941, the US adopted the Navy phonetic alphabet to standardize pronunciation across all branches of its armed forces. This became known as the "Able Baker" alphabet, named after its code words for, you guessed it, A and B.
This is the NATO phonetic alphabet we currently in use
| | | | |
| --- | --- | --- | --- |
| Character | Morse Code | Code word | Pronunciation |
| A | ● ▬ | Alfa/Alpha | AL FAH |
| B | ▬ ● ● ● | Bravo | BRAH VOH |
| C | ▬ ● ▬ ● | Charlie | CHAR LEE |
| D | ▬ ●● | Delta | DELL TAH |
| E | ● | Echo | ECK OH |
| F | ● ● ▬ ● | Foxtrot | FOKS TROT |
| G | ▬ ▬ ● | Golf | GOLF |
| H | ● ● ● ● | Hotel | HOH TELL |
| I | ● ● | India | IN DEE AH |
| J | ● ▬ ▬ ▬ | Juliett | JEW LEE ETT |
| K | ▬ ● ▬ | Kilo | KEY LOH |
| L | ● ▬ ● ● | Lima | LEE MAH |
| M | ▬ ▬ | Mike | MIKE |
| N | ▬ ● | November | NO VEM BER |
| O | ▬ ▬ ▬ | Oscar | OSS CAH |
| P | ● ▬ ▬ ● | Papa | PAH PAH |
| Q | ▬ ▬ ● ▬ | Quebec | KEH BECK |
| R | ● ▬ ● | Romeo | RO ME OH |
| S | ● ● ● | Sierra | SEE AIR RAH |
| T | ▬ | Tango | TANG OH |
| U | ● ● ▬ | Uniform | YOU NEE FORM |
| V | ● ● ● ▬ | Victor | VIK TAH |
| W | ● ▬ ▬ | Whiskey | WISS KEY |
| X | ▬ ● ● ▬ | X-ray | ECKS RAY |
| Y | ▬ ▬ ● ● | Yankee | YANG KEY |
| Z | ▬ ▬ ▬ ▬ ▬ | Zulu | ZOO LOO |
The table above lists the current-day NATO alphabet and even though its origins are in military communication, it's actually pretty useful, especially for contact center teams—not to mention, it gives you that little added boost of professionalism.
I've always found it very impressive when I'm on the phone with a credit card company or airline, and the agent can just go off with, "So that's C for Charlie, A as in Alpha…" like it's no big deal.
Why the NATO phonetic alphabet is so important in contact center customer service
It makes recording information easier
A contact center is often a fast-paced environment with lots of information that's shared back and forth—and also highly susceptible to error.
Say you work in an industry like banking. The margin for error in communications is incredibly small. When customers give their account details, it's essential that agents get them right quickly to help them access the information they need. Here, the NATO alphabet can be a great resource to both promote accuracy and save you and your clients considerable time.
Coupling the NATO alphabet with a contact center platform that has features like call recording and transcripts can minimize the chance of human error even further.
For example, Dialpad's contact center platform has a unique in-built artificial intelligence called Dialpad Ai, that can transcribe calls—in real time. Not only that, the transcript is searchable, which means you can search for specific things that were said on calls.
For example, if a client has spelled a name or address, and the agent forgot to clarify this phonetically or just wants to double check, they can go back into the transcript: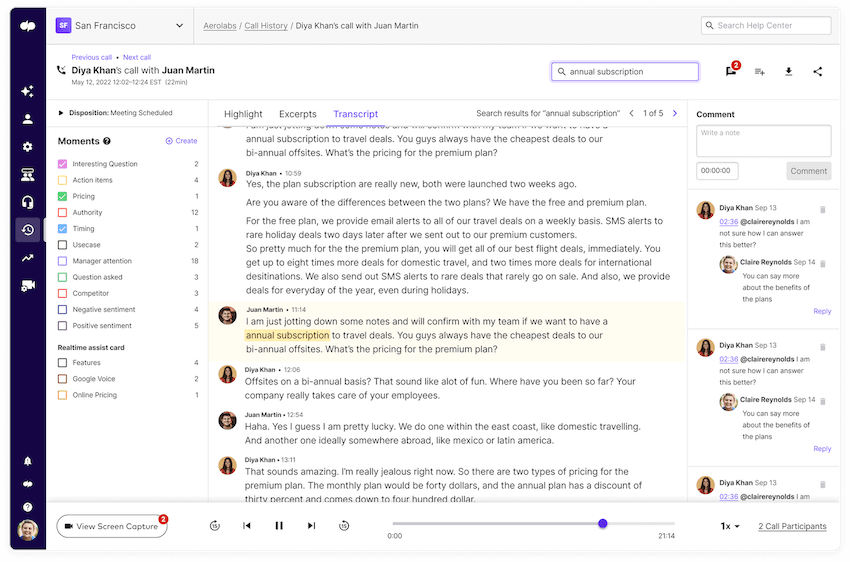 It makes conveying information easier
Just as you can record information more accurately with a phonetic alphabet, you can also make sure that you're conveying details precisely. This is especially important in industries like real estate where you might be negotiating contracts and closing sales.
Of course, it helps that you have a good phone system or communications platform with high-quality audio. Otherwise, even with the NATO alphabet, it'd be hard for an agent to communicate information.
Something like Dialpad, which is a unified communications and contact center platform with built-in HD calling is designed to help with this. Plus, you can make phone calls, have video conferences, and send instant and SMS messages—all from your phone or computer:

It helps when there are different dialects or accents involved
If you're managing a global contact center, or have agents or customers all over the world, it's highly likely that there will be many different accents.
The NATO alphabet here is very important because it helps reduce miscommunication between people from different countries.
It conveys professionalism
A good understanding of the NATO alphabet can make your company appear more knowledgeable and more professional. This isn't top of mind for every company, but if you're a business that works with large corporations or high-wealth individuals, this might be a consideration.
Beyond that, in industries like insurance, law, or healthcare, it's essential that consumers trust and respect your contact center agents. Implementing a phonetic alphabet can help you do this.
Negative effects of poor communication in customer service
Of course, not using the phonetic alphabet isn't going to bankrupt you all on its own. That'd be a bit dramatic. But it can lead to poor communication—and that can be detrimental to a business.
Loss of potential sales and profit
If your business does transactions or bookings over the phone, taking down the wrong information for orders or purchases can delay or just prevent those orders from going through.
Loss of customer loyalty
If customers always have to repeat themselves or information is recorded inaccurately, this drives down the customer experience—and could lead them to leave you for a competitor.
Tainted brand reputation
If your customer service support is more of a chore than a help, your brand reputation could suffer. Word of mouth is still one of the biggest influences today, and if your customers are telling people how hard it is to do business with you, well, we know where that leads.
2 easy ways to help your team memorize the NATO phonetic alphabet
Teaching the NATO phonetic alphabet in an engaging way can be a bit challenging. There are 26 words to memorize, and they're not all that intuitive.
Here are some tips to help your team commit the phonetic alphabet to memory (and impress your customers).
Use flashcards to help with memorization
Flashcards are a really handy resource for memorizing lots of information. Consider introducing bright colours and images to make them especially impactful for visual learners.
For the NATO phonetic alphabet, you should create a pack of 26 cards, each displaying a character of the alphabet, the code word, and its correct pronunciation. New contact center agents should keep them on hand for practice, and if you're a manager, make sure you arrange time for your staff to test each other.
But what if your agents are working remotely? This is where having a communications platform that has a video conferencing feature will come in handy. With Dialpad, for example, there's not only a contact center platform, but also a video meetings feature so that you can have ad hoc practice sessions anywhere, anytime:

Use Real-time Assist (RTA) cards
But what if it takes time to learn your NATO ABCs, and you can't just have your contact center take time off from providing customer support?
Okay, this is a Dialpad-specific feature, but remembered when we mentioned Dialpad Ai earlier? Not only does it transcribe voice calls, it can also pick up on keywords—and automatically pop up RTA cards with notes on your agents' screens to talk about certain topics.
For example, if you get lots of questions about how to port a number, you can create an RTA card with notes on how your porting process works so that agents can refer to it as they're answer the customer's question:

But in our case, we can set the RTA card to trigger when things like "spell", "how to spell" ,and "can you spell" are spoken on calls—and of course, you can add notes to the cards that spell out the entire NATO phonetic alphabet.
This way, technically, your agents won't have to memorize anything! (Although they'll probably end up memorizing the phonetic alphabet naturally anyway after enough conversations with customers.)
🎲 Dialpad tip:
Of course, there's good old gamification if you want a more fun way to get your agents to learn something new. You could break up teams to compete for prizes and add a competitive element to learning.
The use of the phonetic alphabet in call centers is vital for clear communication
Training your agents in the NATO phonetic alphabet is one of the easiest ways to improve your contact center's communications and your customer experience overall. The ability to double-check spellings and details more easily can help keep customers happy—and reduce time-consuming mistakes.

Follow the tips above to equip your agents with the phonetic alphabet!
Don't make your agents memorize the UK phonetic alphabet
Empower your contact center team to provide a better customer experience. Book a demo of Dialpad to see how it can make both agents' and supervisors' lives easier or, take a self-guided interactive tour of the app on your own first!