Back to Blog
Orientation tips: How Dialpad's own HR team scores a 96% satisfaction rate from new hires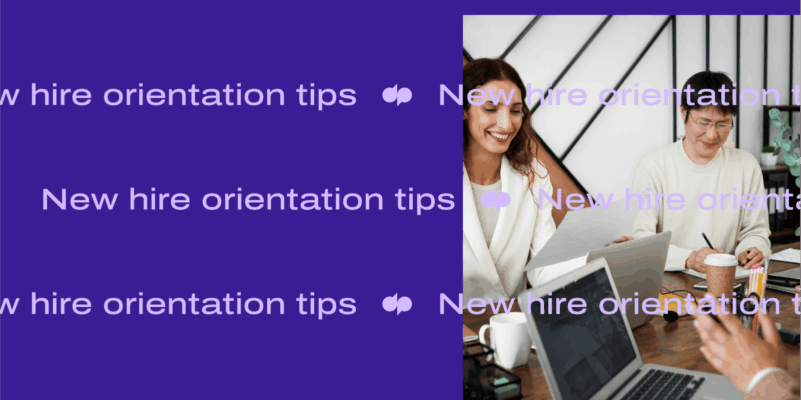 Hey there—Nisha and Blake here from Dialpad's HR team. We oversee the onboarding and orientation of new Dialers (that's what we call ourselves here).
And we're not trying to brag but…
We get very good scores on our orientation program. After a year and a half and 450 respondents, our overall rating out of 10 is nearly 9.6. We've been compared by previous employees of Microsoft and Apple to their onboarding programs, and we've been told that we blow them away.

And that… that right there is the dopest feather we have in our cap. Life-affirming. A real "wow I really did something with my career" moment.
So we thought we'd share some of our onboarding and orientation tips + tricks!
Our biggest, baddest asset
The human-forward element is one of the biggest, baddest assets that we have as a company. By that, we mean we're bringing voice and face-to-face interaction back into the forefront of your day, even with this new remote working model.
Our orientation classes aren't just jam-packed conference calls with everyone sitting off-camera and letting someone talk at them for hours on end. We're having discourse. We're generating dialogue. We're promoting interaction. We're smiling, laughing, learning, and connecting, and we're doing all this through our own app. As an educator in a remote environment, Dialpad is invaluable.
Dialpad doesn't get in the way of human connection—it allows for it.

Onboarding vs. orientation
According to Blake:
First, some context. I have a background in higher education. Everyone who's been to college or university knows what orientation looks like. But I always felt there was a lot of unnecessary tedium in the typical orientation structure. When stepping into this role, I wanted to eliminate the tedium and focus on knowledge, culture, and making everyone feel like they were part of a family.
Fast forward, now I develop and facilitate orientation classes at Dialpad. Each orientation takes three days, during which we cover all the fundamentals of being a Dialer and that cultural seed is planted.
The way I differentiate orientation from onboarding is that the latter starts when Nisha and co. send that first letter to a prospect or new hire, and continues into the next few months until they're fully fledged veterans in their job. Orientation is an event—it's those first three days of classes where we focus on knowledge acquisition and culture building.
The way I look at it, going back to my college example, you get orientation during your first few days as a freshman, but you'll still be a freshman until you finish that first year, essentially onboarding until you become a sophomore. To me, that's the difference between orientation and onboarding. Orientation is a kick-off; a series of learning and culture-building classes, while onboarding is an ongoing process.
According to Nisha:
Onboarding happens through email and our HRIS, and orientation happens in Dialpad. A week before the new hire starts, we'll send them calendar invites to the orientation sessions with the Dialpad Meetings link attached. They're able to join orientation remotely from anywhere, and get to meet their fellow Dialers from all over the world. Which is one thing I really want to highlight.
Dialpad enables global remote orientation. You can have people from all over the world on one video call all getting orientation at the same time. So for companies that are fully remote, Dialpad is perfect.

In fact, we haven't had in-person orientations for over a year and a half. Blake was in cohort #1, and he just finished onboarding cohort #34.
The Dialpad features that empower better orientation
1. Video meetings + recording
Like we mentioned, our biggest asset as onboarding and orientation professionals is our app, which enables voice and face-to-face interaction even in a remote work setting. Everyone is encouraged to turn on their camera and speak up during an orientation class.


Something we recently added to our orientation classes is what we call a "founder's welcome," where one of Dialpad's founders, Craig or Brian, will hop on the video call and personally welcome the new hires to Dialpad. It definitely helps make a good first impression.
We record every one of our orientation classes and all its participants get access to it. Dialpad Meeting recordings are super easy to access and share.
2. Screen sharing
Aside from the founder's welcome, we have a few other guest sessions as well. IT will come in and share their screen with the entire orientation class to walk them through things like where to find their login details, how to request equipment, and how to use Okta, our SSO tool. We also have a benefits session where a member from HR will take over the screen and show everyone the benefits package, how to enroll, and how to submit a claim.


Actually, IT and benefits are the two things we get asked the most questions about, so we also use Dialpad to set "virtual office hours" where anyone can just "walk in" to a meeting room where an HR member will be ready to talk (no guarantee we won't be mid-bite in a sandwich when you walk in though). Nobody needs to set anything up for it to happen. It's very easy and seamless.
We can also run Kahoot! activities, an online gamified learning platform, via screen sharing. The new hire class will split out into breakout rooms, utilize screen share functionality among themselves, then come back and we'll share our screen again and go over everyone's results. This usually ends up with a lot of laughs and bonding. And that bonding is a critical piece of what we do and who we are here.
3. Team messaging
This one is pretty self-explanatory—we can create or contact groups or individuals easily with Dialpad's messaging functionality: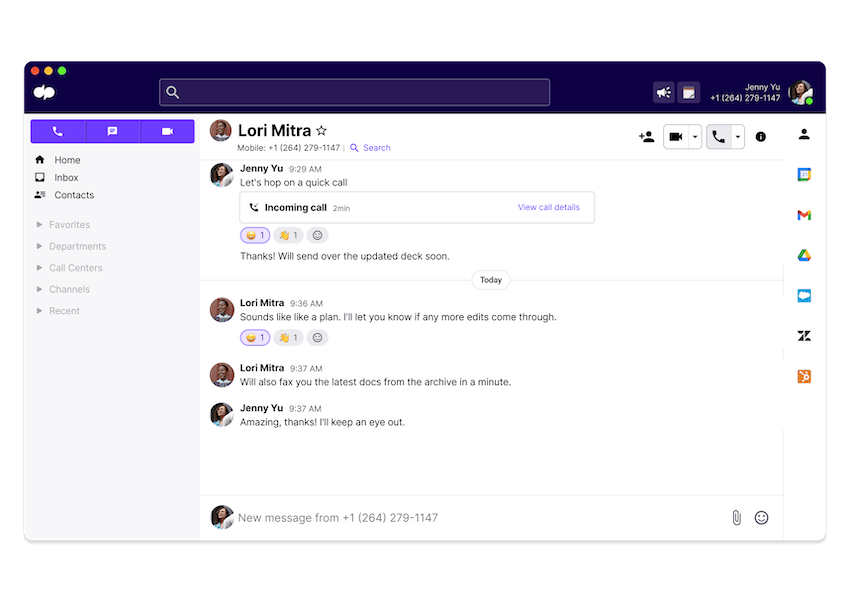 4. Channels
We make new channels for each new hire orientation class and add all the members of that class into that group. This is where we'll welcome them at the beginning of their first day and drop in the orientation meeting link if they need it. We also send the video recordings from the sessions here at the end of every day.
A new hire class is kind of like a graduating group that hangs out for three days straight while we teach them about all things Dialpad. So these channels are also a good way for them to stay in touch with each other. We actually had one group that kept in contact for months after their orientation and just celebrated their one-year Dialpad anniversary together with a virtual hiring class reunion!
5. Real-time transcription powered by AI
We don't use Dialpad Ai for orientation, but if you value being able to read back a class's transcript, you totally could do that. We send our new hire classes the video recordings, but you could send them the meeting transcript instead (or do both).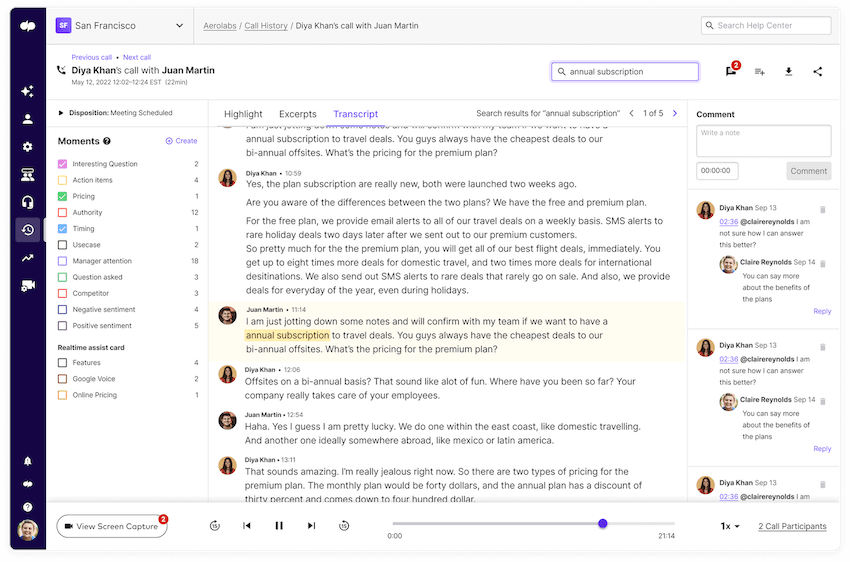 Dialpad's unified communications platform comes with AI-powered voice transcription software built right in, and can transcribe your conference calls, video meetings, and even voicemails—in real time. So you can be fully present with your orientation class and they don't need to worry about frantic note-taking. Just another way Dialpad drives qualitative human interaction.

Dialpad is so seamless that it never gets in the way of qualitative human interaction. It's never an impediment. And we believe that's what makes our global onboarding and orientation so successful.
Final advice for HR professionals putting together onboarding / orientation programs
First off, approach everything you do with heart and authenticity, and as if it's with friends or family—let the corporate veneer down and just be yourself. That's paramount to our success as a company. It's mind-blowing the amount of success you can have just because you put in a little effort to get to know people and genuinely care about them and their success. Humanize the experience every chance you get.
Second, use tools where you can see each other's faces and interact together. Dialpad's interface is seamless and offers everything you need on a single pane of glass—you're not bogged down with all the tedium that you would be from switching from one app to another.
So you can focus on that human-forward element, and as we like to say, work beautifully.

Looking for a new HR communications platform?
Take Dialpad for a spin, free for 14 days. Signup takes just a few minutes, and you'll be set up with a virtual phone number. Or, take a self-guided interactive tour of the app!