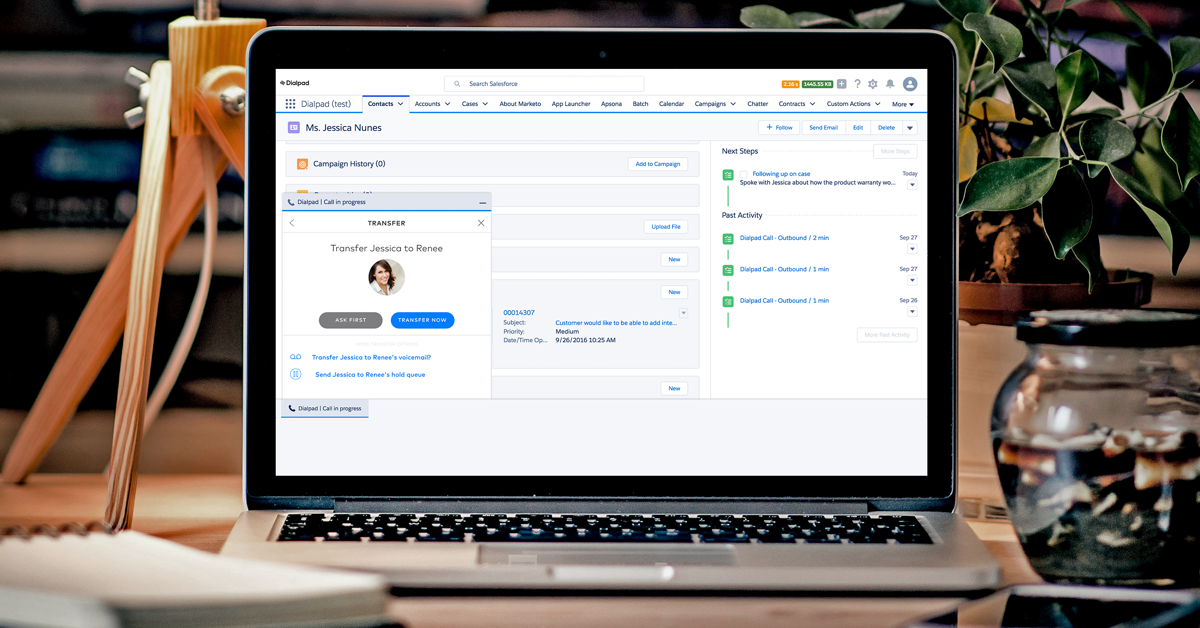 October 03, 2016
The rise of the Anywhere Worker is demanding that companies enable seamless internal and external communications from any device, regardless of location. This trend has in turn created new requirements for today's businesses. More than ever, CIOs need to connect their enterprise communications solution to the Salesforce applications that their employees depend on every day.
Here at Dialpad, our goal is to provide a Modern Business Communications solution that helps Anywhere Workers gain back hours of productivity by helping them communicate more efficiently with prospects and customers. Today, we are happy to announce Dialpad for Salesforce Lightning.
Dialpad, the industry's most disruptive business phone system, now lives inside your favorite CRM solution.
We introduced an entirely new category of of business phones—the Modern Business Communications platform—that delivers voice, video, and messaging across any device. And now, with Dialpad's native integration with Salesforce Lightning, calls work natively right within your CRM solution.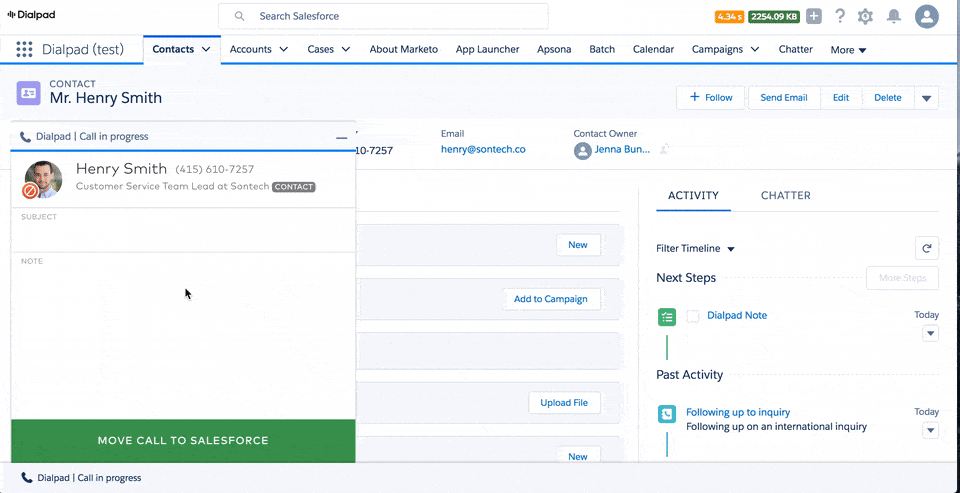 ANYWHERE SALES
Now, you and your employees can focus on what matters: spending more time closing deals and less time navigating tabs. With Dialpad, you can click-to-call straight from Salesforce Lightning and close deals from a single interface. It's easy to automatically log activities, add notes, and seamlessly switch calls between devices and your CRM solution.
ANYWHERE SERVICE
Boost agent productivity with a phone system that lives natively within Salesforce Service Cloud. During calls, it's easy to access rich customer data to personalize your interactions. And with seamless call transfers, you can resolve tickets faster by connecting customers to the right people, every time.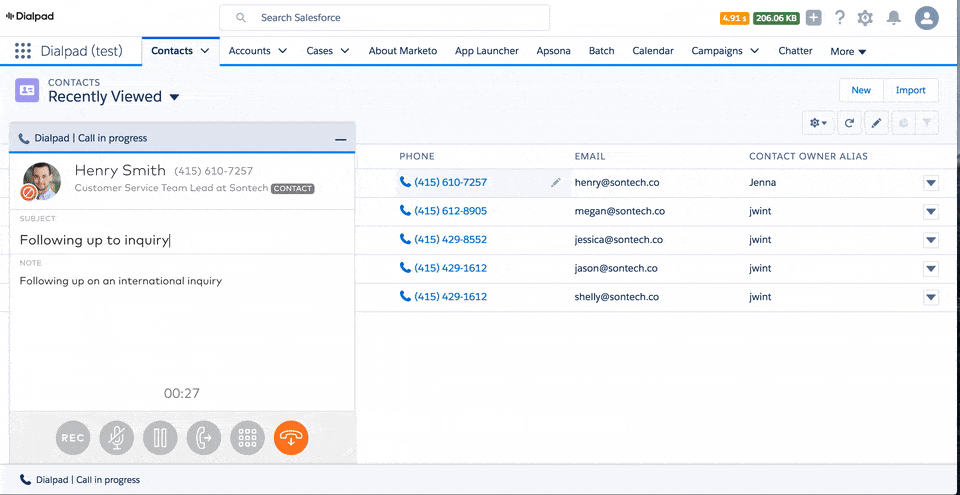 CLOUD INTEGRATIONS WITH PRODUCTIVITY APPS
Dialpad's Modern Business Communications integrate seamlessly with the productivity apps you and your employees use every day, making it easier than ever to collaborate on spreadsheets, documents, presentations, and more. And with all of the insights gained by integrating your business phones system with Salesforce Lightning, it's a whole lot easier to create amazing customer experiences.
SMARTER. PERSONAL. MORE PRODUCTIVE.
Give your sales and service teams the tools they need to close more deals and solve more cases—right from within Salesforce Lightning.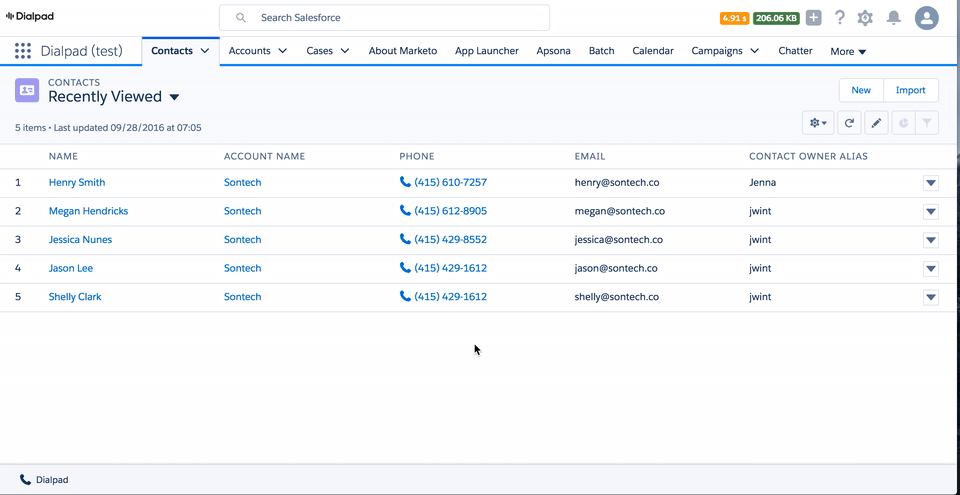 ---
LOG CALLS NOTES IN SALESFORCE
Give your team one less step when closing deals or supporting customers.
COMPANY-WIDE DIRECTORY FROM ANY DEVICE
Access your entire company directory within Salesforce Lightning.
EXPOSE CONTEXTUAL CUSTOMER DATA
Allow teams to respond faster and more efficiently to sales and service calls.
CALL TRANSFER
Quickly transfer calls to colleagues, departments, groups, or distributed call queues.
ANSWER CALLS WITHIN SALESFORCE
Answer calls from any device: mobile, laptop, or Salesforce Lightning.
CLICK-TO-CALL IN SALESFORCE
Click any customer record to instantly place a call.
SWITCH LIVE CALLS
Transfer calls from Salesforce to your mobile, or from your mobile to Salesforce.
FULL ANALYTICS ON CALLS
Monitor all calls and get an accurate read on the health of your business.
---
CONNECT EVERYONE WITH UNLIMITED CALLS AND TEXTS
Free your workers to connect with everyone using unlimited calls, texts, and an enterprise-grade IVR for just $25 per user/month.
Dialpad's native integration with Salesforce Lightning will be available in early 2017. Looking for an in-depth breakdown of the upcoming release? Check it out here.
We'll also be at Dreamforce 2016 with live demos of the integration. Find us at Booth 231 in Moscone North, schedule a private meeting, or come hang with us at any of our demo stations throughout the week.