Slack Integration
The Dialpad and Slack Integration allows teams to combine their business communications tools and work more efficiently using one central platform.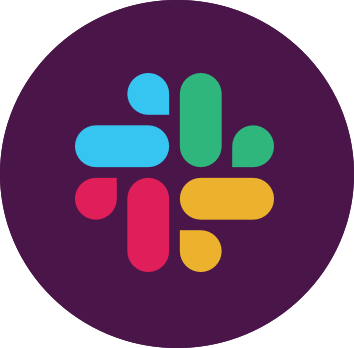 Productivity, No Matter Where You Work
If your apps don't work together, how can your team? With Dialpad and Slack, teams can drop toggling between apps and stay focused on the task at hand. Notifications for missed calls, text messages, and voicemails (among others) are automatically pushed to Slack, so you're never out of the loop when it comes to how and where conversations are happening.
Plus with supporting calling capabilities, users can launch a Dialpad call right from within Slack.
Enable the Integration
To connect your Dialpad account, you can search and find the Dialpad app in the Slack Directory.

Once you've added the Dialpad app to your Slack account, you'll need to make sure you've enabled and turned on the integration in Dialpad before choosing which lines (Main Company Number, Departments, or Call Center) have automatic Slack logging added to them.

Now that you've added Dialpad in Slack and enabled Slack for your Office, the last step is choosing which lines have Slack logging turned on, and what activities you want to push to Slack.

Turn Slack Logging On
Ready to log Dialpad activity to Slack automatically? Just have your Dialpad Admin follow these steps:
Log into your Dialpad web portal
Navigate to either your Department or Call Center's Advanced Settings
Under Slack, check Enable For This Line
Select all the activities you'd like to receive notifications for in Slack
Select the channel you want these notifications pushed to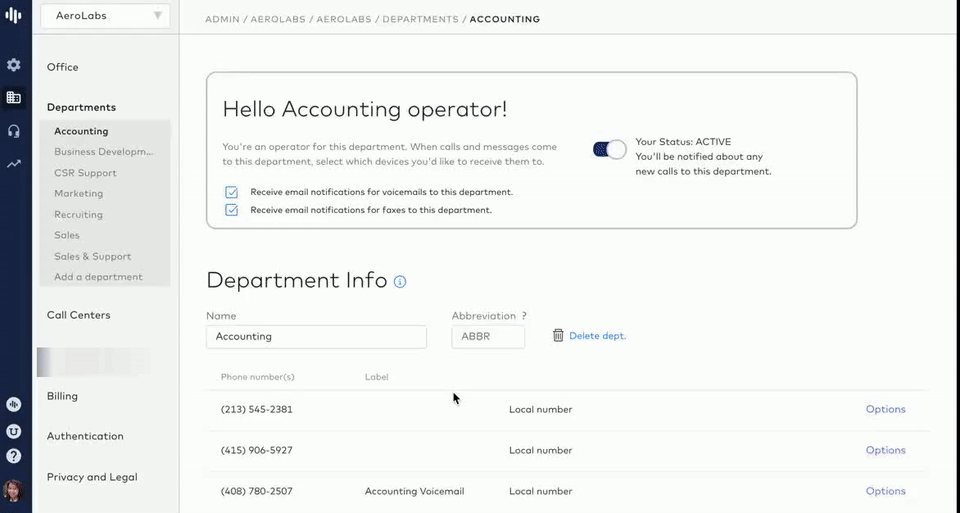 How It Works
Once Slack logging is turned on for your Department or Call Center, you and any other team members within the corresponding Slack channel can receive notifications when:
A call starts
A call is completed
A call is missed
A voicemail is received
A voicemail transcription is received
A text message is received
For calling, just make sure you and your colleagues have added your Dialpad number to your Slack profile to enable calling to work. Once you do, select the call button from your Slack direct message view to launch the Dialpad app.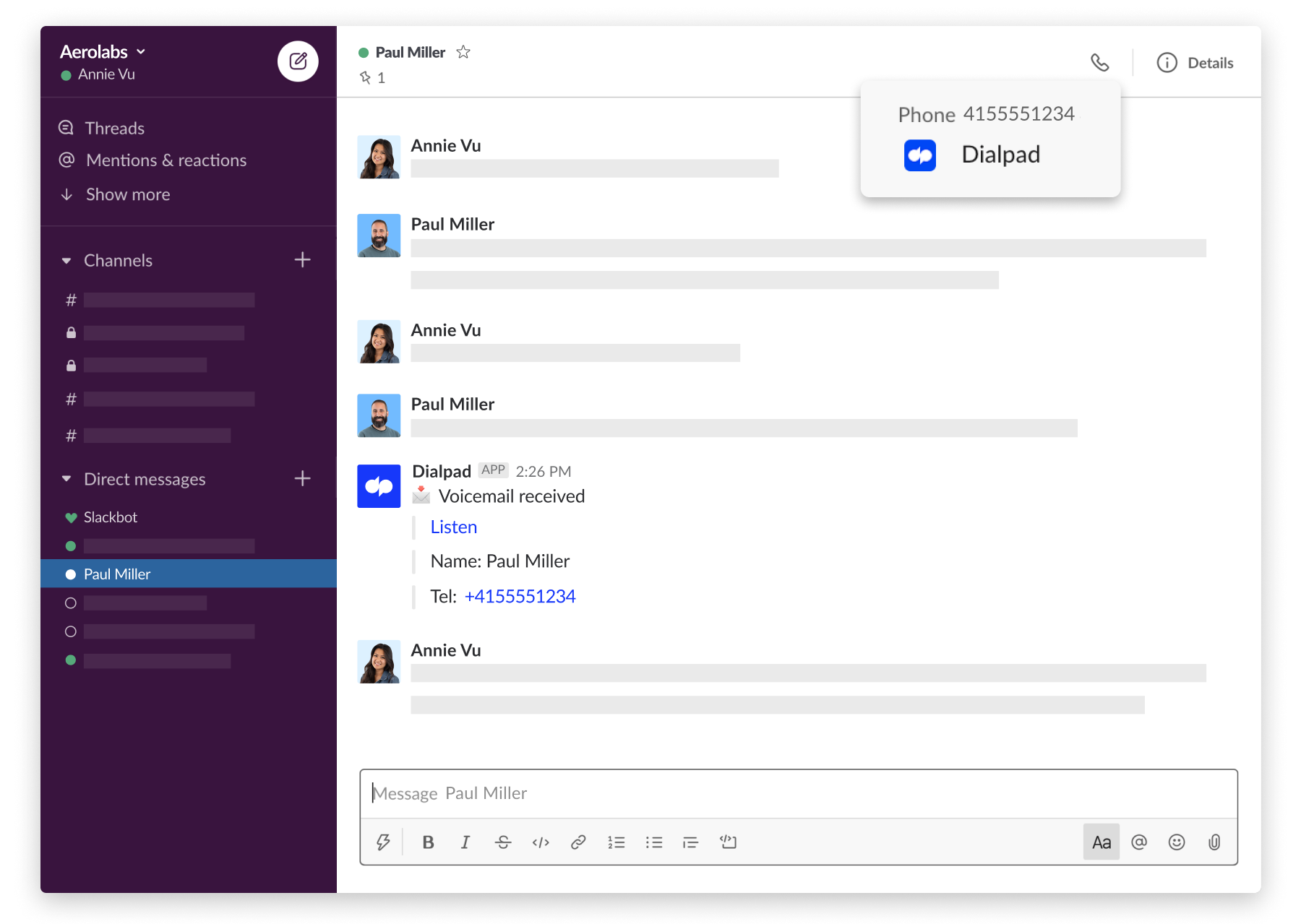 Frequently Asked Questions
What does the Dialpad + Slack integration offer?
The Dialpad + Slack integration offers teams an easier way to view and manage their Main Line, Department, or Call Center activity from a single platform as well as launch 1:1 calls. Once enabled, Dialpad teams using Slack can receive notifications for activities like when a call starts, is completed or missed, when a voicemail is received, when a voicemail transcription is available, and when a text message is received.
Can I click to call within Slack?
Absolutely! Just select the call drop-down option in your direct message to launch your Dialpad desktop app.
Is this an added cost to my existing plan type?
Nope! The Dialpad + Slack integration is automatically offered as part of your Pro or Enterprise plan type. For other plan types, reach out to our sales team directly to learn about your upgrade options.
How will the notifications appear in Slack?
Once connected, you'll see a notification card appear in your channel. Depending on the type of notification you've selected, your cards will display info like: type of notification (call answered in XYZ, completed call in XYZ), name of caller (if available), number of caller with the ability to click to call, and Operator or Agent that handled the call. In some cases (depending on the notification type) we'll thread notifications to keep the same call details together.
Can we push notifications for direct user lines?
Not at this time. For now, the integration works with your shared lines like your Main Line, Departments, or Call Centers.
My question wasn't answered here—where can I go to learn more?
Our help center is always a great source of product knowledge. We also offer a community forum for customers to engage, connect, and learn together. You'll find the link right on our Help Center, including a Contact Us page to reach out to support.