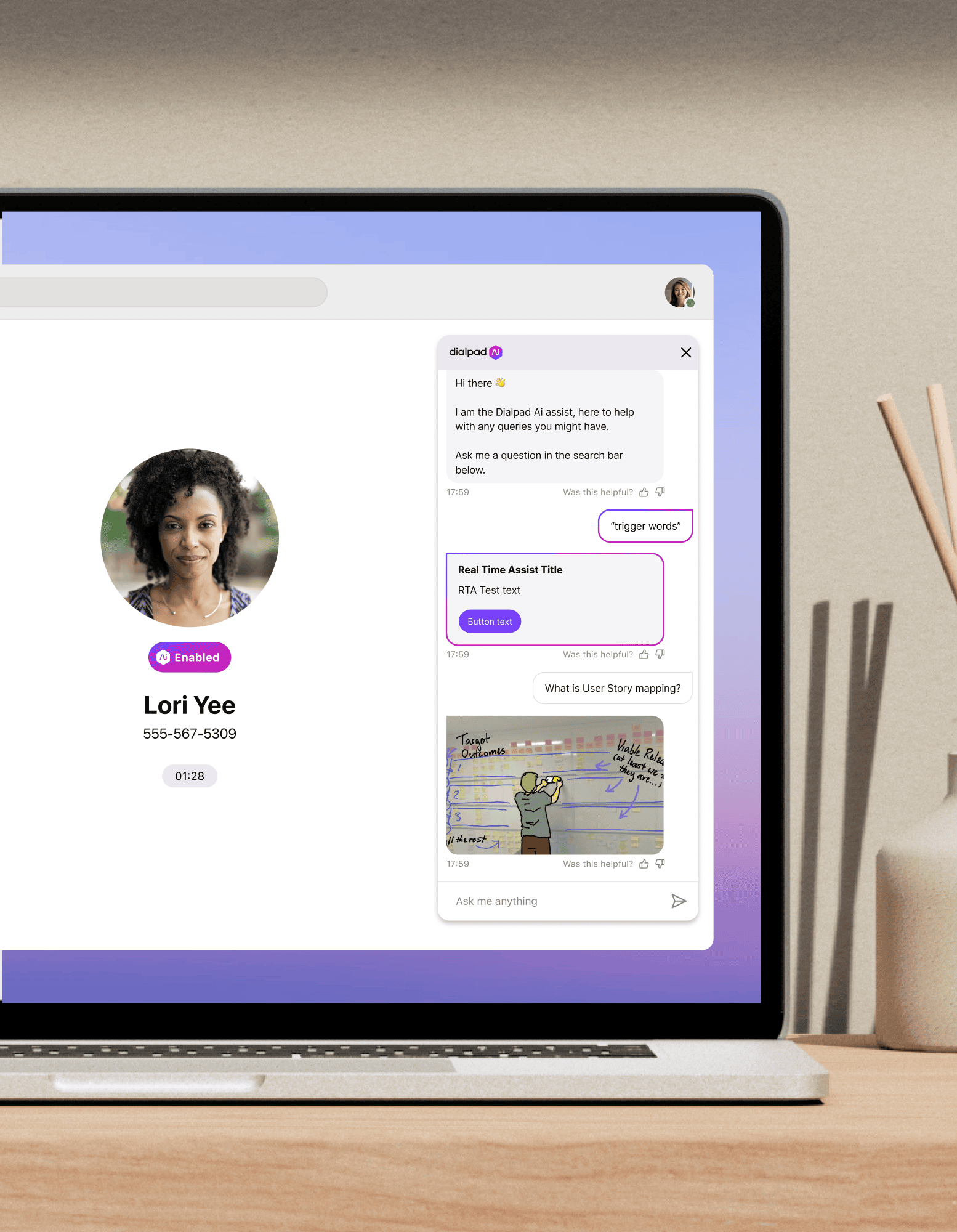 What is a voice bot?
A voice bot is one example of automated self-service in your contact center that can help you improve workforce efficiency and provide 24/7 customer support—all while reducing the burden on your agents. Learn more about what a voice bot is, how it works, and more in this guide. If you're interested in seeing how conversational AI works, get a product tour of Dialpad's AI-powered customer engagement platform!
What is a voice bot?
Alongside conversational AI chatbots, voice bots (or voicebots) are relatively new additions to the automated self-service area. From IBM's Shoebox that could only recognize 16 words and numbers from 0-9, to Microsoft's friendly but frustrating paperclip, Clippy, all the way to Amazon's Echo and Apple's Siri, virtual assistants have come a long way.
To communicate with voice bots, typically you'd speak out loud into your phone or computer. These bots are powered by speech recognition technology and AI, which lets them transform sound into text, transcribe what you've said for analysis, interpret customer intent and, thanks to text-to-speech, respond to your request verbally.
By providing instant answers to customer queries, voice bot AI can help businesses streamline real-time customer interactions.
Chatbot vs. voice bot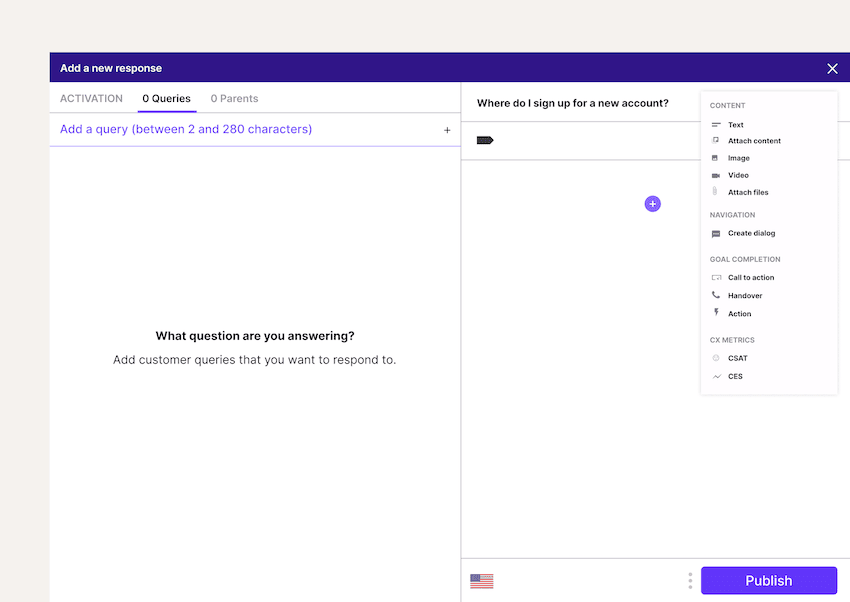 Although they use the same underlying technology, like artificial intelligence, machine learning, and natural language processing (NLP), voice bots are generally restricted to the voice channel. (Learn more about NLP in customer service.)
Traditional chatbots, on the other hand, simulate human conversation through text interaction.
Both can be self-service tools that help customers resolve queries without having to rely on a human agent.
Today, instead of only being able to respond to preset questions or inputs with a rigid set of standard answers, modern conversational AI platforms can provide more varied, context-dependent responses. Dialpad Ai, for example, can search databases and FAQ pages to answer customer questions, as well as unstructured sources of data, like PDF documents and past customer conversations.

Not only that, it can also do real-time voice transcription, so you won't have to trawl through hours of call recordings to find that one important sentence that someone said:


For contact center teams, Dialpad Ai can also pop up RTA (Real-Time Assist) cards on agents' screens automatically when certain keywords are spoken. If supervisors notice that agents are having issues with tricky pricing questions, for example, they can create an RTA card with helpful notes on how to talk about the company's pricing plans, and set them to trigger every time "price" or "cost" is spoken on a call:
Some bots also help with call routing, helping businesses optimize call flows through Interactive Voice Response (IVR) menus.
4 use cases of voice bot technology in different industries
1. Travel
During extreme circumstances when travel regulations or timings are changing, having a dedicated voice bot to provide flight details and updates can stop customers missing their flights. Even implementing a bot for bookings and cancellations can speed up these processes significantly for customers.
2. Banking
Automated bots can verify customers' identities and take their card details safely and securely no matter the circumstances. This makes it easy to process simple transactions and check account information.
3. Sales
Voice bots allow customer questions, complaints, and queries to be processed quickly and effectively. They can provide product information, including discounts, refunds, and more. They're even able to facilitate refunds and purchases in many cases. This saves a lot of time for your human workforce and a lot of money for your business.
4. Healthcare
Have you ever felt unwell, looked up your symptoms online, and determined that you have at least six rare illnesses? Well, voice bots can help patients avoid disastrous self-diagnosis by interpreting symptoms and providing medically appropriate opinions and treatment advice. Voice bots are also ideal for booking appointments, prescription automation, and order procurement.

Is voice bot technology the future of customer experience?
Giving your customers access to a 24/7 chatbot support channel that's always available and self-service tools is a key way to not only reduce response times in a call center, but also improve customer satisfaction.
And if you want to deliver a truly omnichannel customer experience, it may be time to look into a robust contact center platform that integrates conversational AI or chatbot functionality into a broader communications solution (instead of tacking it on as a third-party add-on, which can be costly and time-consuming to admin from an IT perspective).
With Dialpad Ai Contact Center, your agents can handle all their external and internal communications, from phone calls to video calls to social media channels like WhatsApp and Facebook Messenger, and even conversational AI flows—all in a single, intuitively designed platform.
See how it works!

Get a personal walkthrough of Dialpad
See how easy it is to build chatbot response flows with the no-code drag-and-drop builder in Dialpad customer engagement platform with a demo. Or, take a self-guided interactive tour of the app on your own!
How is AI applied to make voice bots work?
Voice bots use NLP (natural language processing) to allow them to understand what customers are saying.
Voice bots that take this technology to the next level also implement NLU (natural language understanding). This gives them a more advanced understanding of what customers are saying and what they need.
So, AI is applied to help voice bots understand customers and respond appropriately on a level that only a few years ago would have seemed like science fiction.

How do you make a voice bot?