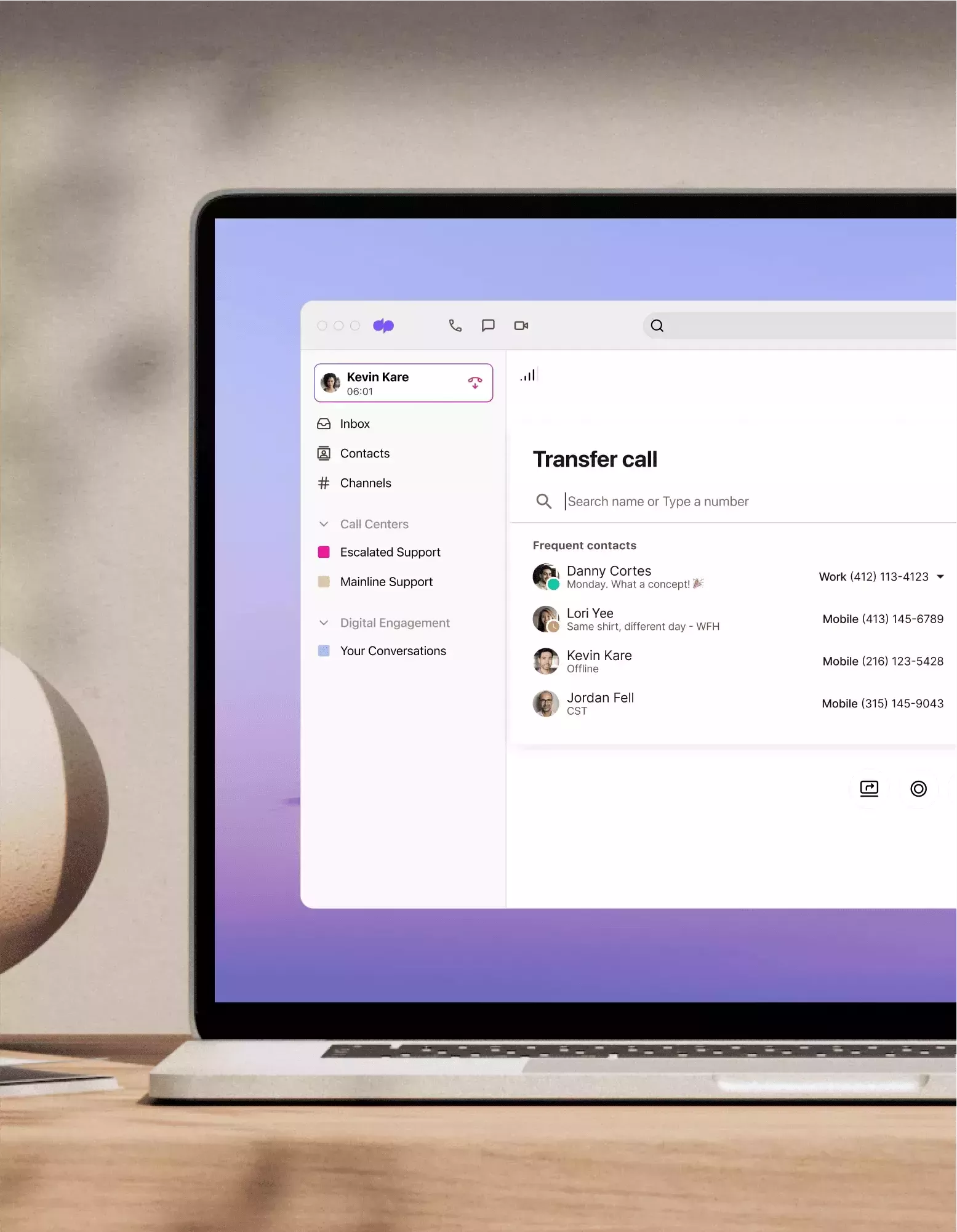 Company directory
Dialpad's company directory feature makes it incredibly easy to get in touch with anyone in your organization. Quickly search for a colleague and send them a message, start a meeting, or call them with just one click. See how it works with a product tour.
What is a company directory?
In any business phone system or communications platform, a company directory is basically a digital address book with contact information for everyone in your organization.
With Dialpad's company directory feature, you can quickly find any team member in your company, see their phone number, and hop on a call or send them a message in seconds.
Whether everyone is in the same office or scattered around the world, having a company directory makes every employee more accessible and keeps contact information updated and centralized.
How Dialpad's company directory feature works
When you add a new user or new employee to Dialpad, all of their important contact information—like name, title, phone number and extension, and email address—are automatically populated into your company directory on Dialpad.

To pull it up, just click "Contacts" in your Dialpad dashboard. From there, click "Directory" to alphabetically view everyone in your organization's name, phone number, and company email address.

To find a specific person's contact information quickly, you can also type their name right into the search field. Dialpad will automatically show you everyone in the organization with that name. From there, just click their name to call or message them.


Managing your company directory
If you're the administrator for your organization, you can set up the Company Directory in just a few steps.
Actually, once a new user is invited to and joins Dialpad, they're automatically entered into the company directory anyway—no action required on your end.
(You'll just have to delete them manually from your admin portal if the employee leaves the organization. Learn more about how to remove team members here.)
Need a company directory feature?
Dialpad's communications platform comes with not only a phone system, but also an easy-to-use company directory feature. Sign up for a 14-day free trial to try it out—it takes just a few minutes to get started with a virtual business number. Or, book a walkthrough with our team!
Frequently asked questions about Dialpad's company directory feature
How do I move my existing company directory into Dialpad?
If you're a Google Workspace or Microsoft 365 user, your contacts will automatically be imported into and synced with Dialpad when you create your profile!
How many people can be stored in my company directory?
What information will show up when I search the company directory for a contact?
How can I view a contact's profile in Dialpad's company directory?
How do you remove people from the company directory?