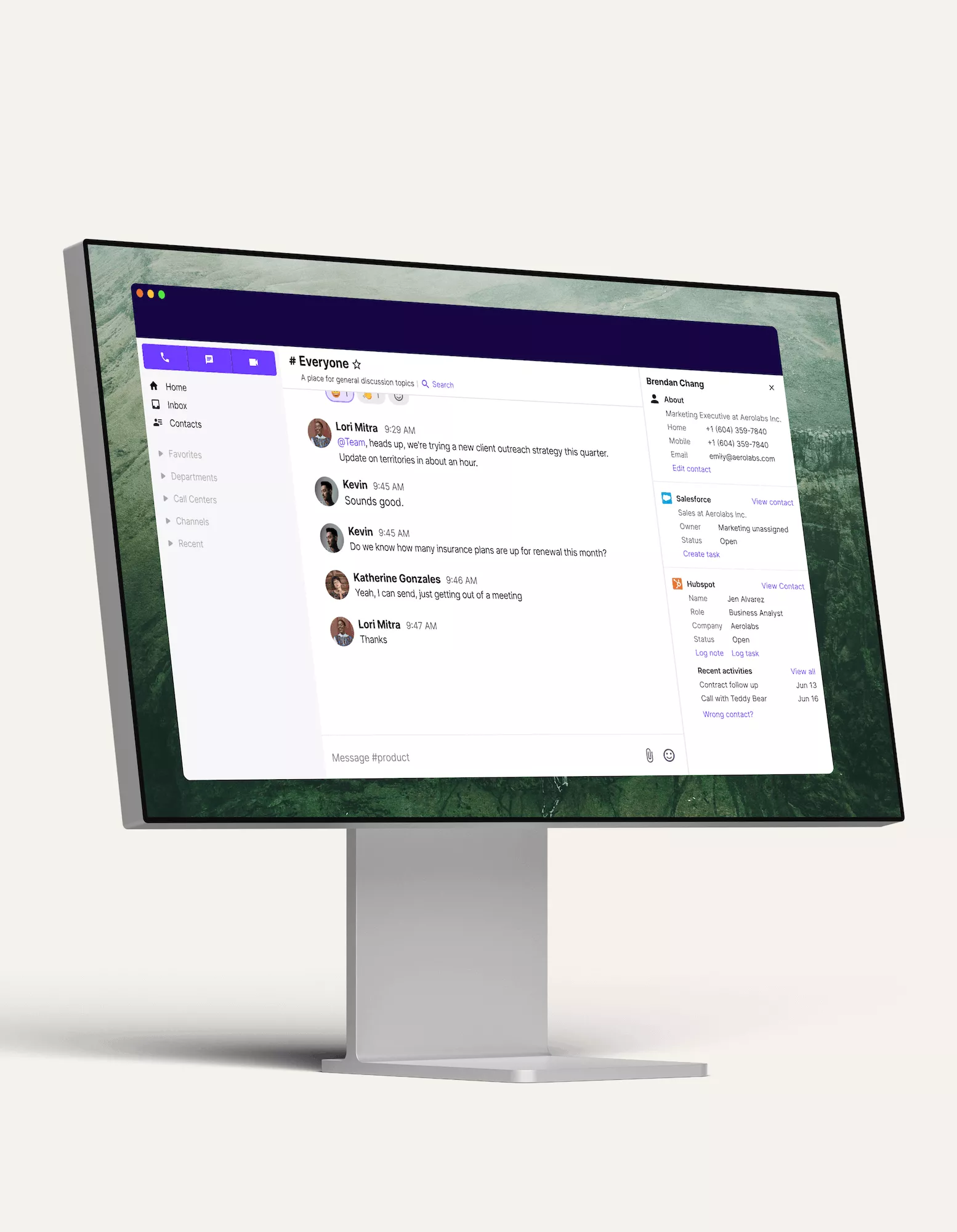 Ooma Office vs Vonage: What's the better phone system?
If you're considering a VoIP service for your business, you've probably come across Ooma and Vonage. Both are popular choices, but which is the better option for your needs?
Or—a third option (and our personal favorite): Dialpad.

Try Dialpad free for 14 days
If you're like most business owners, you understand the importance of staying connected. In today's fast-paced world, customers expect quick responses and constant communication. That's why having a reliable phone service is essential.
Here we'll take a closer look at Ooma and Vonage, compare their features and pricing, and help you decide which is the right choice for your business.
Ooma vs Vonage (vs Dialpad) at a glance
(Yes, we threw Dialpad in here too—just so you know how we stack up as well!)
| | | | |
| --- | --- | --- | --- |
| | Ooma | Vonage | Dialpad |
| Starting price | $19.95 per user per month | $19.99 per user per month | $15 per user per month |
| Domestic calling | Unlimited | Unlimited | Unlimited |
| Auto-attendant | Available with all plans | Available with Premium or Advanced plan | Available with all plans |
| Efax | Available with all plans | $14.99 per month | Available with all plans |
| Uptime SLA | N/A | 99.999% | 100% on Enterprise plan |
| Team messaging | Yes | Yes | Yes |
| Video conferencing capability | Yes | Yes | Yes |
| Customer support | Phone | Phone and chat | Phone, chat, help center, and training |
How we evaluated Ooma vs Vonage
Features
The feature lists of Ooma and Vonage are very similar. Both offer the basics you'd expect from a phone service, like call forwarding, call routing, and auto-attendant (although Vonage only offers this on its higher-tier plans1).
But Vonage offers a lot more (over 502, actually). This includes desktop and mobile apps, a second line, business SMS, and voicemail to email, to name a few. It's also arguably more remote-worker-friendly, with features like Do Not Disturb, unlimited video conferencing, and group messaging (depending which plan you go with).
So it's safe to say Vonage is the winner when it comes to features.
Cost-efficiency
When you run a business, every dollar counts. But that doesn't mean you should necessarily look for the cheapest option for your phone service. (And often, what looks cheap upfront will often end up being more expensive anyway because every little thing is a paid add-on.)
Okay, on to Ooma vs Vonage—let's start with Ooma. Ooma Office plans start at $19.95 per user per month for their Essentials package, which includes one local phone number and unlimited calling to the US and Canada.


If you need more advanced features, like call recording, voicemail transcription, and CRM integration, you'll need to opt for their Pro or Pro Plus plan, which are $24.95 and $29.95 per user per month, respectively.3
Vonage's base cost is $19.99 per user per month for the Mobile plan, almost identical to Ooma's base cost. One thing worth noting, though, is that Ooma includes a free second line with its plans—something that Vonage charges extra for. Vonage's Premium and Advanced plans are $29.99 and $39.99 per user per month, respectively.1


So while Vonage may be the winner in terms of overall features, the difference lies in what you have to pay extra for. For example, Vonage also charges extra for add-ons like call waiting or caller ID.1
And with that, the winner in the price department is… Ooma!
A third option…
Ooma might win the pricing battle against Vonage, but even its entry-level plan costs more than Dialpad's Standard plan, starting at $15 per user per month.
But unlike Ooma, Dialpad $15 plan includes a desktop app, video conferencing, call recording, voicemail transcription, Google Workspace and Microsoft 365 integrations, and call analytics. Dialpad includes all of these features across all its plans.
In other words, more of the features your business needs and at a lower price.

Dialpad gives you more features at a lower price compared to Ooma or Vonage
Try Dialpad free for 14 days and see for yourself how easy it is to set up your all-in-one workspace (hint: it takes minutes). Or, take a self-guided interactive tour of the app!
Integrations with the tools you use
Another important consideration: Does Ooma or Vonage integrate with other software and applications (like CRMs and ticketing tools) that your team is already using?
Integrations are one of the biggest advantages of using a VoIP service provider rather than a traditional PBX phone system. They let you bring your different apps together, so your reps don't need to spend up to four hours a week toggling between different windows and apps.
Until recently, Ooma didn't integrate with any sales platforms. They've since built a Salesforce integration, and expect to add integrations with other CRMs in the future.
Vonage, on the other hand, integrates with multiple sales/service platforms, including Salesforce, Microsoft Dynamics, and Zendesk. It also integrates with a host of productivity apps like Google Workspace, Office 365, and Slack. For any other integrations, Vonage works with Zapier, which lets you build custom automations between apps.
The winner for integrations? Vonage.

Customer support
This is a big one. Not all UCaaS and VoIP phone solutions have the same level of customer service. But when things go awry (which they will, because, well, technology), you want to know your provider has your back and can help you resolve the issue ASAP.
Now between Ooma vs Vonage, Vonage wins here.
That's because while they both offer 24/7 customer support (hats off to them for that!), Ooma only offers phone support whereas Vonage offers support via both phone and chat. (So does Dialpad, by the way—in fact, we won a Stevie® Award for sales and customer service.)
Contact center functionality
When it's time to create dedicated call centers or outbound sales departments, you need a platform built with that external communications capability so they can handle a high volume of calls and messages with customers and prospects. This won't be an option with either Ooma or Vonage.
Dialpad offers fully integrated inbound and outbound contact center software, cloud-based and powered by its own proprietary AI. All the works—and all on the same pane of glass as your business phone!
Plus, by combining a contact center with your team messaging, telephony, and sales coaching tool into a truly unified communications platform, Dialpad offers a much lower TCO (total cost of ownership) versus paying for all these programs separately. Not to mention the benefit of having all your conversations in one place:


The final verdict: Ooma vs Vonage
Depends on what you're looking for.
If you're a small business just looking for an entry-level solution with a low price point, Ooma has you covered. The drawback of Ooma is their feature set—they're pretty standard.
Vonage is the more suitable choice for larger businesses, because it has more advanced features, more integrations, and promises a 99.999% SLA. The drawback? Vonage isn't exactly cheap.
Might we recommend a third option? Dialpad is that sweet spot of enterprise-grade features and integrations at an affordable price point. For just $15 per user per month, your business can be up and running with a new communications platform in minutes!

The real winner is… Dialpad
But you don't have to take our word for it. Try Dialpad free for 14 days, and connect your team with a platform that powers voice, video, messages, and meetings across all your devices!
1 vonage.com/unified-communications/pricing/
2 vonage.com/unified-communications/features/
3 support.ooma.com/office/ooma-office-pricing-chart/