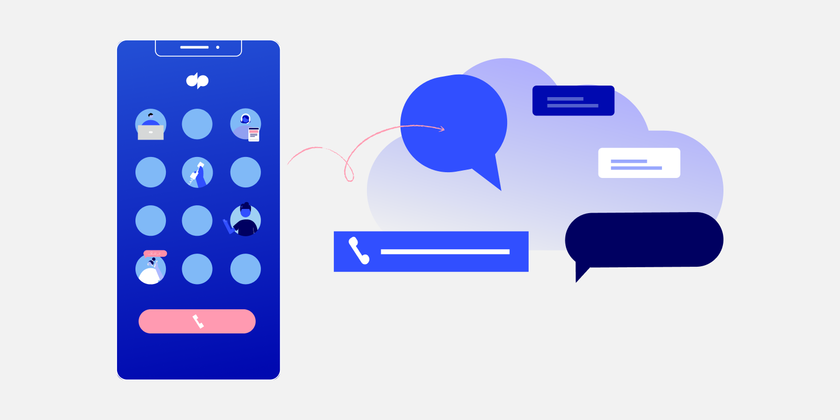 March 16, 2021
Not too long ago, a business phone was a stationary physical object. It was clunky, expensive, and connected to wires inside the walls of an office building. It worked fine, but you could only make or receive calls from it while you were inside your office.
Now, thanks to the work-from-home revolution, people aren't necessarily inside a physical office anymore. They're at home or possibly on the road, and they need a phone number that's as portable as they are.
Enter the virtual phone number without a phone or, more accurately, with no dedicated hardware. Virtual phone numbers change the telephone game so dramatically that the World Economic Forum predicts that by 2025, telecom's digitalization will attain more than $2 million in overall value.
If you're considering replacing your legacy phone system or integrating a phone system into your business for the first time, it's essential to know how to get a virtual phone number and what you stand to gain by getting one.
Virtual Phone Numbers 101
A virtual phone number, sometimes called direct inward dialing (DID), is a phone number associated with a customer and not a location. You can choose to have your virtual phone number routed to any internet-enabled device, including a cell phone, tablet, or laptop.
Most virtual phone numbers work via a technology called voice over internet protocol, more commonly known as VoIP.
VoIP transforms the sound of your voice into a digital signal that it transmits through the internet, which stays digital if the recipient is another VoIP user. Otherwise, the system converts it back into the sound data needed by a regular phone.
One of the best parts of a virtual phone number is that you can change the device that sends and receives your calls but keep the same number. It's a handy feature when your team requires flexibility and consistency for your customers and vendors.
You can start your virtual phone number subscription with a completely new phone number or transfer your existing phone numbers. Moving, or porting, numbers lets you change your phone system without disrupting your business operations or services.
Benefits of Having a Virtual Phone Number
Virtual phone numbers can make communication smoother and more convenient for every aspect of your business.
Save Money on Hardware
Legacy phone systems require costly hardware that needs professional installation and maintenance. With a virtual phone number, you can make calls from devices that you already have — no extra expense necessary.
Scale Your Phone Service
Virtual phone systems scale quickly and affordably, so they're ideal for growing businesses. You can structure your phone system based on your evolving needs or even move it to a new business location, all without the overhead necessitated by a traditional landline system.
As an administrator, you can set up users on a virtual phone system yourself.
There is no need to make an appointment with the phone company — just a few clicks, and you can assign phone numbers to employees, create permissions, and sync their contacts. Plus, they're just as easy to edit as they are to set up.
Keep Contact Numbers Consistent
A virtual phone number can stay the same even if you change locations or swap devices, which lets you maintain professional consistency no matter where your team members are located.
Imagine taking a sales phone call on your laptop in the office, then asking a representative to follow up on their cell phone at home, all from the same "Sales Department" number.
Establish a Local Presence in Multiple Markets
According to a BrightLocal report, 60% of customers prefer to call local businesses on the phone. Calling a local number helps the customer to feel more connected to the company and establishes trust.
If you have locations in multiple communities or are planning to expand, a virtual phone system makes it easy and affordable to get multiple local numbers.
Virtual phone numbers live in the cloud, so you can even have multiple area codes on a single account. That means you can have one team answering calls from different markets without sacrificing the local feel that customers look for.
Get a Memorable Number
Virtual phone systems also make it easy to get toll-free numbers, whether in addition to or in place of your local numbers.
Toll-free numbers demonstrate that you value customer service and welcome calls from anyone, any time. You can even use that number to strengthen your branding by selecting a "vanity" number.
Vanity numbers are those iconic numbers that businesses use because they're easy to recognize and remember. One standout example is 1-800-FLOWERS, which was so successful as a vanity number that became the company's name.
Vanity numbers still make it easy and convenient for customers to call you, even on the go. They show that you care about customer service and help to position you as a go-to resource in your industry.
Think of it this way — if you wanted to order contacts, who would you think of before 1-800-CONTACTS?
Make Better Use of Call Data
Virtual phone systems can record and transcribe phone calls more accurately than traditional analog platforms. Because they're digital, it's easier than ever to connect that data with the CRM, collaboration, and communication systems you probably already use.
Dialpad, for example, connects with Slack, G Suite, Salesforce, Office 365, and more. These integrations help you to retain and communicate important information, such as:
The timing and content of customer conversations
Where a sales prospect is in the buying journey
The status of an in-process contract
… and more
Before virtual phone numbers, the only way to keep track of this information was through time-consuming manual note-taking. Now, you can save those records and notate them with just a few clicks, making them easy to share with your team.
Learn More About Your Customers
Virtual phone systems don't just record and transcribe your calls. Dialpad can summarize an entire conversation, highlight essential action items, and allow you to search for keywords to remind yourself and others of what happened during a call.
There's even the possibility of analyzing callers' reactions and emotional states while the call is still happening.
Dialpad calls this Live Call Sentiment, and it helps service and sales departments to achieve better outcomes. Supervisors can actively monitor calls without directly listening in on conversations and can step in when necessary to keep things on track.
Keep Your Calls and Data Secure
Personal and data security are essential to customers. In a recent McKinsey survey, 87% of consumers reported that they wouldn't do business with a company if they had doubts about its security practices.
With a virtual phone number, you can offer encrypted calling using trusted technologies like Secure Real-Time Protocol, which gives your calls a layer of protection that analog phone systems can't provide.
Systems like Dialpad also encrypt the data from your call recordings and transcripts, so your customer data stays safe.
Where To Get Virtual Phone Numbers
There are multiple virtual phone service providers out there, from free apps like Viber for individuals to larger-scale providers like Dialpad for businesses. If you're looking into getting a virtual phone number, start by listing the features you need the most. Consider:
How many phone numbers you need (local, toll-free, or both)
Whether you need extensions
Whether you need to port existing numbers
What kind of analytics data you want to collect
Which services and systems you need to integrate
Some providers will also offer robust features beyond primary voice calling. Dialpad, for instance, offers unlimited SMS, MMS, and group messaging in addition to online meetings. Look for these kinds of extras and assess what you need from your virtual phone system.
Dialpad also offers add-ons like toll-free and fax numbers for customers that want those services. As you shop around, ask what extras like these are available and if you can add them later, just in case you don't need them right away.
Choosing a phone service is a big decision, and you want to ensure that your provider can carry you forward for years to come, no matter where your business takes you.