Back to Blog
Dialpad planned TrueCaaS platform enhancements to drive efficiency for all user types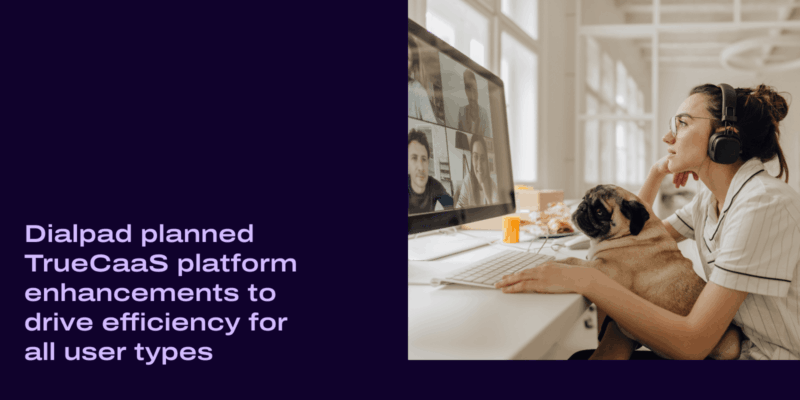 In June, we announced our TrueCaaS platform, a move that brought our suite of products closer together across both business communications and customer engagement all on one unified, aesthetically cohesive platform with AI at its core.
As Dialpad is constantly evolving to further outpace the needs of our customers as they continue hybrid work, we are announcing the development of enhancements to the TrueCaaS platform that will help all user types become more efficient and effective at work.
These latest enhancements include a seamless integration with your Meetings, one-click activation for Dialpad Meetings from mobile, and the expansion of AI via Dialpad Ai throughout the platform. These help to create "One App to Tap" through a truly unified communications solution delivered through a single pane of glass and simplifying business collaboration and reducing the growing issue of "app overload."
In the coming months, Dialpad users will be able to:

View contextual information about relationships to a contact, including themes of conversations, action items, to-dos and sentiment across all calls and meetings you have with them.
Experience a more streamlined search experience within the app
Start upcoming meetings easily without leaving Dialpad, with a daily meeting list and links on the app homepage
Move seamlessly between the Dialpad UCaaS app and Dialpad Meetings app on mobile
Efficiency and effectiveness for everyone, delivered by AI

We're proud to announce the development of a new feature which will leverage our unique Dialpad Ai capabilities across the entire platform to automatically deliver contextual information about a contact based on your previous calls, chats, and channel messages with them.
Information such as topic of conversation, to-dos, action items, call history and more will be made available before, during and after the interaction. This feature will drive efficiency for any user type in the organization throughout their daily work, helping them be more prepared and present during interactions. Best of all, this information is generated via Dialpad Ai, meaning that it is gathered and presented automatically to users.
The Dialpad experience also will be redesigned so that this window will make best use of the space available within the app.

Never have to hunt down the meeting link again

The process to access meeting links is arduous—you have to leave your app, toggle to the right your calendar tab or app, click on the right meeting, then find the link to join the meeting. As bad as that sounds, imagine doing this while in a mobile app, such as Google Calendar. Soon, Dialpad users will have a list of meetings right in their Dialpad app, which can be easily accessed by clicking on an icon regardless of where they are in the app.
This list of meetings will help you stay more organized and prepared for the day. It's not just for meetings scheduled in Dialpad, either. This list will automatically detect meeting links from Zoom, Webex, and so on and list them in the calendar view, minimizing the number of clicks required to join any meeting and overall making you more efficient in your daily work.
One-click movement to Meetings on mobile

We're working to bring video meetings closer to Dialpad conversations through a closer activation of Dialpad Meetings from our other communication functions in the mobile realm. With one click, you can instantly transition a Channels conversation on the Dialpad app to a video meeting in the Dialpad Meetings app, eliminating the need to copy-and-paste in meeting details or search calendar invitations for meeting links. This feature will begin in Channels and eventually be available for chat conversations.

Find exactly what you're looking for
Dialpad is redefining its search capabilities in the app. We know that a majority of the searches are for contacts, so we're making search smarter by prioritizing contact info in results. We're also keeping in consideration prior searches in results, and allowing you to toggle back to previous search inquiries easily. Our search window currently expands over the entire app when searching, so we're also shrinking the search window and giving you in-line results to allow for better multitasking.
A platform that just keeps getting better
The overall goal of our TrueCaaS approach is to consistently delight our customers and give them a tool that allows them to "Work Beautifully." So we're constantly updating our platform and communications functions to drive improvement and outpace our customers' expectations of what business communications should be. These enhancements reflect a platform that, through the power of cloud-based development and distribution, keeps getting better nearly every week.
As a result of these TrueCaaS enhancements, we believe employees will become more efficient—eliminating time-consuming annoyances like tabbing over to Google Calendar or Outlook to hunt down meeting links, remembering what you talked about on your last recurring meeting, or tracking down a contact's phone number, chat or presence information.
Companies, in turn, will overall become more effective as their workforces streamline the way they actually perform work day in and day out, regardless if they're a contact center agent, front desk worker, or executive. These TrueCaaS enhancements seek to benefit literally anyone who chooses to use Dialpad for their business communications.
Take Dialpad for a spin
Sign up for a 14-day free trial to get phone calls, video meetings, and instant + SMS/MMS messaging in one place. It takes just a few minutes to get started, and you'll be set up with a virtual phone number too!