Back to Blog
How law firms are using automation + AI to rein in costs and maintain margins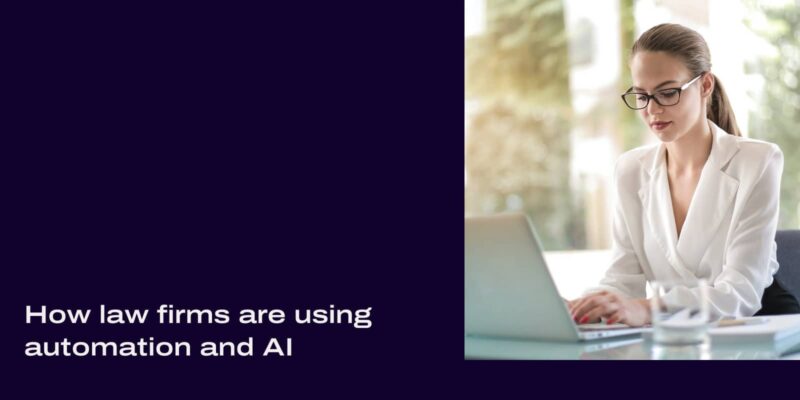 Most law firms are looking to adopt technologies that can help them address and offset the extreme pricing and cost pressures their business is under today. It's no secret that clients are demanding more—more access, more communications, and more value—for less money from their law firms or legal departments. Firms are looking at how they can deliver, without lowering their fees, to satisfy customers and retain, or better yet grow, their book of business.
Unfortunately, skyrocketing costs, driven in large part by the tightness of the legal talent pool, are eroding the margins of many on-demand services and alternative fee agreements (AFAs). A client advisory from Citi Private Bank noted that law firm expenses increased 10.4% last year, driven primarily by 16.3% growth in compensation.
No surprise, compensation for associates and partners is at an all-time high with no signs of softening. The American Lawyer reported 59% of legal employees plan to ask for a raise this year, with more than a quarter (29%) prepared to look for a new job if they don't get it.
Given this backdrop, law firms need to find other ways to improve the economics of their business. The appropriate use of technology can drive efficiency and productivity improvements that can help firms maintain their margins and competitiveness. According to the National Law Review, "Law firms looking to adjust to the 'new normal' are looking toward legal technology trends to address client demand and continue with growth."
Two technology trends that can really move the needle are automation and artificial intelligence (AI). Firms that can apply these technologies to streamline and accelerate the day-to-day tasks of their attorneys, paralegals, and support staff are in a better position to drive increases in billable hours and improvements in overall profitability.
Using automation to generate efficiencies
Taking time-consuming, manual legal tasks and automating them can free attorneys to spend their time communicating with clients and managing their core case responsibilities. In 2020, the McKinsey Global Institute estimated that 23% of a lawyer's work could be automated. Today, due to the digitization of so many legal documents and workflows, that percentage is likely way higher. This year alone, Gartner expects legal departments will automate over 50% of legal work for key business transactions.
An example of a legal task that can benefit from automation is the tracking of billable hours. It's not uncommon for attorneys to complain about all the mind-numbing time they have to spend looking through their phones and calendars at the end of every day/week/month to find and document their billable hours. They have to manually input everyone they met with, for how long, and on what matter, to ensure it can be tracked and billed.
A unified communications platform like Dialpad's can automate all of this work. It can automatically log all of an attorney's calls, SMS messages, and virtual meetings to quickly and accurately capture a large portion of their billable time, both in and out of the office—to your CRM or practice management software:


This automation can improve an attorney's ratio of billable to non-billable hours and generate increases in their realization rate. William M. Harrelson II, Partner, Harrelson & Harrelson LLP, says, "There's a lot of value from being able to capture your time accurately because it enables you to better analyze how you're spending your time. And obviously, you capture revenue that you would otherwise leave on the table."
Being able to automatically capture the content of all these communications is also a huge time saver. The integrated transcription capabilities of Dialpad eliminate the need for attorneys (or paralegals) to take notes. Instead, with the automatic generation of call summaries, and meeting transcripts attorneys can focus solely on listening and responding to clients, so they can provide the on-demand, high-touch service today's customers expect:

AI to drive productivity
Artificial intelligence (AI) can take digital legal workflows to the next level, driving even greater efficiencies and productivity. Zion Market Review predicts the global AI legal technology market will generate $37.8B by 2026.
One example of an effective application of AI for lawyers can be seen with eDiscovery. The use of AI within Dialpad's unified communications platform allows attorneys to immediately find the information they need within call, SMS, and meeting transcripts to greatly reduce the impact eDiscovery can have on flat fee agreements:


No longer do paralegals need to spend billable time transcribing and searching through audio files to find the information relevant to a case. In addition, AI can be used to automatically trigger actions and create to-do lists based on keywords that can further streamline workflows.
What's next
Law firms and legal departments looking to use automation and AI technologies to improve their ongoing profitability and competitiveness should make sure the solutions they adopt are:
Complete – providing a holistic solution that can really improve the day-to-day lives of attorneys and staff.

Easy to use – allowing everyone to quickly benefit, without having to be trained or change the way they work.

Secure – respecting and protecting the sensitive nature of a law firm's business.

Open – enabling integrations that enhance the workflows and functionality of the firm's existing ecosystem.
For information on how close to 400 law firms and legal departments are using the automation and AI of Dialpad's unified communications platform to improve the efficiency and profitability of their practice, book a walkthrough of Dialpad below!
See how law firms are using Dialpad to work from anywhere
Get a personal walkthrough of Dialpad or, take a self-guided interactive tour of the app!