Back to Blog
How a survey can transform your business: 3 customer satisfaction examples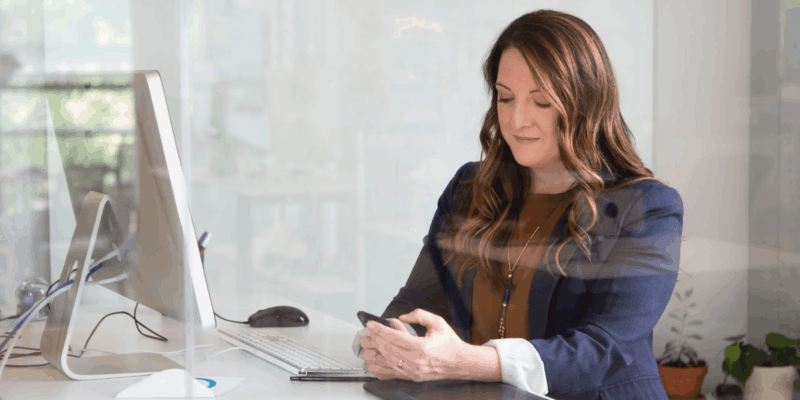 Customer satisfaction, or CSAT, is one of the most important metrics for any support or contact center team.
It's the clearest indicator of how good (or bad) your customer service is, and just as importantly, helps your business understand which interactions you need to improve on.
There aren't many better ways of getting direct feedback, since CSAT surveys are (as a best practice) sent out right after a customer has had an interaction, like a support call, with your business.
But that's not the only way to get customer satisfaction feedback!
If you're interested in some real-world customer satisfaction examples and how companies today are gathering customer satisfaction data, keep reading.
Examples of what you can determine with the data gathered through a customer satisfaction survey
Customer service satisfaction
The most common KPI (key performance indicator) that companies are interested in when they run a CSAT survey is their customer satisfaction score.
Typically, CSAT surveys are answered on a scale from one to five, with one being the worst or "very unsatisfied" and a score of five being the best or "very satisfied."
To calculate your CSAT score, tally up the fours and fives, divide by the total number of responses, and multiply by 100:


Again, you'll want to send this survey out to customers right after they've had an interaction with your business, while the experience is fresh in their minds. This way, the feedback you get is as accurate as possible.
How likely customers are to promote you via positive word-of-mouth
Other than your typical CSAT survey, you could also run an NPS or Net Promoter Score survey, which measures how likely your customers are to refer you to their network of colleagues or friends.
NPS surveys are typically scaled from zero to 10, with the question asking something like "How likely are you to recommend [X] brand to family, friends, or colleagues?" They'd then choose a number, 10 being the most likely and zero being the least likely.
Survey responses of nine and 10 indicate your most loyal customers. Customers who score a seven or eight are neutral or "passive." Anything between zero and six represents a detractor. To get your total scores, just take the percentage of promoters and subtract the percentage of detractors: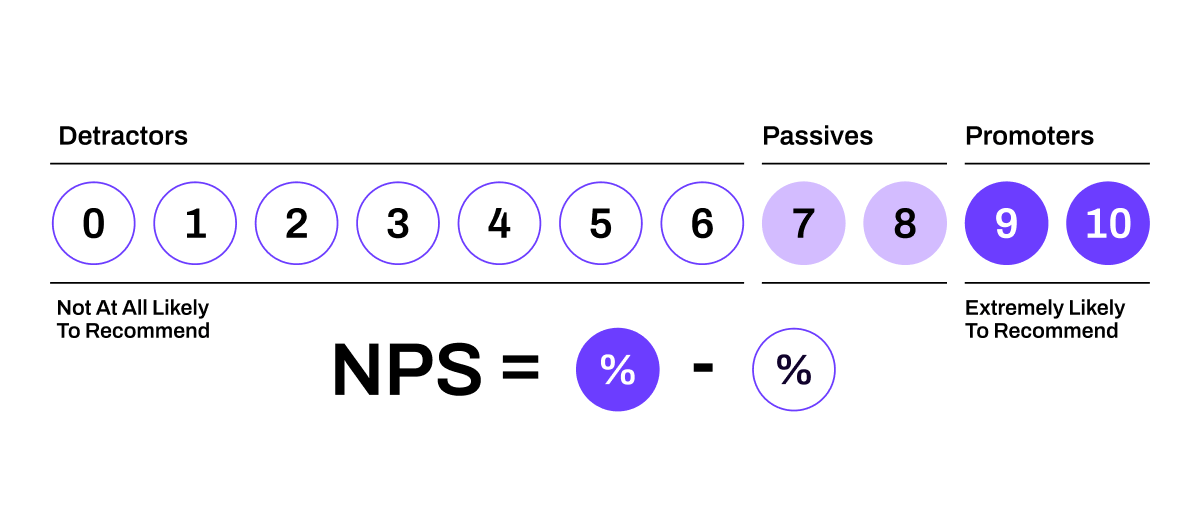 Qualitative feedback
CSAT surveys and other surveys can also have open-ended questions, which will give you valuable insight into the nuances of what your customers think.
You won't find numbers and metrics here. Instead, you'll find contextual information—the "whys" and "hows" behind the scores that your customers give you.
Examples of CSAT strategies from 4 companies in different industries
Strategy 1. Don't just rely on surveys: Dialpad
Like many technology companies, Dialpad uses CSAT as a key metric to measure customer satisfaction.
Unlike many technology companies, we don't just rely on customer responses to surveys. There's one simple reason for this: not a lot of people actually fill out those surveys.
In fact (depending on the industry and specific business of course), we've found that on average only about 5% of customers actually fill out CSAT surveys. On a related note, usually only the angriest—and happiest—customers actually bother to respond to these surveys, which means your CSAT answers are likely to be very skewed and not representative of how your customers feel overall.
Dialpad's industry-first Ai CSAT feature is designed to solve exactly that. Not only can Dialpad Ai transcribe calls and analyze sentiment in real time, it can also infer CSAT scores for 100% of customer calls. The result? A much more representative sample size for CSAT scores, and a more accurate understanding of how satisfied your customers really are:

It's a whole new way of gathering customer intelligence, with much less manual work and in much less time.
Strategy 2. Turn customer satisfaction into social proof: Airbnb
Hospitality is a sector where customer opinion has a huge impact. When you're deciding whether to stay in a particular place, your choice will greatly depend on what others have said about it. So, this industry needs a reliable and accurate means of recording customer satisfaction.
For this reason, Airbnb provides a great customer satisfaction example. How does it do this? By asking consumers to leave a review of their accommodation.
This review takes the form of a questionnaire that includes CSAT-like scales asking you to rate a home's cleanliness, communication, location, and so on. There's also a more open-ended response section, where the customer is given a text box in which to record their appraisal.
The host can rate the guest too:


This survey is a bit longer than your typical one or two-question CSAT survey, but it's a smart customer satisfaction review example because people don't tend to go on holiday that often, so this level of review detail isn't usually too burdensome for them to provide.
Strategy 3. Make the experience as easy as possible for customers: Lyft
What Lyft does is ask for customer feedback via a CSAT survey. So far, pretty ordinary. But where they score well is in what they say in the invitation.


It's a relatively simple and short survey, with the usual "choose the number of stars to reflect your satisfaction." But what's interesting here is that Lyft gives you the option to add a bit more context for why you gave that score.
And they don't just leave you an open-ended field to fill out—they pre-select a few potential options (likely the most common reasons they hear from customers) so that you can just tap the ones that may apply. This results in more valuable feedback, while still maintaining a good user experience.
Strategy 4. Use feedback to inform your product roadmap: Netflix
When your business is all about creating content, like Netflix, one great way to supplement your own teams' creativity is to look at what your customers are telling you they're interested in.

If you've watched a show or movie on Netflix before, you might've noticed their "thumbs up" and "thumbs down" buttons asking your opinion on its movies and TV shows:


Case studies: 3 businesses hitting high levels of customer satisfaction with their CX
How Rently juggles 3,000 calls per week while maintaining a 4.5 CSAT score
Problem: Rently provides property managers with self-touring and smart home technology and support. As home rentals (and customer service in general) adapt to the digital age, Rently's customer support team needs to be able to properly handle all their customer conversations, manage reporting, and meet their KPIs.
The problem: Rently's previous phone system had a variety of issues from constant crashes to inaccurate reporting.
Solution: They switched to a unified communications platform that let them onboard their teams quickly and gave them real-time analytics that empowered their supervisors to staff their contact center more efficiently.
"I love the heat map. Not only does it help my managers with capacity planning way in advance, we can also take those analytics and show it to our property managers so they can get a very unique set of evidence about calls coming so they can hire more people or extend our work hours," says Sahil, their Head of Customer Care.
Now, they're handling two to three thousand calls a week while maintaining an impressive 4.5 CSAT score.


Camino Financial cut their resolution time from 48 to 6 hours
Problem: Camino Financial provides funding to micro-businesses and companies of all shapes and sizes (from restaurants to beauty salons, food trucks to party companies). Their proprietary credit assessment and data aggregation AI determines the best loan for their clients. And with offices located in LA, Mexico, and Colombia, they need to be able to communicate from anywhere.
Their old phone system, though, wasn't user friendly for either admins or employees, and it didn't have analytics, call visibility, an integration with Salesforce., or even routing options for different departments. If they wanted to change anything, they needed to code, test, and implement the changes themselves.
Solution: They upgraded to a new AI-powered communications solution that integrated with Salesforce and had analytics that showed them when the most calls tend to come in.
Now, every team can measure their call volume, missed calls, and more. Managers know when to add more agents and for instance, they know that call volumes shoot up on days when payments are due, so they schedule their agents accordingly:


Not only has this cut down their call resolution time from 48 hours to just six, their CSAT score has also risen to a very healthy 97%.
Westward360 uses AI to give agents helpful answers in real time
Problem: Whether you're looking for a new place to live or dealing with landlords, it can be a nerve-wracking situation. A successful property management business needs to be able to provide a smooth experience for customers.
For Westward360, which has a global team distributed around the world, being able to stay connected and keep their contact center running smoothly is crucial.
Solution: After switching to a new communications solution, Westward360 was able to make some big improvements to its contact center. Before, their phone tree was overly complicated, which led to bottlenecked calls—not great for customer satisfaction..
Now, they have a new phone tree that incorporates four new contact centers and a support line department. This is helpful for the team, since it allows them to have dedicated teams and agents for specific support—no more sending customers back and forth to talk to the one person who's an expert at sorting out payment issues or maintenance.
And when agents do need help, there are AI-powered agent assists that pop up automatically with helpful information. "It's really helped us build out the way we train CSRs (Customer Service Reps) and pulls up guidance for them right away as opposed to making them reach out to someone else," says Jude, their Business Operations & Intelligence Manager:


Use these customer satisfaction examples to inform your experience
Customer expectations are always rising, and this can be a challenge. But, like all the best challenges, it's an opportunity to show what your business is made of, as these customer satisfaction examples should make clear.
The first step is to make sure you've got the tools that will help your team reach its potential—and your customer service objectives.
See how customer-facing teams at some of the world's leading companies are using Dialpad Ai Contact Center to improve their customer satisfaction!

Want to improve your customer satisfaction with AI?
See how contact center teams around the world are using Dialpad Ai to gather more customer intelligence and better understand how they can improve their CX. Book a demo with our team, or take a self-guided interactive tour of the app first!
Customer satisfaction examples: FAQs
What is customer satisfaction?
Customer satisfaction is a measure of how happy consumers are with a business's output. This can relate to specific products or services or be an overall take on the company.
Various tools are employed to ascertain customer satisfaction, including scales and both multiple-choice and open-ended questions.
What are good customer satisfaction pricing objective examples?