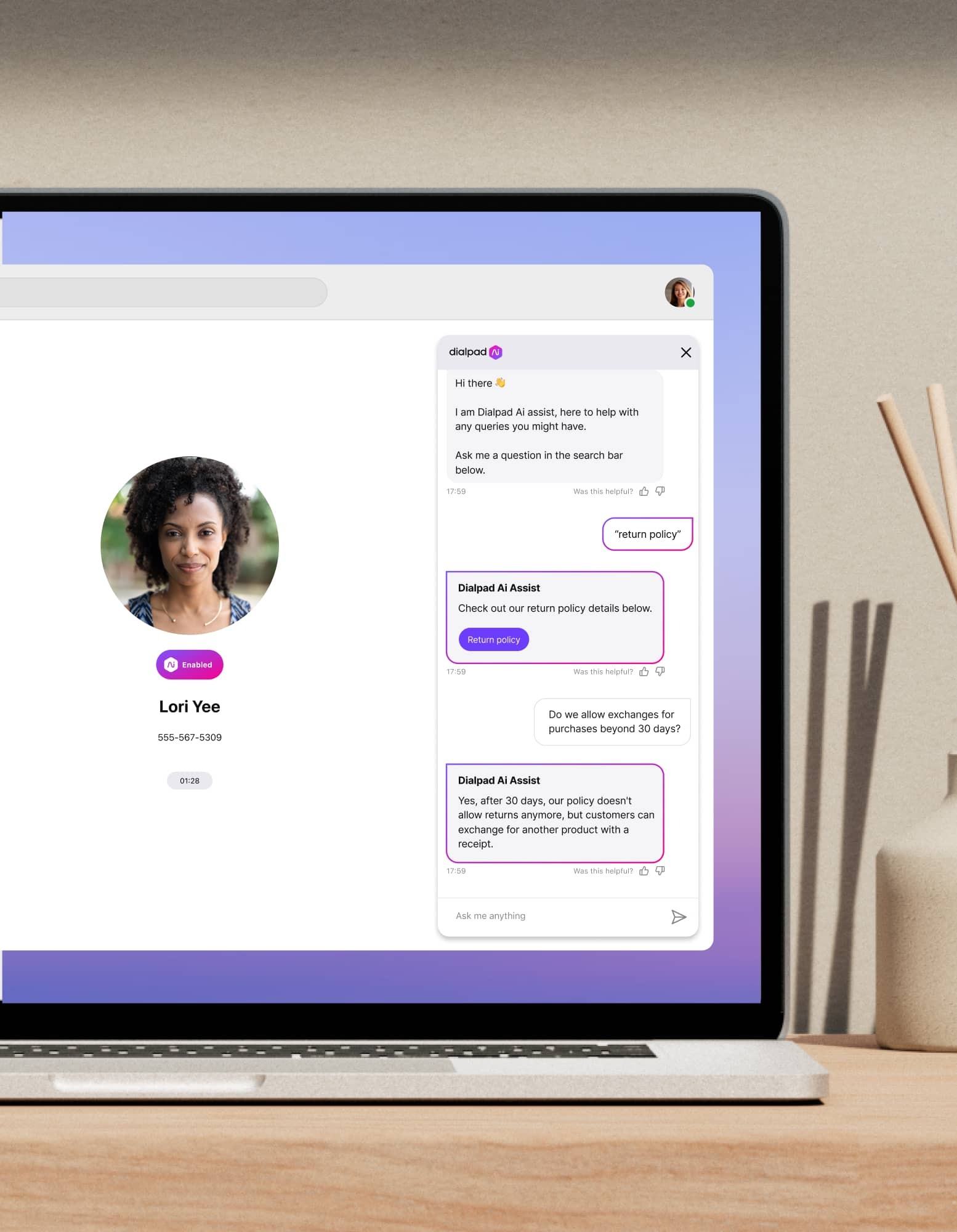 A flexible, easy-to-use platform
Contact center for retail industry
Managing retail contact center teams? With Dialpad's AI-powered customer engagement platform, you can gather customer feedback instantly, get support calls transcribed in real time, and provide an excellent customer experience. See how it works with a demo!
Not your average retail contact center solution

Set-up in minutes
Set up your retail contact center teams and assign phone numbers—all in on your online account in just a few clicks. Dialpad works across your existing devices and allows you to manage your own contact center with minimal IT support.

Real-time analytics
In Dialpad Ai Contact Center, you can track KPIs like call volume patterns, CSAT (customer satisfaction) metrics, inbound calls, and more. Get the insights you need to continuously optimize every step of your customer journey in a clean, intuitively designed dashboard.
Integrations with your favorite apps
Dialpad integrates with popular customer experience tools and CRMs like Zendesk, HubSpot, Salesforce, and more to automatically log customer interactions and streamline workflows. Or, build your own custom automations with the open API!


Robust security
In ecommerce, your agents should always be equipped to take payments safely and securely over the phone. Dialpad can help you stay compliant with SOC2 Type II, HIPAA, and GDPR—and more importantly, can help you maintain PCI compliance through its APIs.

Omnichannel communications
Manage all your communication channels, from phone calls to social media to other digital channels like live chat, all in one place. With Dialpad's omnichannel contact center solution, agents can easily manage all those touchpoints from a single interface.

Meet Dialpad Ai
It's one of the most unique things about Dialpad, and not only can Dialpad Ai transcribe calls in real time, it can also track how often certain keywords and topics come up on customer calls. Need chatbot functionality? Dialpad Ai can even search all your connected knowledge sources (including PDFs and past customer conversations) to pull helpful info for agents!

Easy call routing
With Dialpad's easy-to-customize IVR and call routing options, you can let callers route themselves to the right department or call center agent. Dialpad's analytics even show you which IVR options are being used the most (and least) so you can continuously optimize your IVR menu!

Advanced workforce management
Dialpad's Playvox integration gives you all the essential workforce management features, like scheduling, forecasting, and more.
A retail contact center that works from anywhere
Book a walkthrough with our team to see how Dialpad Ai Contact Center works and learn more about pricing. Or, take a self-guided interactive tour of the app on your own!
The benefits of a good contact center platform for retail businesses
Improved customer experience through streamlined communications
There are a few key ways in which a contact center platform can help to improve an ecommerce customer experience.
First, it gives customers a single point of contact, which makes it easier for them to get in touch with your business, whether they're reaching out through WhatsApp or a chatbot. This can help to improve customer satisfaction and also deflect the number of inbound calls.
A good contact center platform can also reduce the number of repetitive tasks that call center agents have to do, such as appointment scheduling and basic customer service questions. This can free up time for agents to focus on more important or complex tasks.
Access to insightful data and analytics
When it comes to data and analytics, a virtual call center solution can give retail businesses a wealth of insights, like call volume patterns and commonly asked questions.
This information can then be used to help businesses understand which areas are most profitable, find ways to increase customer retention, and create targeted marketing campaigns and personalized offers to boost sales.
Dialpad Ai Contact Center, for instance, has real-time dashboards that show call volumes and average speed to answer:

And its unique artificial intelligence technology, Dialpad Ai, can also help businesses glean an unprecedented amount of customer satisfaction insights—one of the biggest challenges with CSAT scores, even though it's a popular metric, is that most customers don't bother filling out the survey unless they're extremely happy or extremely upset with the call center agent. This skews the overall scores, and doesn't provide a holistic understanding of true customer satisfaction.

Dialpad Ai can infer CSAT scores from the content of the customer conversation, which means you can essentially get CSAT scores for all your customer calls—without relying on people to fill out any surveys:

Greater scalability and cost-efficiency
For a growing retail company that's opening new locations or expanding to new regions, a good contact center platform is important because it allows you to scale up—and down depending on seasonality—in a way that benefits your bottom line.
For example, with traditional call center solutions that use landline technology, it's much more expensive (with a much higher initial investment needed) to spin up a new team of call center agents because you'd need to pay for the copper wiring, the hardware, and so on. Not to mention it can take weeks or even months to get up and running!
With Dialpad Ai Contact Center, on the other hand, you can set up a new contact center team in minutes—fully online from your dashboard—and start adding agents with a few clicks:

All you need to pay for here is the additional licenses that you'd need for the new agents you hired. And when you need to remove agents (say, when the holiday shopping season is over), you can easily do that too, again right from your dashboard.
Build a contact center for your retail business in no time
Need an ecommerce contact center solution? See how easy it is to increase sales, improve customer satisfaction, and manage multiple communication channels with Dialpad Ai Contact Center!
Managing an retail customer service team?
Dialpad can help your agents' (and supervisors') lives easier. Get a personal walkthrough from our team, or take a self-guided interactive tour of the app!
FAQs about retail call centers
What do retail outsourcing companies do?
Retail outsourcing companies generally provide a comprehensive range of customer contact center solutions to retail businesses of all sizes. This can include inbound and outbound call center services, order processing, retail customer service, upselling and cross-selling, and more.
The benefit of outsourcing your retail call center services is that it can be more cost-effective than staffing in-house customer service agents, and these companies typically have the experience and resources to handle all aspects of customer support for their clients, freeing up retail companies to focus on their core operations instead of running an in-house call center.
Can I keep my old number with Dialpad?
Does Dialpad support both brick-and-mortar and online setups?