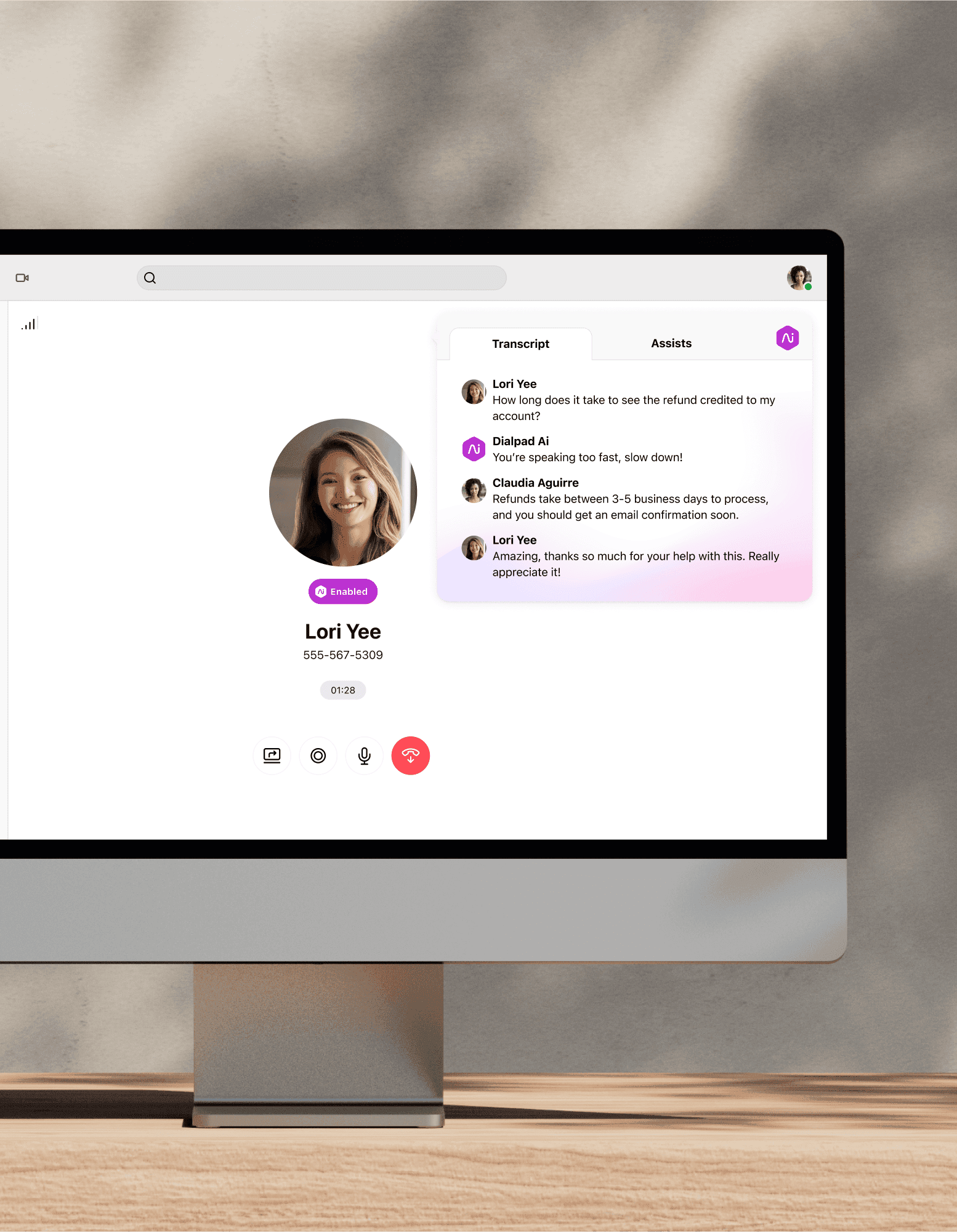 EASY TO SET UP, EASY TO ADMIN
Blended call center software
If you have both a support and sales team, you'll need blended contact center or call center software to help your agents provide a better inbound and outbound experience—without having to toggle between different apps. Dialpad's AI-powered customer engagement platform is designed to do exactly that. Book a product tour to see how it works!
Provide a better blended contact center experience for customers
Instead of having a separate solution for your inbound and outbound call centers, why not use a single robust platform that lets all your contact center teams handle conversations in a single place? With Dialpad Ai Contact Center, you can have a blended contact center experience for all inbound and outbound agents and consolidate all customer communications in one place.
If your business needs to handle diverse voice and digital channels, scale up your workforce globally, and effectively coach agents in real time, keep reading to learn how you can do all of that with Dialpad.
What is blended call center software?
A blended contact center solution is a communication platform that lets a company make outbound calls or carry out outbound communications through other channels, and also take inbound calls and messages from customers and other stakeholders—in a single interface.
A blended contact center solution with all the features you need
Omnichannel communications
With a true blended contact center platform, your agents and supervisors can carry conversations across every channel to provide that consistent experience for your customers. With Dialpad, you can manage all your social media channels—and more importantly, even non-digital channels like voice and video—in one place.

Self-service journey building
No coding needed. With Dialpad, you can take full control of your customer journey. Use the no-code drag-and-drop builder to create chatbots and design dialogue flows with questions and answers—and even include images and video instead of just having text-based answers—in minutes.

IVR capabilities
Interactive voice response systems (IVRs) can route calls automatically and provide basic information based on inputs from your callers. Instead of purchasing a separate IVR platform, contact center software like Dialpad has IVR functionality built right in. It even comes with analytics that tell you which options are being used (and which aren't).
Speedier QA
Accelerate quality assurance (QA) reviews, reduce compliance risks, and improve agent adherence with Dialpad's Ai Scorecards. Instead of supervisors having to review call recordings manually, Dialpad Ai automatically suggests when QA Scorecard criteria have been met and highlights coaching opportunities.
Unlimited call recordings
Call recordings are essential because they help call centers assess how agents are performing, improve training, and maintain compliance. In the long term, that can help improve your customer experience, and increase retention and sales. With Dialpad, you can just hit a button to start or pause call recording.
Looking for a blended
contact center solution?
Book a demo of Dialpad Ai Contact Center or, take a self-guided interactive tour of the app on your own first!
Built-in analytics
A good blended call center solution should come with contact center analytics like dashboards, heatmaps, IVR analytics, and live sentiment analysis included. With Dialpad Ai Contact Center, you can see all your KPIs in a clean dashboard, including missed and abandoned incoming calls to wait times, helping you make targeted, real-time improvements to improve agent productivity and your customer experience.
"
I love the heat map. Not only does it help my managers with capacity planning way in advance, we can also take those analytics and show it to our property managers so they can get a very unique set of evidence about calls coming so they can hire more people or extend our work hours.
"
Sahil Farooqi
Head of Customer Care, Rently

Live transcription
Not only can Dialpad's AI-powered real-time transcription reduce the need for manual note-taking, it also gives your contact center searchable records of customer conversations to do training and QA. Dialpad Ai even analyzes caller sentiment in real time to help busy supervisors quickly spot if a customer call is going south.

Easy call routing
Need to send calls to different agents and departments quickly? With Dialpad, you can do call transfers, adjust call queue priorities and self-service options, and more—all with just a few clicks from your online dashboard.
Real-time assists
Onboarding new agents quickly and need to maintain a high level of service? Create RTA (Real-Time Assist) cards and use Dialpad's Ai Agent Assist feature to pop up tailored notes automatically on agents' screens when specific keywords and phrases are spoken!
A wide range of integrations
Dialpad integrates with popular customer experience tools like Zendesk, Zoho CRM, and Salesforce to automatically log customer data and provide an embedded CTI (computer telephony integration) dialer for making calls—without leaving those tools. Want to build custom automations with APIs? You can do that too!
✒️ Grab the Contact Center RFP Checklist
Vetting different blended contact center solutions? This RFP checklist covers the essentials to be aware of and why they may be important for your contact center.
Provide an exceptional customer experience with blended call center software
Whether you have a small or large support and sales team that has to handle a high volume of incoming and outgoing calls, Dialpad Ai Contact Center is designed to make those workflows as easy as possible.
Set up from anywhere in minutes, add and remove agents with just a few clicks, and get the latest AI-powered functionality, like real-time transcription, Ai Agent Assists, and more.
Try the best blended call center software
Book a demo, or take a self-guided interactive tour of the app on your own first!
FAQs about blended call center software
What are some blended call center examples?
Businesses across different industries can use blended contact center software. For example, a surgical clinic's contact center will likely need to receive calls from patients, and also make outbound calls to remind patients of appointments, check on medications with labs, and so on. Insurance companies also typically use blended contact center solutions, since they'll receive questions from customers about policies and claims, and they may also have sales teams that do cold outreach to prospective customers.
What services can blended call center solutions provide?
Do Dialpad's plans come with blended call center software features?