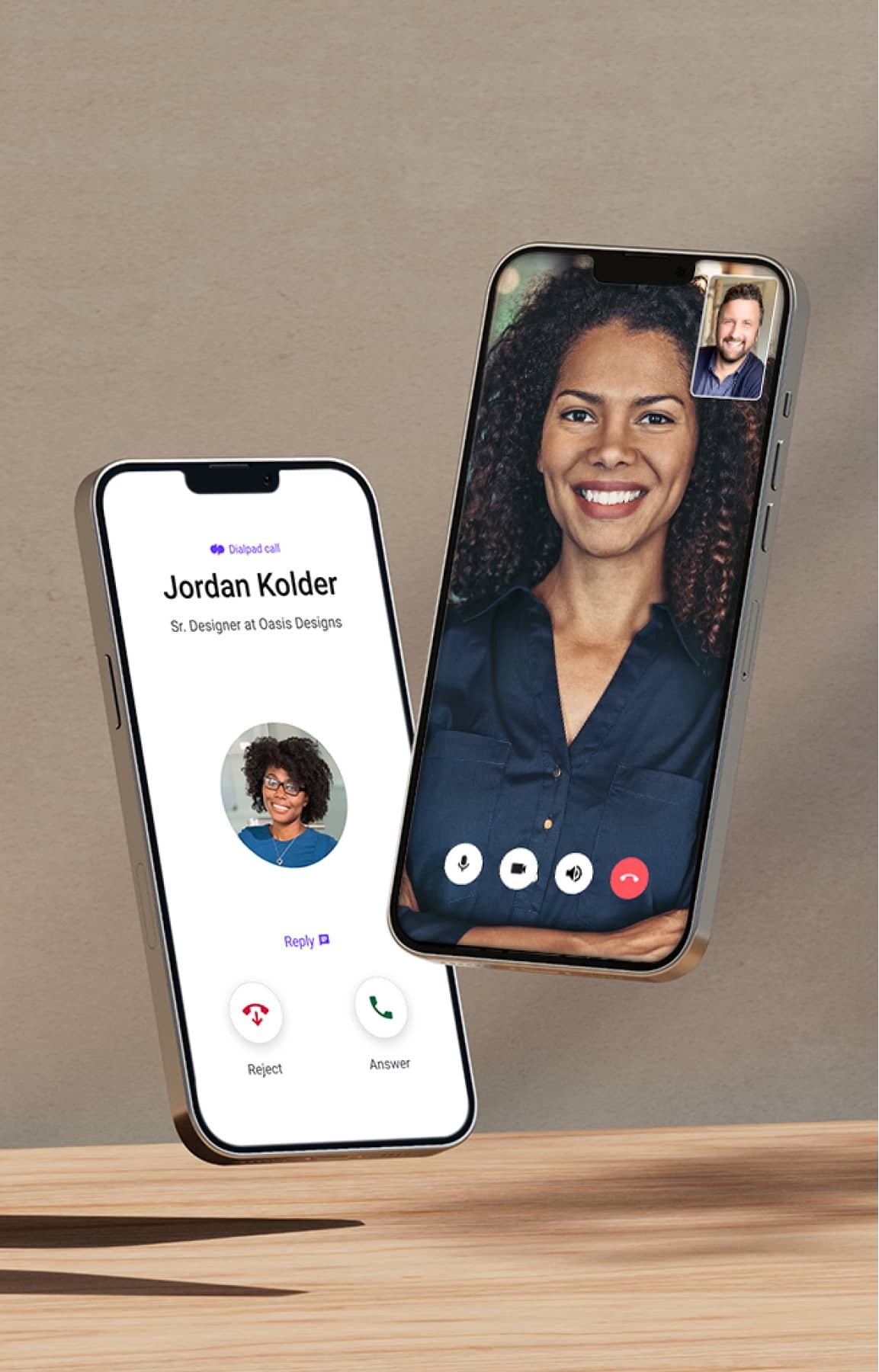 GUIDE
How to hire call center agents
Learn how to scout and hire the right call center or contact center agents for your business, from skills to look for to technology for supporting them. And if you're in the market for a contact center platform, why not check out a demo of Dialpad's AI-powered customer engagement platform?
Tips for vetting contact center or call center agents
Before you start evaluating the call center agent applications you received, it's helpful to answer these questions:
What are the most important qualities for a call center agent?
What are the absolute minimum requirements for consideration?
What skills would help supplement any missing qualifications?
What are you looking for in a cover letter?
What traits would make a candidate a bad fit for the position?
These questions will help you sort through applications more quickly. If someone doesn't possess the necessary qualification, you can simply move on. You can also build the ideal candidate profile when you can answer questions like these.
Keep in mind that sometimes the "perfect" candidate may be a misleading idea. Even though a candidate sounds great on paper, his or her values or characteristics may not be the right fit for a call center position.
It's therefore important to keep an open mind about checking off all the experience or qualification boxes, and to wait to make a final decision until you have a chance to talk on the phone or in person. If something intrigues you on a cover letter or resume, follow that feeling.
After you've sorted through all of the applications and have narrowed them down to a few people that you want to interview, it's time to start preparing for how you'll handle that process and what questions you'll ask.
Call center agent interview process
The interview process will have several components.
You may want to start with a phone call and schedule an in-person or video interview if all goes well. The first time you contact a candidate you're interested in, outline how the process will go so they know what to expect and how they can start preparing.
Skills assessment
It's wise to test candidates with a skills assessment to evaluate if they are the right fit for the job. These can take a few different forms.
You could do a video test where candidates are given a prompt and need to demonstrate how they respond to an angry customer scenario. Or, you can present a list of customer questions and ask them to write down how they would handle certain situations.
Given that call center agents deal primarily with customers, these tests can show you whether they have the right balance of patience, friendliness, and firmness in how they interact with people.
The interview process
Aside from the skills test and the initial phone screening, prepare for a face-to-face interview as well. This is where you can get to know the candidate and see how they answer questions in real-time.
What interview questions to ask
Prepare a list of questions before the interview and stick to them, almost like a transcript. You don't want the interview to feel overly stuffy and you want to evaluate candidates equally, so it's okay to allow time for small talk and flexibility to make the conversation flow naturally.
Here are some of the most common and effective questions to ask prospective call center agents in an interview:
Tell me about yourself.
Why do you want this position?
What do you know about the company?
Why do you want to work in a customer service role?
Why do you want to work in a call center?
What is your favorite part about working with customers?
What do you think is the most important part of customer service?
Describe a time you had to deal with an unhappy customer.
How do you handle difficult people?
Why should we hire you?
Why are you right for this particular role?
What kind of work environment are you looking for?
Do you have experience managing large amounts of incoming calls?
Do you have any questions about the role or company?
These questions will keep you on task while forcing the interviewee to think on their feet. Remember to always end the interview with a space for the candidate to ask questions or share any of their final thoughts.
Onboarding and training call center agents
Once you've vetted and interviewed your candidates and made an offer, the next part of the process is onboarding and training your new call center agent(s). This is a key step in making sure your agents are equipped with everything they need to excel in their job.
Here are a few ways to optimize your approach.
Route simpler calls to new hires
Part of your training strategy should include routing the simpler matters, like basic inquiries about account information or how to do something, to new hires until they feel confident in handling more complex calls. If you're using a virtual call center platform like Dialpad, you can easily set up rules to route specific calls to new team agents or to route them for escalation as needed, instead of transferring your customer's call several times and increasing the time to resolution.
Provide live coaching during calls
Call center agents need to have information readily available to solve issues on customer service calls, but this knowledge usually takes some time for new agents to attain. Using Dialpad's Real-Time Assist feature, your agents will instantly get all of the necessary details so they aren't leaving customers waiting and extending call times while researching a given situation:
This is particularly helpful for new hires who are still learning the ropes and may not be fully equipped to handle an unhappy customer.
As the name indicates, live sentiment analysis allows you to help agents live, in real-time instead of after a call. New agents will learn faster and be more effective on future calls as a direct result.
Ready to hire call center agents and set them up for success?
Hiring the right call center agents is an important aspect of being a successful call center manager as your team scales. This step-by-step guide helps you make sure that you write a well-thought-out job description, ask good interview questions, use the right recruitment technology, and properly vet your job applicants. Building out a robust hiring process ensures that you hire call center agents who understand your business and maintain a high level of customer satisfaction.
Once you've found the right hires, Dialpad's AI-powered customer engagement platform offers many features that can help with your call center agent onboarding and training to make sure new agents can ramp up as quickly as possible. Learn more about how Dialpad's cloud contact center platform works and how your team can benefit.
Want to see how Dialpad Ai can work for your business?
Book a personal demo to see how your Support, Sales, and other teams can use it. Or, take a self-guided interactive tour of the app on your own!