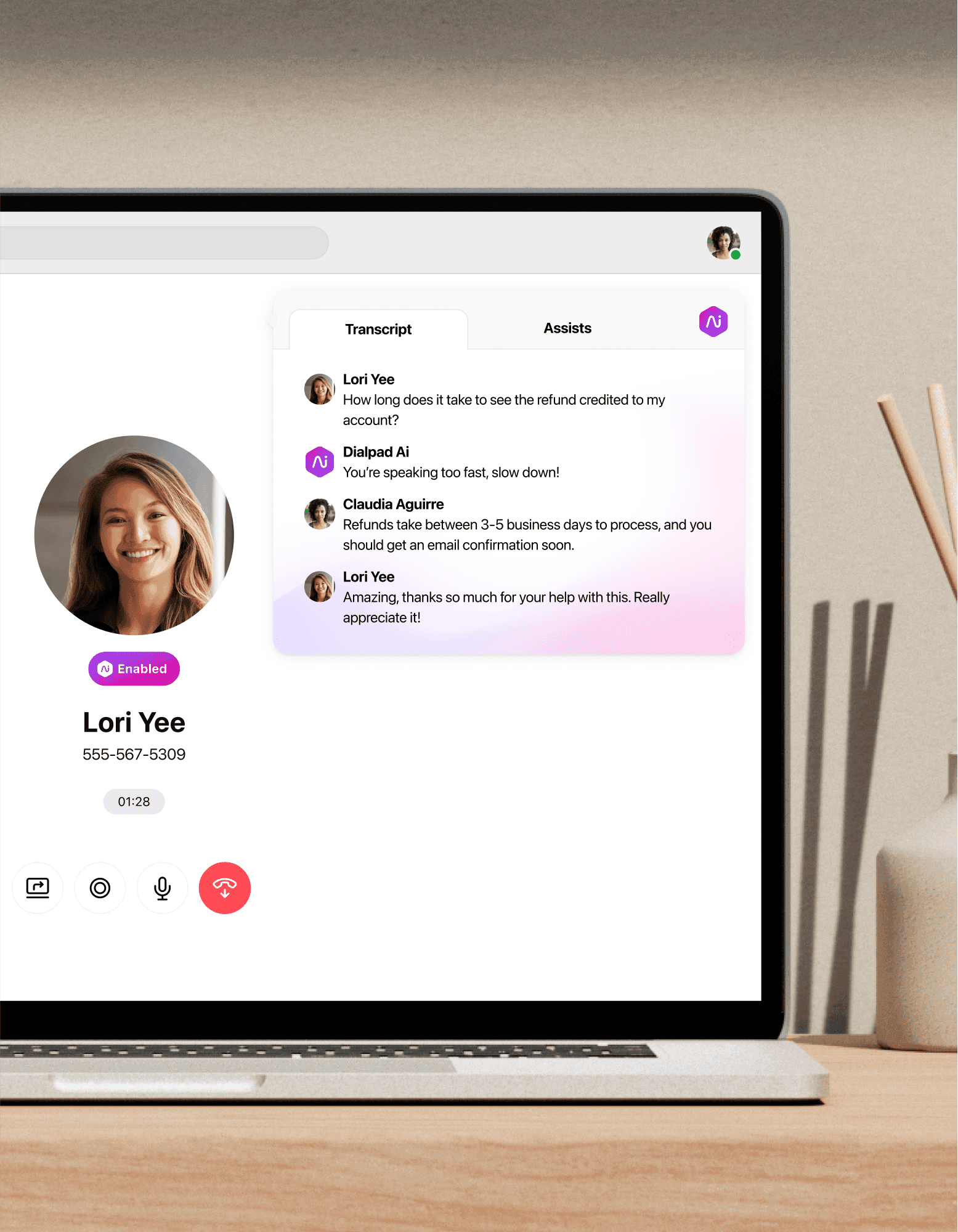 The Dialpad Ai best practices guide
Dialpad Ai not only transcribes your team meetings + customer calls in real time, it can also automatically log action items, send you a meeting recap, and even pop up Real-time Assist (RTA) cards to help contact center agents if tricky questions come up. Book a product tour to see it in action!
When it comes to combining AI with your conversations, the sky's the limit. From automating manual processes to reminding you what was committed on a call (and by who), Dialpad Ai is here to help you save time, give your productivity a boost, and even help ramp those newer support agents or sales reps.
Nix the note-taking
Challenge: Keeping up with manual notes
Focusing on what you need to—and ignoring what you don't—is getting increasingly harder. And when it comes to trying to capture everything that was said on a call, it's nearly impossible to capture every detail without losing track or worse, jotting down the wrong info.

Solution: Automatic call transcriptions
Not only do you get a record of what was said, Dialpad Ai also lets attendees who joined the meeting late to quickly scan the transcript to see what they missed. No note-taking needed.


Following up on to-dos
Challenge: Keeping track of action items
While it may be tempting to try to check off more than one to-do at a time, multitasking can have negative effects. (Seriously. There's no shortage of studies on this.)
And if you're doing it on a call (which, let's face it, most of us do), it's nearly impossible to remember what next steps were said, and by whom, along with other important details.
Solution: Post-call summaries
Forget multitasking—Dialpad Ai lets you focus on single-tasking while next steps are being captured for you.

With post call summaries, your entire conversation is automatically surfaced to you, complete with:

Full transcription (including which speaker said what)
Embedded keyword search
Contact details including timestamp, caller ID, and duration
Share link for the rest of your team
There's even an audio recording playback option so you can rewind or skip ahead if you want to

Breaking through silos
Challenge: Workplace silos make it hard to collaborate
If you feel like your team isn't working as one, you're not alone. With more and more people working remotely, it's easier than ever to get siloed.
Team collaboration is about more than just asking about each other's weekend plans. It's passing along candidate feedback between recruiter and hiring manager, sharing buying intentions between Sales and Marketing to align campaigns, or understanding why customers are upset and how to best address it.
Solution: Call analytics and keyword searches
Even the best team can fall victim to siloed conversations (especially when they're trying to juggle too many tasks).
Let's say you've just kicked off a new social campaign to drive trial requests. With Dialpad Ai's call analytics and keyword search, any team can filter and pull all calls where a certain campaign, customer issue, or churn reason was mentioned with access to a complete transcript of what the conversation entailed. Your customer conversations are a goldmine of insights. Don't waste it!
🤖Learn how to stay compliant with AI
How can a business use AI to transcribe customer conversations while staying compliant? What do you need to know from a legal perspective? Get the answers in this AI + Compliance guide.
Coaching at scale

Challenge: No way to scale coaching efforts in real time
You've got newer support agents or sales reps on the phones without any way to guide them through those tough moments... That is, unless you're willing to be pulled in 10 different directions at once.
There's just no scalable way to coach your team right in the moment of that call, not with agents or reps spread out across the office (or globe). And while post-call coaching is important, it can't actually help an agent or reassure a customer when the call is actually happening.
Solution: RTA (Real-time Assist) for the win
With Dialpad, contact center managers can build out RTA (Real-time Assist) cards with tailored recommendations for both agents based on keyword triggers said by just the caller, just the agent, or both!
Think of the most common FAQs or biggest hurdles to jump when your team's new to help populate your cards. Westward360, a real estate company with contact centers in the US and Philippines, triggered over 11,000(!) RTA cards for their agents over a 6-month span.
Need a little more guidance? We got you covered—check out some useful tips on RTAs.

Finding the right solution
Okay, we've gone through a few high-level ways to use Dialpad Ai feature. Now, let's look at the departments within a typical organization and how they can use it to solve their specific challenges.
Here are a few examples to get you started:
Marketing
No way to tie sales or support conversations with active campaigns or demand gen initiatives?
Use Dialpad's call analytics and keyword searches to filter by a specific parameter (like a campaign name or specific keyword) to review the transcript, customer sentiment, and get more context.
Executive Assistant
No central place to keep a log of conversations between assistant and exec, or all the calls made on exec's behalf?
Just log into Dialpad to look at the call transcriptions (which are automatically generated during the call, which means you don't have to wait a few hours after the call to get the transcript).
Recruiter
Hard to keep up with phone screens and sharing insights in a timely manner?
Post-call summaries not only capture the conversation, but also include highlighted moments and the ability to quickly and easily share the entire conversation with the rest of your team and/or hiring manager.
Learn more
Interested in getting started with Dialpad Ai? One tip that some of our customers have recommended is taking a smaller group of people and letting them test out the features at first. (Sales and Customer Support / Success teams are great groups since they're on the phone the most!)
Here are some more resources if you'd like to learn more about how we built Dialpad Ai and how our own teams use it:
Want to see how Dialpad Ai can work for your business?
Book a personalized product tour to see how your Support, Sales, and other teams can use it!