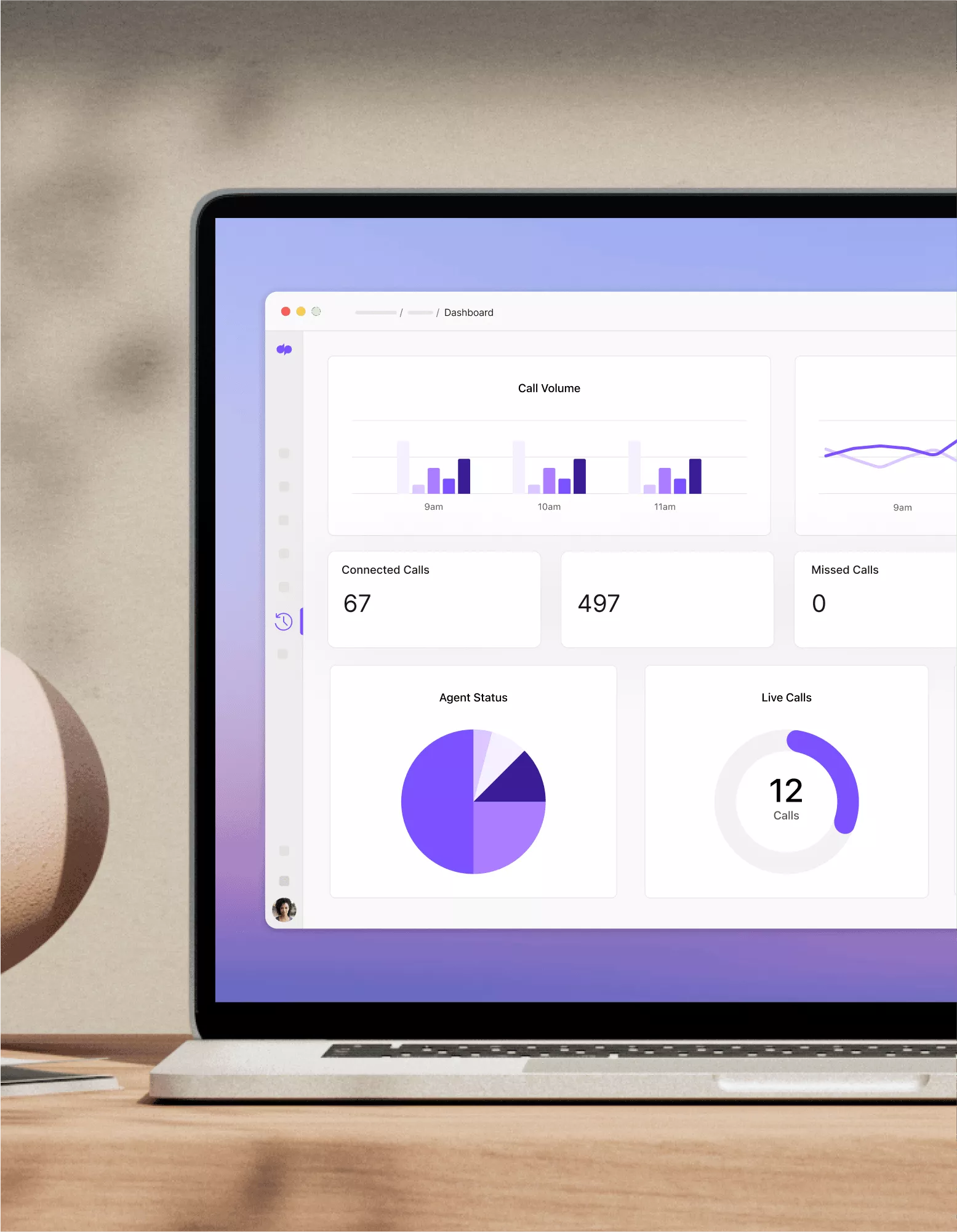 A call center staffing guide
With a good call center staffing solution, businesses of any size can grow their call center operations that fit their needs and budget without relying on agencies or contractors. Learn about call center staffing, how to calculate staffing needs, features to look for in call center software, and best practices. Or, book a walkthrough of Dialpad's AI-powered customer engagement platform to see how it can help make staffing easy!

The call center staffing model: A quick overview
Interested in learning more about how you can get your call center staffing just right? That's where staffing models come in.
How to use call center staffing models
A lot goes into ensuring there are enough full-time agents to answer calls and keep hold times down. Supervisors need to account for agents' time off, sick days, time spent on calls, and post-call work.

Managers also need to have an idea of how many calls come in during business hours and what times of the days are busiest—there's a lot of problem-solving that goes into call center staffing.

Call center staffing models are formulas for determining precisely how call volume, customer hold times, breaks, and post-call work influence the number of staff you need. You can use manual calculations to determine these figures or take advantage of software that calculates everything you need to know in seconds.
How to calculate call center staffing: The Erlang C formula
Developed in the 1910s for telephone operators, the Erlang C formula is a mathematical formula that calculates how many agents you need based on certain factors. These factors can include average call time, post-call time, the number of calls for each hour of a shift, and the number of calls coming in each day.
👉 Dialpad tip:
It's useful to note that there are all kinds of call and contact centers—inbound call centers, outbound call centers, virtual contact centers, and even business process outsourcing or BPO call centers. A BPO call center is when a third-party service provider runs your center on your behalf, rather than you handling it in-house.
Because the Erlang C formula was developed more than a hundred years ago, there are some modern factors you'll also want to introduce when calculating call center staffing. These include abandoned calls, call center turnover, time off the phones for meetings, and outbound calls.

Using this information, the Erlang C formula can calculate the number of lines and agents needed to maintain service levels and give an average delay for each hour. (Or, you could use an Erlang calculator online to do this.)
Software features you need to help you manage call center staffing
If using a manual calculation like the Erlang C formula isn't for you (it probably isn't), software can help you out instead.

There's no need to look for a software solution that specifically focuses on call or contact center staffing. In fact, there's no such thing—many organizations look to solutions like Workforce Engagement Management (WEM) tools, but that's not necessary either.

The best way to approach call center staffing is through contact center software with the right features in its arsenal. Let's take a look at the contact center platform features that can provide you with all the data you need to support your staffing decisions:
Call analytics
If your contact center software comes with built-in call analytics, you don't need to invest in multiple contact center staffing tools to see how your team is performing or monitor the number of calls coming in at any given time.

The right contact center solution can make managing staffing levels significantly easier. A solution like Dialpad includes numerous call analytics features that make it much easier to make smart staffing decisions.

For example, from Dialpad's contact center analytics dashboard, supervisors and management can set and monitor metrics such as service level, wait time, queue size, and when agents are off duty.


To see how many calls are in progress at any one time, you can look at the Concurrent Calls tab in your call analytics dashboard. This information can help you forecast agent schedules and prevent too many simultaneous calls.
Heatmaps
Heatmaps give you a convenient, easy-to-read look at when your call center is at its busiest and when it's quieter. This is a great way to see how many call center agents you need working at different times during the day and week.
The best systems give you even more data to make decisions. Dialpad, for example, generates heatmaps that give you an overview of call volumes and average speed to answer to better manage wait times. You can also filter on specific periods to identify peaks and troughs in call traffic:


IVR analytics
IVR (Interactive Voice Response) tools help your call center staff by directing inbound calls, saving time and energy spent on simple answers and misdirected calls. This is especially critical for small businesses trying to make the most of every minute.

Take Dialpad's IVR analytics for instance. You can see which IVR options callers use the most and use that insight to edit IVR menu options to give your callers the most efficient experience possible:

Built-in AI
Contact Center AI (CCAI) is the specific use of AI in (usually) cloud contact center platforms. It typically automates repetitive tasks, freeing up agents for more complex work and powers more intelligent analytics—often in real-time.
Dialpad offers these kinds of benefits with its in-built AI functionality: Dialpad Ai. It can transcribe calls in real-time:

It also shows live sentiment analysis on calls so supervisors can see customer satisfaction levels in real time, and can even track how often specific topics or keywords are used. For example, if you want to see how often "pricing" comes up in customer conversations, you can create a "Custom Moment" in Dialpad to track every time it's spoken on a call!
💡 Fun fact:
Dialpad's contact center and AI functionality covers voice, video, and digital channels all in one workspace.
Streamlined admin workflows
Managing your contact center admin workflows shouldn't be difficult. When considering call center staffing solutions for your business, it's important you're able to gain insights quickly and easily. Admin portals should be easy to set up and navigate, and should allow you to control and see everything from one central place.

Dialpad's contact center dashboard shows you everything you need, like call metrics, number of agents, average handling time (AHT), service levels, and even an agent leaderboard. Besides being able to see everything, you can also manage phone numbers, add new agents to departments, remove users, and more—all with just a few clicks:


Advanced WEM + WFM capabilities
Sometimes you'll want more advanced WEM / WFM options, so choosing a platform with these capabilities in advance will save you time in the long run. Advanced workforce management capabilities may include forecasting, scheduling, and gamification features.

The Dialpad Playvox WFM integration uses AI and real-time data from Dialpad to generate forecasts and self-adjust accuracy. With AI-powered intraday management, you can make staffing schedules in real time using real-time interaction data from different channels to monitor adherence during the day. (That's right, no call center staffing agency needed.)
✨ Want to provide a better customer experience?
Grab our free contact center playbook that breaks down everything you need to know, from setup to staffing to optimizing.
3 best practices to overcome call center staffing challenges
With a tool like Dialpad on hand to help, call center staffing and making staffing calculations becomes much easier. It's still worth, however, keeping the following best practices in mind and trying your best to adhere to them.
1. Create a solid hiring strategy tailored to your business needs
Contact center turnover is notoriously high. Creating a solid hiring strategy is key in recruiting the right direct hires to your business in the first place and thus increasing retention rates. To develop a strategy that fits your needs, ask for feedback from outgoing employees and see which changes might be overdue.

Develop detailed job specifications that accurately describe job duties, salary, benefits, and company perks, so job seekers know exactly what to expect from the position. Post job openings on contact center job sites like Call Center Jobs to find the best-qualified candidates.

Before you set up interviews with applicants, create assessments that measure important skills like active listening, communication skills, technical knowledge, and more. This will help you narrow down your top choices.
2. Give your agents the training they need to perform consistently
No matter how many years of experience your customer service representatives or sales representatives bring to the table, they still need your support. Call center agents are on the front line of the customer journey. Giving them the continual training they need to perform at their best will also bolster your customer experience efforts.
There are many ways you can improve agents' training. As a starting point, making call recordings available to listen to is a must. You can make playlists of these in Dialpad to ensure you can demonstrate whatever you feel best for each agent with ease.

By the way, Dialpad's Real-Time Assist (RTA) cards also make a big difference to on-the-job training. You can create these cards and ensure they pop up when specific keywords or topics get mentioned on a call. That ensures not only that an agent can answer a caller accurately immediately, but also that they learn the right answer for future calls:


By using some or all of these features, you have a better chance of lowering attrition rates and keeping your top talent, especially if you're running a virtual call center with remote employees.
3. Keep a close eye on data to predict any staffing shortages or issues
Having comprehensive analytics at your fingertips can be a huge help in getting your contact center staffing right—without having to go through IT or a tech support team every time to pull basic data. (That's as long as you stay regularly in touch with the data provided and act upon whatever insights you discover.)
Ensure you—or other contact center team decision makers—keep checking regularly on things like call volumes, average handle time, and your customers' preferred communication channels. That way, you can spot any new trends or changes as quickly as possible. That gives you the chance to adapt your staffing strategy before those changes develop into problems like staffing shortages or other related issues.
Manage your call center staffing with Dialpad!
So now you know you don't need a dedicated department to figure out your call center staffing situation. But before you bust out the Erlang formula, consider the much easier option of covering all your call center representative staffing needs through Dialpad.

With robust features like call analytics, heatmaps, and our game-changing Dialpad Ai technology, figuring out your staffing levels is about to become a whole lot easier. With a quick skim of your analytics dashboard, you'll know exactly the number you'll need at all times.

Want to make call center staffing easy?
Book a demo today to see how Dialpad's customer engagement platform can help you manage the agent staffing needs of your call center or contact center team. Or, take a self-guided interactive tour of the app on your own!