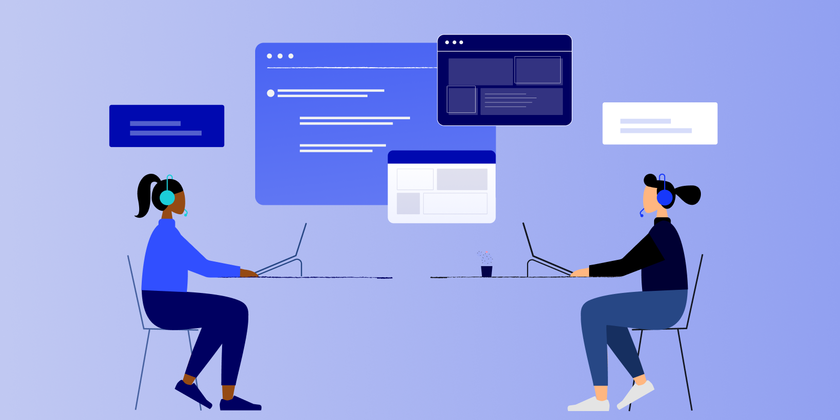 April 21, 2021
The workplace has changed over the past year, as the sudden and widespread shift to remote workstyles reshaped how we work. Even when working from home is no longer necessary, there's no doubt that the workplace will forever be changed - so what does the future look like?
Dialpad's CRO, Dan O'Connell, sat down with WeWork's Head of Building Technology, Chad Pierce, for a webinar called "The Future of the Workplace with WeWork & Dialpad." There, they discuss how work has changed in 2020, the hybrid workstyle, reopening offices, and working smarter in a post-pandemic world.

Working Remotely
In 2020, the percentage of Americans working from home increased from around 25 percent to over 60 percent. That shift was sudden, but businesses across the country managed to transition successfully thanks to various collaboration tools.
This transition included many challenges businesses had to overcome, but found benefits ranging from increased productivity to reduced turnover rates. In this webinar, Dan and Chad discuss what obstacles businesses faced, what technologies helped them overcome these obstacles, and what benefits businesses are seeing now that working from home is the norm.

Looking Ahead
With vaccine availability increasing, it's only a matter of time until businesses can welcome employees back to the office. When they return, the office may not be the same. A hybrid of in-office and remote work awaits for many industries, even for businesses where remote work was never imagined possible before.
What changes await? What challenges will they represent? Dan and Chad cover the future of hybrid workforces, automation, and the "work from anywhere" workstyle. Additionally, they discuss the many challenges that lie ahead, such as video fatigue and maintaining a strong company culture across a remote workforce.

Your Questions, Answered
The WeWork and Dialpad webinar was open to a live Q&A, featuring questions submitted throughout the discussion. During the Q&A, the webinar hosts covered important questions, ranging from employee monitoring to what companies that have gone 100% remote will do once offices can reopen. If the webinar discussion left you with any questions, the Q&A may have your answers.

Where to Watch
You can watch "The Future of the Workplace with WeWork and Dialpad" on-demand on the Dialpad website, available now.
Want to learn more about WeWork? Read our WeWork customer story and see how WeWork uses Dialpad in their daily operations.