Back to Blog
Restaurant staff training topics to help you boost sales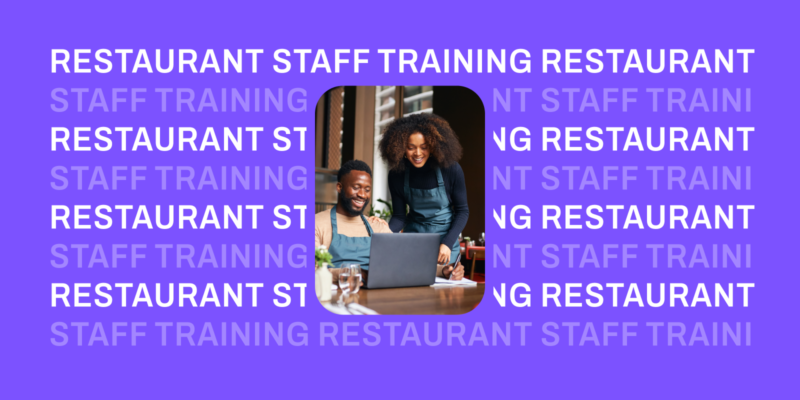 One of the primary responsibilities of a restaurant manager is to train restaurant employees. If you want your restaurant to run like a well-oiled machine, you need to invest time and use the right tools to create a training program for your staff.
Below, we'll look at the basics of restaurant staff training, from its benefits to planning, and common topics you need to approach.
What are the benefits of restaurant staff training?
1. Increase staff retention
One of the main restaurant staffing issues is retention. While this was always a challenge, the COVID-19 pandemic added to the struggle of keeping employees in the restaurant industry.
Showing your staff members that you care is the first step toward fostering a positive work environment that your employees wouldn't want to leave.
Creating a detailed training program that helps your staff learn new things and excel at their job will increase staff retention and loyalty. In turn, this will help you boost profits by not having to train new employees constantly.
2. Improve customer service
Any restaurant owner knows that the guest experience is paramount for the success of your business. For that purpose, you need to train your front-of-house staff to address customers, promote your menu, make personalized suggestions, deal with complaints, and also provide proper customer service etiquette over the phone.
In fact, according to Oracle's Restaurant Trends 2022 survey, personalization is a huge selling point in the food and beverage industry.

The better they're treated, the more loyal your customers will be. Having employees that know your mission statement by heart and truly believe in it will reflect your brand image and reputation.

3. Boost sales
Your sales training process should contain information on upselling and cross-selling to boost restaurant profits. This implies that your servers need to learn about all the menu items and how you can pair them together to make unique and enticing suggestions to customers.
Upselling can be tricky, especially for new hires, so take your time with this part of the onboarding process. Otherwise, you risk putting off customers if the server is too pushy with their recommendations or doesn't know how to reply to pertinent questions about your restaurant menu.
4. Keep customers and staff safe
Especially now, in the wake of the Coronavirus pandemic, health and safety in the restaurant industry is a primary concern. Both back-of-house and front-of-house staff need to be trained about food safety, cleanliness, and the importance of respecting health codes.
This won't just keep them safe as they do their job but also ease customers' minds knowing your restaurant doesn't take health and safety lightly.
5. Create a tightly-knit team
Finally, another notable benefit of restaurant staff training is its ability to bring staff together, make them feel like they're working toward the same goal, and create a sense of accountability.
If everyone knows their responsibilities well, they're less likely to get in conflict with their peers because of misunderstandings. Focusing on holistic employee training will allow the smooth running of your team where people can help each other be better.
10 Restaurant staff training topics to include in your restaurant training manual
1. Food safety
Perhaps the most important part of your staff training plan is the chapter dealing with food safety. From the kitchen staff to the waitstaff, everyone that gets in contact with food needs to be adequately trained to ensure that the food is safe for your customers to eat.
Focus on topics like avoiding cross-contamination, maintaining proper hygiene at work, and storing and preparing food safely. Consult local food safety standards and make sure everyone on your staff is aware of them and abides by them.
2. Cleaning and sanitation
Any restaurant training program should contain a chapter on cleaning and sanitation. Customers don't want to dine out at a restaurant where the tables aren't clean, the cutlery isn't washed, or the floor is noticeably dirty. This ruins the dining experience entirely.
That said, train your employees to clean every surface imaginable thoroughly. Next comes sanitation, which implies not just cleaning the surfaces, but also disinfecting them.
Disinfecting has become the norm now, and it should continue to be this way even after the pandemic is over. Train your staff to pay special attention to high-touch areas like counters, tables, or doorknobs, and disinfect them multiple times a day.
3. Food storage
Another restaurant employee training topic is related to properly storing food to avoid contamination and spoilage and increase organization. You want the food you serve your customers to be fresh and of the utmost quality.
From the moment the food gets delivered, it's a matter of teamwork to check the quality of the food, label and organize it properly, and store it according to the required temperature. Consider using the FIFO (first-in-first-out) method to make sure you consume the ingredients as you get them and avoid food waste.
4. Customer service
This is a vast restaurant staff training topic but crucial to the restaurant business, which thrives on reviews and word-of-mouth. The best way for a new restaurant to grow is to focus on quality customer service and gather positive reviews.
Train your employees in all the stages of interacting with a customer, from the moment they walk through the door or place an order online to telling them about your newest restaurant promotions, keeping a close eye on their needs, or asking for feedback at the end of the meal.
It might also be helpful to delegate experienced employees to communicate with customers online in addition to over the phone. If your restaurant receives a high volume of calls, you can utilize a business phone service for restaurants that comes with features like integrated voicemail greetings, holiday routing, forwarding numbers, and more.
This helps ensure potential customers are being taken care of properly.

5. Food serving
Unlike dishwashers and other back-of-staff employees, the people who serve the food interact with customers directly. They represent your restaurant business as few others do. You need to train them in greeting customers, helping them find their seats, taking their orders, and serving them.
They should also be trained in upselling and recommending dishes based on what the customer asks. If customers have any allergies, the serving staff should know which items on the menu they should stay away from. Customers who feel taken care of will turn into loyal patrons in no time.
On the contrary, if patrons have a bad experience at your restaurant, they'll probably leave a bad review, which will deter others from visiting too.
6. Bussing
Bussers have a crucial part to play in day-to-day restaurant operations. Your restaurant training materials should include information on how to bus tables efficiently, from clearing the table to cleaning it and resetting it for the next customers.
Bussers also need to coordinate with servers to ensure customers don't wait a long time for a table or don't get seated before the table has been adequately cleaned and reset. Good employee communication is a must in the hospitality industry.
7. Cashiering
Employees in charge of using the POS system require proper training on how to process payments. Handling money can be a nerve-wracking responsibility for some people, so ensure your employees feel supported and prepared to take on this challenge.
If you've also added an order online button to your restaurant website to accept online food orders, that person will also need to process payments for those orders. Every one of your employees should have basic knowledge of operating a point of sale system in case of rotations or emergencies.
8. Restaurant opening and closing
As they open the restaurant or prepare to close it, employees need to follow some procedures to ensure everything is in order. Prepare some practical training sessions in which you show them exactly what they need to do, from turning on/off the lights and appliances to making sure everything is clean or arranging the furniture.
Include an opening/closing checklist in your restaurant training course to make everyone's job easier. Employees who have this responsibility can simply follow the steps on the sheet.
Here are some examples of items you should add to your restaurant opening checklist:
Turn on lights

Turn on your POS

Refill the receipt paper

Sweep floors

Arrange chairs around the tables

Set the tables

Stock the stations with silverware and glassware

Prepare the list of reservations and/or scheduled orders for the day

Ensure the bathrooms are clean and stocked

Turn the sign from "Closed" to "Open" to welcome your first customer of the day
Below are vital items you need to add to your restaurant closing checklist:
Turn the sign from "Open" to "Closed", so no one bothers you while you're closing up

Clean and sanitize the tables, booths, counters, chairs, menus, and any other surface in the main area

Place the chairs on the tables

Vacuum and mop the floors

Refill all condiments

Restock napkins

Clean, dry, and put away silverware and glassware

Take out the trash, clean the trash can, and add clean bags

Clean and sanitize the bathrooms

Put away any food and count the inventory

Clean and sanitize kitchen surfaces

Close the register

Print your end-of-day report
9. Workplace safety
If most restaurant staff training topics above deal with your customers' safety, your staff's safety is equally important. Working in the restaurant industry can lead to workplace injuries since employees handle sharp objects, fire, and chemicals. However, if you train them properly, you can minimize and even eliminate the risks altogether.


Every employee should be familiar with the OSHA workplace safety standards. They should also be aware of any area in your restaurants where they might be prone to accidents or injuries and how to avoid that. Proper in-depth training is needed for employees who handle knives, kitchen machinery, and chemicals.
If you're going to conduct part of your business remotely, you should also get some training in cybersecurity for remote workers to make sure both you and your employees are safe online.
10. Feedback and open communication
Finally, your restaurant employees should know that they can count on you if there's something that's not working out or if they want to provide feedback on your training topics. Foster an environment where open communication is encouraged, and your employees will feel supported and heard.
Learning to communicate effectively with you will also help them become better at their job, where verbal communication, active listening, and body language are crucial for a positive experience.

How to best communicate these training topics to your restaurant staff
The hectic and unpredictable atmosphere of a busy restaurant doesn't allow for regular in-person meetings or Q&A sessions when employees have questions about training materials. Save yourself the trouble and put your training courses together using team messaging software.


For example, you can create a designated channel for restaurant staff training and add everyone to it so they're all part of the conversation. Employees can send messages and provide feedback on the spot. You can also organize calls or virtual meetings to discuss topics without calling everyone to the restaurant.
Plus, your entire training plan will be archived for you to access anytime, just by searching for a keyword.
The need for alternatives to traditional in-person meetings has increased since the pandemic hit. Even if things are slowly coming back to normal, the shift to online meetings has left a long-term mark on the way businesses manage and communicate with their staff.
Managing your restaurant team remotely can be extremely challenging. Check out this manager's guide to managing remote teams for valuable tips and tricks.

Final words
As a manager in the restaurant industry, you have a responsibility to help everyone in your team perform at their best. Without proper, regular training, employees won't acquire the knowledge and support they need to thrive, which will damage your restaurant.
Keep your business booming and your employees happy by carefully covering the restaurant staff training topics above in your training course.
Keep your restaurant staff connected
Dialpad can help transcribe your calls so your staff can focus on providing a good customer experience without having to worry about taking notes. Book a demo to see how it works, or try out a self-guided interactive tour first.