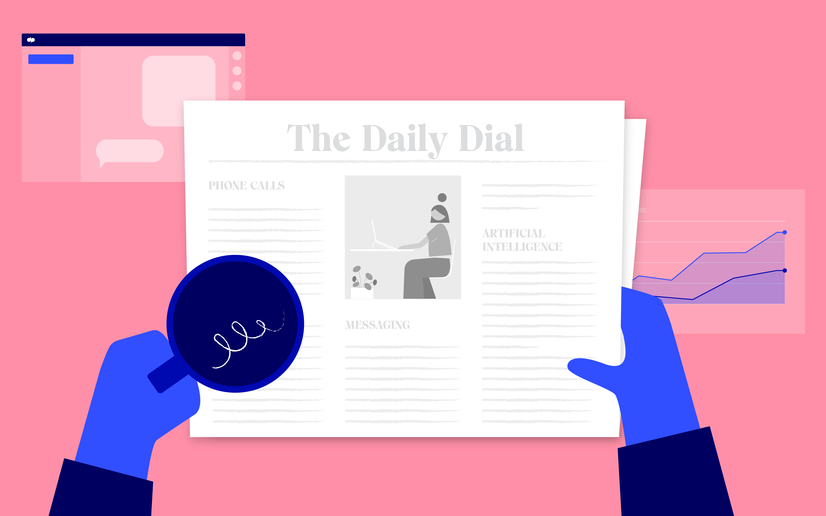 April 06, 2021
Release Roundup: March
This month's releases are centered around video engagement, meetings, and increased productivity for agents.
Let's take a closer look at the new features released on the Dialpad platform in March.
Video Meetings on iOS: Here, There, & Everywhere
As busy professionals, we're always on the go. Meetings can be thrown on your calendar at moments notice and you may not be conveniently sitting at your desk. This is why our customers rely on the Dialpad Meetings mobile app to connect to their meetings wherever they are.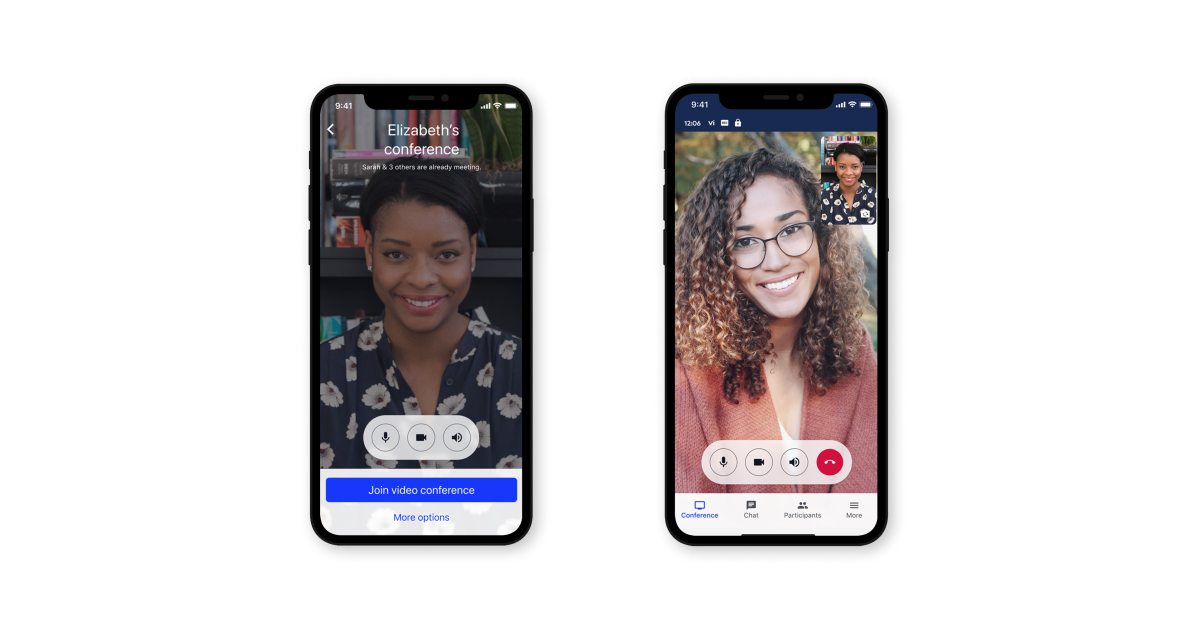 To make your on-the-go meetings even more interactive, we are rolling out a new update to add video to the Dialpad Meetings iOS mobile app. With this update, you will see a new option to join the meeting as a video conference (don't worry – you can still join a meeting in screenshare mode or audio-only mode). While you're in the meeting, you will now see videos for the live speaker so you can put a face to the name. You'll also be able to turn on or off your camera so that others can see you, offering a fully engaging experience.
Visit the iOS App Store to download the update today.
Be On-Time, Every Time
Last month, we released a Meeting Countdown Timer for Dialpad Meetings, a new feature that enables you to set a countdown timer to more effectively run your meetings.
For this month's update, we're adding to your meeting toolkit and are introducing a 5-Minute Meeting Reminder to help ensure meetings end on time. It's not uncommon that we find ourselves in back-to-back meetings. Meetings run over and others start late – oftentimes it's because we aren't effectively keeping our eye on the clock. Nothing kills productivity like multiple people showing up to a meeting late.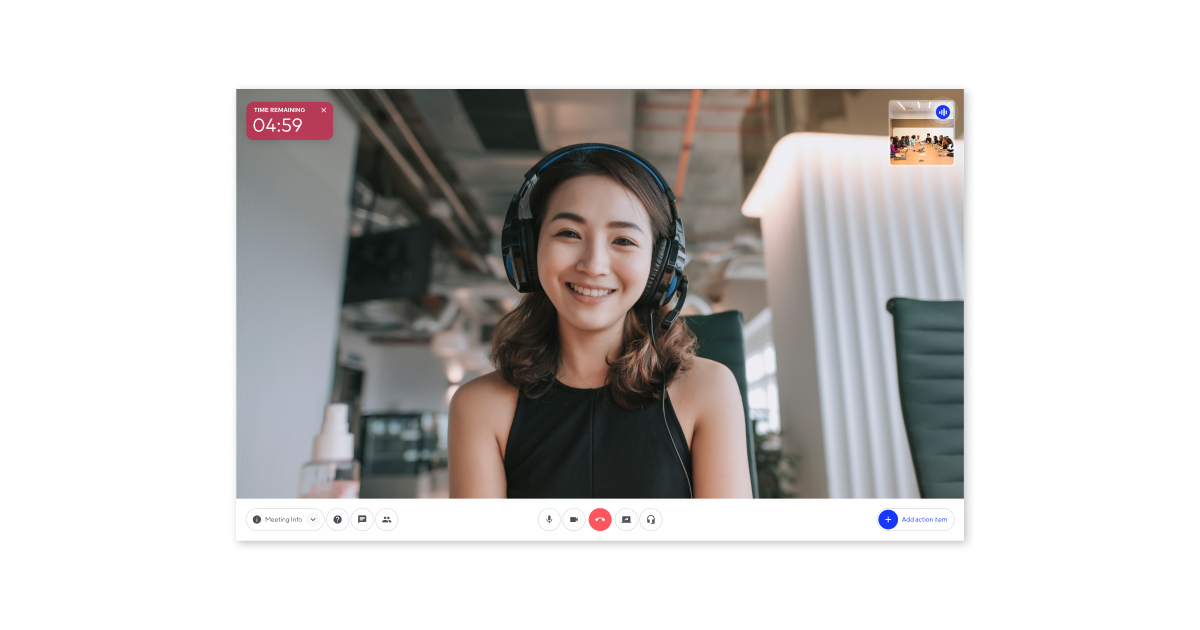 With 5-Minute Meeting Reminder, Dialpad Meetings will automatically alert everyone in the meeting when there are 5 minutes left. This provides a gentle nudge to wrap things up so you can move on to your next meeting – especially helpful in those situations when you've enabled do not disturb mode on your desktop and may not see calendar notifications. 5-Minute Meeting Reminder will automatically be enabled for all meetings scheduled using the Google Calendar integration or the native Dialpad Meetings scheduler.
Dialpad + Kustomer Integration - Now with SMS Logging
The Dialpad + Kustomer integration focuses on agents using the Kustomer platform, providing a single place to engage and support customers—from omnichannel support powered by Kustomer to reliable call quality and agent coaching with Dialpad.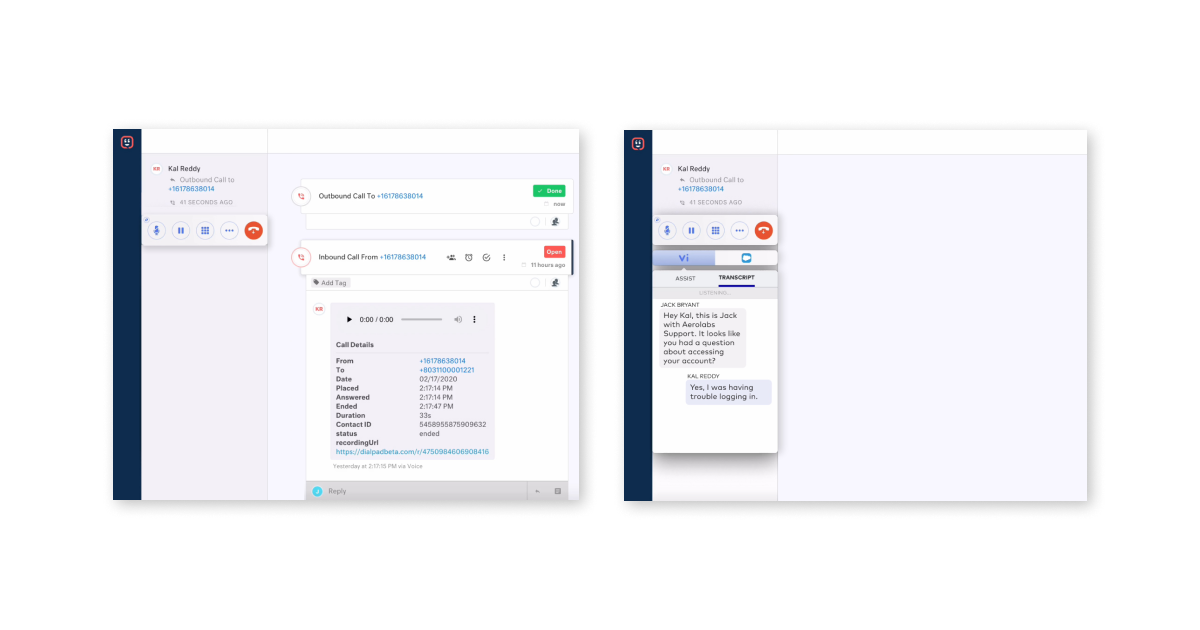 With the Dialpad integration, Kustomer agents can click-to-call from right inside the Kustomer platform, match against customer profiles, and automatically log call activities, including missed calls, voicemails, and recordings. Additionally, through the Dialpad Everywhere widget, agents can access live transcriptions, call controls, and recommendation cards. And with the latest update, SMS logging is now supported as well.
Dialpad's Kustomer integration is available to Kustomer Enterprise customers on the Dialpad Pro and Enterprise plans. Find additional details and feature descriptions in the Help Center.