Back to Blog
Bringing all your communications together with Dialpad and Google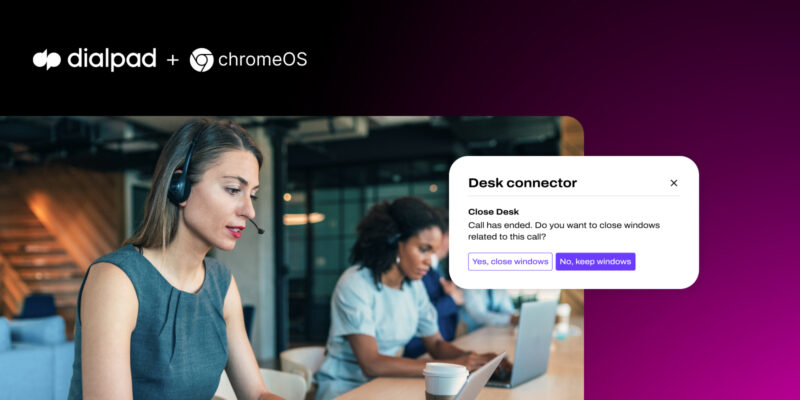 Dialpad and Google are excited to announce our expanding partnership with ChromeOS, featuring the new ChromeOS Desk connector designed to enhance contact centers and agent productivity! We worked hard to build this new functionality with the ChromeOS Desk connector, and it's now available to everyone in Google's Trusted Tester program.
For contact center agents, productivity is paramount. But with the sprawling clutter of apps, tabs and windows that agents have to sort through, it can be difficult (not to mention time-consuming) to find the right information at the right time. For agents managing multiple customer interactions simultaneously, this becomes even harder, creating stress and frustration for you, and a longer wait time for your customers.
Without good "desktop hygiene," an agent's desktop can become cluttered and hard to navigate. On top of that, all the open windows and apps take up resources and slow down the computer. This means that it's essential for agents to close all of (or at least most of) their tabs, windows, and apps in-between each call in order to go back to an "initial state."
Of course, then they have to open apps and tabs again, which makes the whole process repeat itself.

Empowering agents with ChromeOS Desk connector
ChromeOS Desk connector solves this problem by introducing new desks that contain all the apps and pages agents need for each call. When integrated with ChromeOS Desk connectors, Dialpad automatically opens a new desk for each new customer interaction, complete with all the tabs and apps the call requires. Once the interaction is complete, the desk closes them all with one click.
With every interaction, a new desk opens, making it easier and faster for agents to access the information they need when they need it (without it taking up space and power when they don't).


With the new ChromeOS Desk connector, you can:
Improve agent productivity by guiding agents to separate desks and organizing application windows for each case they're working on

Make it easier to switch between concurrent cases and interactions

Declutter the desktop by getting rid of windows as soon as they're no longer needed
Getting the most out of Dialpad and Google
This ChromeOS Desk connector is the latest in Dialpad's partnership with Google, creating new ways for the two to work together. Dialpad already works across the Google ecosystem, so you can integrate Dialpad Ai Voice and Ai Contact Center with Google to enjoy seamless workflows between Dialpad and Gmail, Calendar, Drive, and your Chrome browser.

Connect easily and drive productivity in Google Workspace with Dialpad
You can transform your Google Workspace app with the power to call and message contacts right from within any email conversation—on any device. Dialpad recognizes your contacts in Gmail and lets you view your message history, make outbound calls, and send texts to them right from the Gmail app:


And with Google Calendar, you can seamlessly schedule video calls, complete with a personal or unique meeting ID with every invite. (And it just takes a click to join the meeting, so you can go to it right from the Google Calendar notification):

Need more? While working in Dialpad, you can access the integrations sidebar. From there, you'll get a 360-degree view of Google Calendar events, Gmails, and documents shared in Google Drive with your chat recipient, providing you with all the tools you need to work together:

Click-to-call in Chrome
When you need to call a number listed on a webpage, it's much easier to just click to call than to dial it manually. That's why, with the Dialpad Chrome extension, you can click any phone number listed on a webpage and start a call from Dialpad.
It works in Gmail, too—simply hover over a user's name to see their contact card, complete with a clickable phone number. You can also fine-tune this extension to not link unformatted phone numbers, or to prevent certain sites from automatically linking numbers.
Dialpad also offers a CTI that puts the Dialpad interface on productivity and CRM sites of your choice, including Salesforce, HubSpot, and Gmail. With this, you make calls, send messages, and manage your contact center availability and status (if you're an agent).
By bringing Dialpad into your favorite web tools, you can stay active on the websites you use every day while still having access to a single interface for all calls and messages. This helps you save time switching between applications, while increasing overall productivity and efficiency. Pair this CTI with the Dialpad Chrome extension to create a simple, powerful web-based calling tool that you can use across the websites you live and work in the most.
Want to see how Dialpad and Google work together?