Back to Blog
4 reasons why top sales teams use Dialpad to close deals faster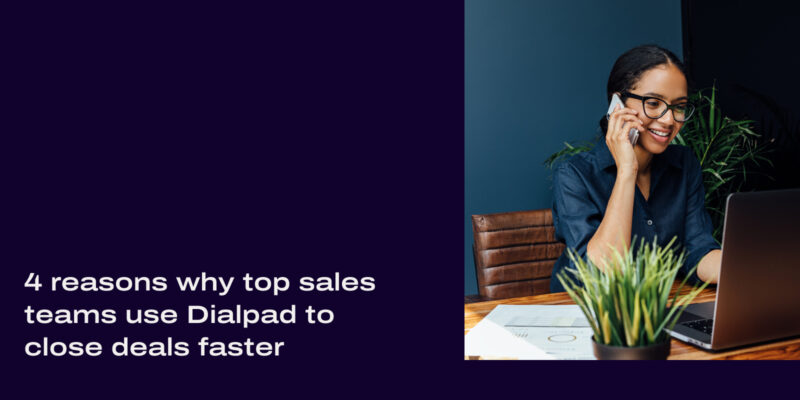 Speed is very important in sales. Time is money, after all.
There's no time to waste: prospects are busy and sales reps are hungry. A decreased sales cycle is a win for everyone. Customers appreciate an expedited white-glove welcome, and sales reps appreciate that reflection in their commission checks.
Dialpad to the rescue! We help sales teams have more conversations with more prospects, and close more deals, more quickly—thanks to a combination of coaching tools, advanced AI, and convenient features that add up to accelerated deal speeds.
But don't take our word for it. Just look at JumpCrew, an acquisition marketing and sales solution platform that managed to cut their overall deal time by an incredible 50%.
Want to know why you should use Dialpad to achieve the same speedy results?
4 ways top sales teams use Dialpad to close deals faster
1. Speed to Lead
When potential customers come inbound and call you, those are some of your most valuable prospects—and you don't want to make it hard for them to reach your sales team.
With many companies, these valuable inbound leads might get transferred to Sales—but the transfer wouldn't be successfully completed or the call drops. Sometimes they'd be sent to the wrong department and get stuck in a dead-end.
Dialpad can do a lot to reduce these missed connection opportunities. One-click call transfers combined with an internal directory and contact search (which also shows you whether or not that person is available) make it easy for employees to transfer prospects to the right person.
This is exactly how financial services firm Hometap Equity uses Dialpad to help its Sales team. In the words of their Sales Operations Manager Tom Griffiths:
"We certainly take advantage of the transfer feature. When somebody calls the inbound line, it's possible that they're already in our system, and our Investment Guide team is the one that's fielding those incoming calls, so they can act as the operator and send that homeowner to where they need to go."
This and other things like SMS communication have really made a difference to Hometap's sales operations.
"Our connection rates and our meeting attendance rates have gone up considerably," says Tom. "We track the source of the meeting booking and we've noticed that a high number of booked meetings are from that initial text through Dialpad, with a very high attendance rate. So the conversion rate has certainly gone up as a result of that."
2. Easier access to sales data
Salespeople everywhere have a love-hate relationship with their CRM. Yes, the data is crucial for tracking relationships and closing deals. But boy, is it a pain to update. Even just having the CRM active is a chore, requiring sales reps to constantly switch between applications if they're on a call but want to pull up more info about a customer.
It slows the rep down as they have to find the person on the CRM, click to the correct tab, and then scroll down to find the relevant information.
That's why we've built a range of CRM integrations into Dialpad. If you're using Salesforce, for example, you will be able to see caller information as soon as the phone rings, make calls directly from Salesforce and—best of all—each call will automatically be logged into the CRM:


Real estate franchisor RE/MAX loves this feature. "We needed a platform that was strong and had a tight integration with Salesforce, so that we wouldn't have a staff person going into two applications," explains Jeanna Bash, Director of Enterprise Applications.
"Our Support team wanted to be able to view their 'omni-stats'—telephony, email, and chat—in one pane of glass under one location within Salesforce, without having to go to multiple applications to get that data. Out of all the vendors we looked at, Dialpad had the strongest integration, allowing us to get that right out of the gate."
3. Dialpad rapidly improve sales skills
There's always room for improvement. And in sales, the faster you improve, the faster you can start earning the big bucks. And in Dialpad, you get many different ways to up your game.
Dialpad Ai can scan call recordings and mark the important points of the timeline for easier review and post-mortem analysis. But you don't have to wait until for after the call to get advice—Dialpad gives you the tools to salvage a call while it's happening.
For instance, Dialpad offers agents real-time assistance (RTA) cards that pop up automatically to help you navigate a call:

Our advanced Dialpad Ai listens in on the conversation for things like important keywords and names of competitors. It then generates a pop-up message with information about what's being discussed—or tips on how to control the flow of the conversation better.
Dialpad also does live sentiment analysis of each call and displays that information on a supervisor's dashboard, so they can monitor calls and jump in if a call isn't going well:
And, because Dialpad Ai is transcribing the call live, the supervisor can get up to speed and send advice to the agent via a direct message or whisper mode.
Financial services company Stax puts these capabilities to good use. According to Information Systems Manager Wendy Meli, "The real-time transcripts, especially the one that tells you when you're on a monologue, are really helpful. Our sales operations team is really diligent about using battle cards. If there's a special that month, or if someone uses old terminology when we've been rebranding, a reminder will pop up."
4. No wasting time on voicemails
The average sales rep on an outbound team leaves tens, even hundreds, of voicemail messages per day—just reciting the same message again and again. That time could be spent doing deeper prospect research, following up other leads, fixing up a sales deck, or even—gasp—updating the CRM!
So it's fortunate that Dialpad has a way to streamline the process of leaving voicemails through a handy feature called voicemail drop.
Whenever a sales rep gets voicemail, all they need to do is click a single button, and Dialpad instantly drops a pre-recorded voicemail message into the mailbox for the prospect to listen to later:


These messages can be customized to say whatever you want, and are head and shoulders better than reciting the same voicemail script over and over again.
Azusa Pacific University is making good use of this feature when reaching out to prospective students.
"Our Admissions team was really impressed with voicemail drop. It's an amazing feature for them," says Rob Davis, Director of Personal Technology for APU. "They call students every day. And instead of spending precious minutes on every call saying the same thing over and over again, they can save that time and still deliver the same friendly message."
Is that all Dialpad can do?
Not by a long shot.
In addition to accelerating deals, Dialpad can help you do a number of very useful (and profitable) things, like:

Coaching call playlist (so you can make playlists of the best/worst calls)

Enabling remote and hybrid work

Providing deeper caller insights

And much more!
If you're interested in learning more about how Dialpad can help your sales team close deals faster, sign up for a free trial today!
Close deals faster with Dialpad
Dialpad is more than a phone system: it's your sales team's best friend. Dialpad helps your teams work smarter and faster while still providing top-notch customer experience. Book your demo or take a self-guided interactive tour of the app first!