Back to Blog
Meet your new Coaching Hub, powered by Dialpad Ai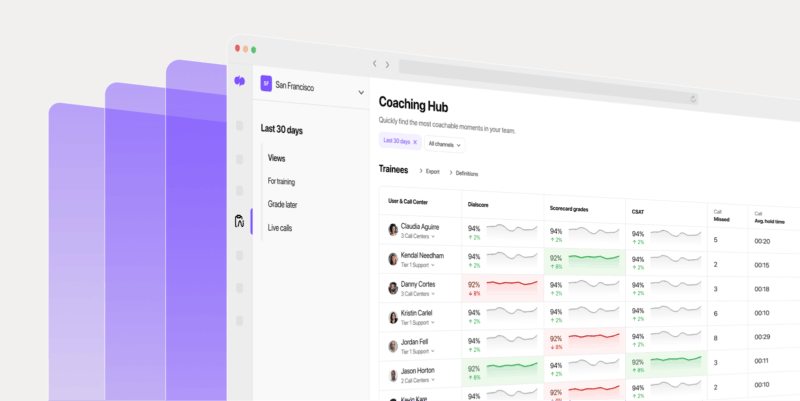 If you manage a support team, sales team, recruiting team, or any other team that has to manage high volumes of communications, you'll want to keep reading about the latest Dialpad Ai feature we've rolled out.
Most contact center supervisors and managers are no strangers to coaching platforms—there are many of them on the market, but many of them are fragmented and fail to provide valuable insights to inform coaching activity.
And while this is better than having no insights at all, it does result in delays—both when it comes to analysis and feedback.
So, is your contact center team using Dialpad Ai features like Ai CSAT and Ai Scorecards?
If so, then keep reading to see how Dialpad's new Ai Coaching Hub brings to market a coaching platform that drives efficiency for both supervisors and users.
Ai Coaching Hub: What is it?
Dialpad's new Ai Coaching Hub provides a single source for all training and coaching during both live calls and post-interaction quality assurance (QA).
From coaching struggling agents to doing call reviews and scoring perfectly executed calls, contact center coaches can literally do it all from a single dashboard in Dialpad:


This drastically simplifies the real-time coaching experience for supervisors, but more importantly, it empowers them to not just find potential problems, but also solve and even proactively prevent problems.
What's unique about it?
Ai Coaching Hub creates a central location for all Ai Coaching features, aggregated with correlations so you can spot trends and improve the skills and performance of your organization. As Dialpad continues to add Ai features, their inclusion in the Coaching Hub will expand and enhance the value for our customers.

Who should try Ai Coaching Hub?
Contact center leaders!
For contact center leaders who have supervisors reporting to them, the Ai Coaching Hub will have a Coaches Leaderboard that shows them the effectiveness of each coach or supervisor and their teams' average metrics.

You can customize the contact center KPIs you want to see, and also your leaderboard view of all your coaches to understand the effectiveness of their training and how well agents are being coached over time. You'll be able to see stats like:

Total number of calls graded

Overall average grade for trainees

Trainees' CSAT scores

And more!
Supervisors
For supervisors, Dialpad Ai provides real-time recommendations on calls that should be monitored and agents that need help, based upon customizable filters by the supervisor or coach.
And even after the call, supervisors can visit their Ai Coaching Hub page to see Dialpad Ai-suggested recommendations for call reviews and QA grading.

You'll be able to customize your leaderboard view to show detailed statistics on each trainee or agent, so you can easily see which agents need additional training or support.
More importantly, you'll be able to see which skills they need the most help with. Who needs to really improve at driving positive customer interactions? Who stays on the phone for way too long? With Coaching Hub, you can bucket up these agents into different groups to give them more focused training on those skills.
Here are just a few of the KPIs you'll be able to track:

Average QA scorecard grade

Number of graded calls

Average CSAT score and +/- trend for calls

Missed calls

Call duration

Total number of calls

Average wrap times and hold times

Calls transferred
Agents
Finally, the Ai Coaching Hub isn't just helpful for coaches!
Dialpad Ai can automatically flag and escalate calls to supervisors if an agent is struggling, which improves both contact center performance and the customer experience.
And because the Ai Coaching Hub will streamline coaches' ability to grade and QA calls, it'll help more agents get feedback from managers more regularly (as opposed to having busy managers try to listen to every call from beginning to end, then grading them and providing feedback).

How to start using Dialpad's Ai Coaching Hub
Ai Coaching Hub will be an optional add-on if you're on a Dialpad Ai Contact Center or Dialpad Ai Sales Center plan. After adding it to your plan, you'll be able to access your new Ai Coaching Hub page in your Dialpad web app.

See how it works
Book a personal walkthrough of Dialpad's Ai Coaching Hub with our team, or take a self-guided interactive tour of the app first!