Executive Assistant - Call Delegation
Whether you're in a meeting, busy preparing for one, or simply taking some down time, you can't always answer every call. With Dialpad's Executive Assistant, you can assign another team member to handle all of your incoming calls. This can help you manage your call volume and screen your calls.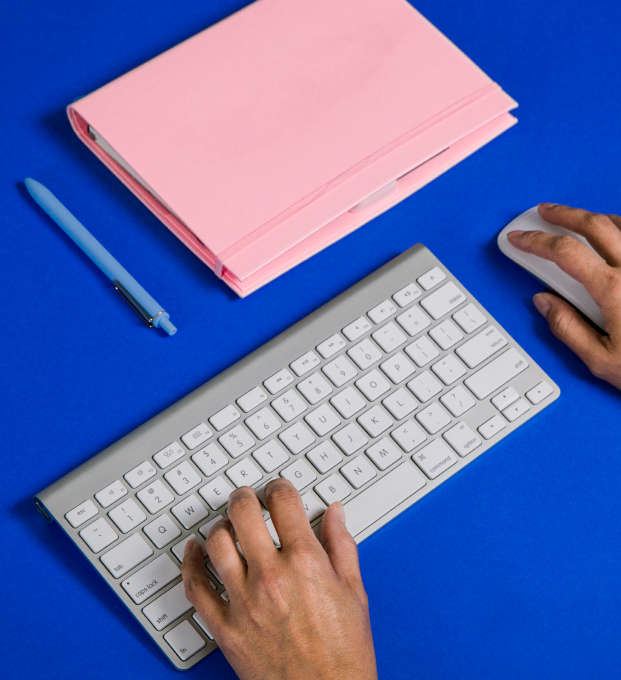 For Business Leaders
At any given moment, most business leaders have a number of things vying for their attentions. Employees requesting time off. Vendors trying to book time to discuss a new product. Even midday calls from family and friends. Dialpad's Executive Assistant feature allows you to appoint someone that you can easily transfer incoming calls to help you handle issues that don't require immediate attention.
Your assigned Assistant will be able to answer the call, address the issue, and take the necessary action—whether that's scheduling a chat with you or even sending the call back to your line. Additionally, you can give your Assistant access to transcripts, voicemails, and recordings. This will enable your Assistant to help you gather the information you need from incoming calls.

How Does the Executive Assistant Feature Work?
If neither you nor your Assistant is available to take the call, it will go straight through to your Voicemail, as it would normally.
The Dialpad Executive Assistant also allows the Assistant to make calls on the Executive's behalf. When the Assistant makes a call, they can select whether to call from their own line or from the Executive's.
A record of the call is then sent to the Executive's inbox so they can stay on top of what calls have been made on their behalf. The Assistant also has access to this inbox to keep on top of missed calls and voicemails.
How Do I Use the Executive Assistant Feature?
First, the Executive must create a pairing—assign a person to act as their Assistant. To create an Executive Assistant pairing as an Admin--

Navigate to Dialpad.com > Admin Settings > Office > Office Settings > Executive Assistant
Under that section, click the + icon and designate an Executive by typing in a name. The field should auto-complete against your list of Dialpad users. Do the same for designating an Assistant in the next field.
Once you click confirm, an email will be sent to both users for them to accept the new set-up.
After you've chosen the pairing, if your account is on a Pro or Enterprise plan, you can also give the Assistant permission to view the Executive's Voicemails, Transcripts, and/or Recordings.
As a user (non-admin), you can also request pairings. Go to 'Your Profile' then 'Executive Assistant'. Here you can request someone to be your Assistant, or request to be someone else's Assistant. Again both users will receive an email and have to confirm the pairing for it to come into effect.
As Executive, if you'd rather not have your phone ring at all, you can also check the 'Do Not Disturb' box in your inbox in order to stop receiving calls to that line. This way, only your Assistant will receive your calls. These services are also available on the Assistant's smartphone, with all the same features.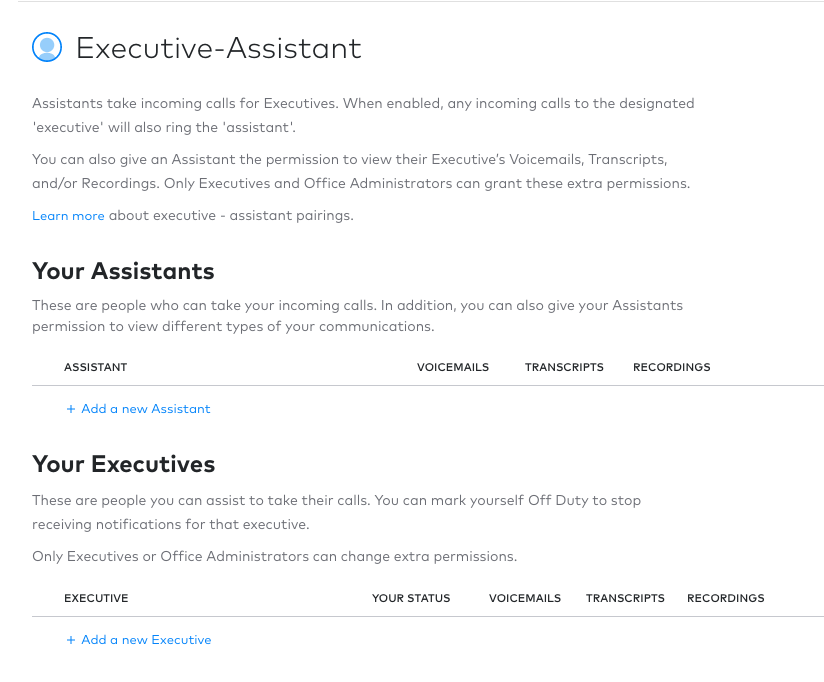 Frequently Asked Questions
Will the Executive Assistant feature work on my tablet too?
Yes, this feature works across all Dialpad-connected devices.
Does the Executive Assistant feature cost extra?
No, this is a standard business feature that's available across all Dialpad plans.
How many Executive Assistant pairings can exist in my Dialpad account?
You can have up to 25 Executive Assistant pairings per plan.
Can Executives have several Assistants linked to field calls?
Yes, you can have several Assistants per Executive.
Can one Assistant field the calls of several Executives?
Yes, one Assistant can field calls on behalf of multiple Executives. Keep in mind that there is a maximum of 25 pairings per office, and each of these will count towards that limitation.