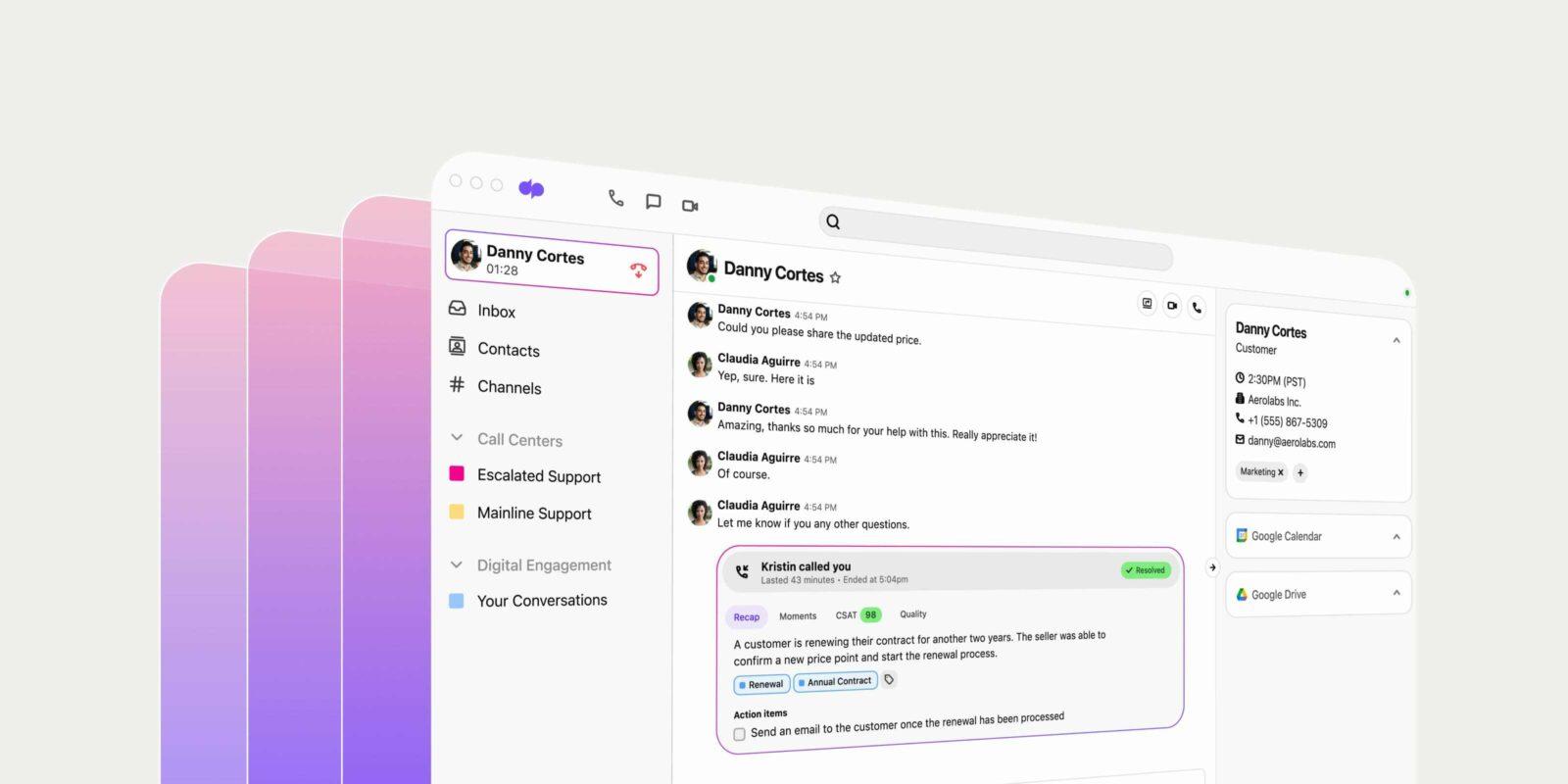 Generative AI is changing the way we work at breakneck speed.
It's given both consumers and businesses a new level of velocity and ease of use in our daily tasks, and there seem to be more and more use cases for AI in the workplace every day.
Whether you're using AI to analyze calls or speed up your call center QA process, AI has already shown itself to be a uniquely powerful technology that can make a profound impact on both the quality and speed of work for Customer Service, Sales, and other contact center teams.
And today, we're adding yet another new set of capabilities to Dialpad through Google Vertex AI, a partnership that builds on a long history of innovation in Dialpad Ai—and significantly elevates the ability of sales teams, service teams, and beyond, to delight customers and grow businesses.
This new launch with Google is a continuation of our 11-year partnership, and will supplement Dialpad's proprietary Ai capabilities and help us deliver even more cutting-edge AI features to our customers.
What is Google Vertex Ai?
Vertex AI is a groundbreaking AI/ML platform that allows applications to easily integrate AI and ML features.
For Dialpad, it means we can build, deploy, and scale new models much faster—and more importantly, deliver more exciting Dialpad Ai features to our customers faster.
How will it work with Dialpad?
Dialpad is committed to providing industry-leading conversational intelligence tools that work smoothly and intuitively—regardless of company size and internal resources.
The use of generative AI and its resulting benefits—time savings, cost efficiencies, more productive sales and service teams—should be available to all businesses. This is what we hope to achieve with Google Vertex AI. There are several features already in the works, with many more to come from this new partnership.
A sneak peek
Using Google Vertex with Dialpad Ai, our Ai Recap feature will help our customers save time by accurately recapping meetings and calls providing any highlights, relevant details, or action items in an easy-to-read summary:


This feature is designed to make life easier for cross-departmental conversations by clearly identifying action items from the call or meeting, who they're for, and when they need to be completed.
It's also incredibly helpful for companies that have a distributed workforce and/or employees who take meetings and calls from the road. It can be hard to take notes and keep everyone on the same page in a distributed environment, but Ai Recap takes all the legwork and guessing out of the equation by providing the transcript, summary, and key moments from the meeting so there's no need to go back and track down the details you may have forgotten or missed.
Another key feature coming soon is Ai Scorecards. This powerful quality assurance evaluates every customer interaction against established criteria and can automatically generate real-time, personalized insights and feedback on the conversation.
The result: less work for contact center supervisors, more tailored coaching, and a much better customer experience.
Later in the year, we'll also be releasing Ai Playbooks, which will provide real-time suggestions and prompts to sellers and customer service agents to help them solve critical customer issues.
All of these features use Dialpad's proprietary Ai and are supplemented by Google Vertex, giving our customers a top-class experience so they can transform and scale their business.

Get a sneak peek at Dialpad Ai + Vertex AI
Book a personal walkthrough with our team to see how your business can get more real-time insights and agent coaching with Dialpad. Or, take a self-guided interactive tour of the app first!