Back to Blog
The latest and greatest from Dialpad and Google Cloud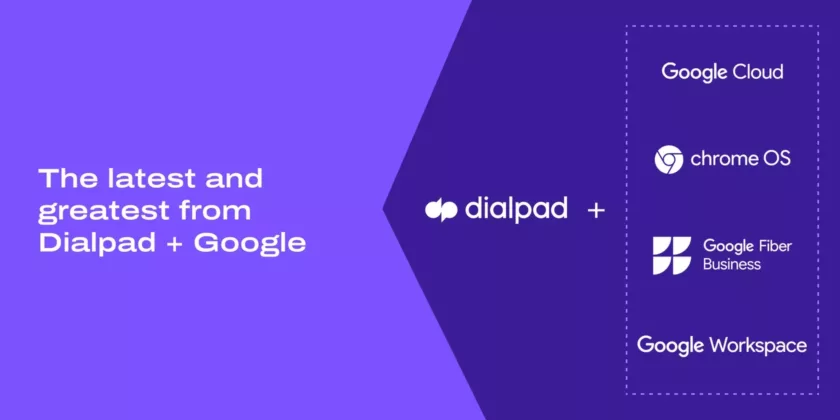 Some pairs are just iconic: Laurel and Hardy, peanut butter and jelly, Dialpad and Google Cloud—wait, what was that last one?
Yes, Dialpad and Google Cloud have a shared history, stretching all the way back to Dialpad's founding. And the two companies have continued to work closely together in the years since, including offering exciting new joint solutions to our customers.
How exciting, exactly? Let's take a look back at some of our most recent announcements and get hyped…
An expanded partnership for hybrid work
Earlier this year, Dialpad and Google Cloud teamed up to help businesses around the world with their digital transformations. Dialpad joined Google Cloud as a Partner Advantage ISV (Independent Software Vendor), which means you (yes, you) can work with Google Cloud and Workspace account teams to evaluate Dialpad's unified communications and contact center solutions.
With this expanded partnership, Google Cloud and Dialpad are helping businesses centralize their communications and collaboration tools to a single system as they switch to hybrid work. And with businesses around the country wondering how they can transition back to in-office or hybrid work, now is the perfect time!
In fact, according to Goldman Sachs, there are still hundreds of millions of enterprise telephony seats worldwide that still rely on on-premises solutions. The result? Countless disparate, siloed communications tools, which just leads to employees overwhelmed by all the disconnected apps they have to sort through, just to do their everyday work.
But there's a solution to those cluttered communication apps: a single, truly unified communications platform that integrates with all the tools businesses use for their daily work. That's just what you can get with Dialpad's expanded strategic partnership with Google Cloud, and now it's easier than ever.
Use Google Fiber Business and save on Dialpad
Google Fiber is reshaping the way we go online, with an internet connection that's faster than average cable internet and with 99.9% reliable connectivity (based on year-to-date 2021 average network availability excluding commercial power outage and planned maintenance). For businesses that need fast and stable online connectivity, it's pretty much a necessity.
This is why we're excited to share that Dialpad and Google Fiber are now teaming up to help Google Fiber Business customers save on their communications with 25 percent off on Dialpad.
In other words: not only will Google Fiber Business customers be able to work on a super-fast and reliable network, they'll also be able to use that network for Dialpad's high definition audio and video calls, messaging, and contact center platform wherever they work—and at a significant discount.
Faster internet, better communications, and cost savings with no hidden fees. There's a lot to get excited about.
P.S. Our solutions are Chrome Enterprise Recommended too!
Last but certainly not least, Google added Dialpad Voice and Dialpad Ai Contact Center as Chrome Enterprise Recommended solutions!
What does this mean? For starters, it means that Dialpad's solutions are optimized for Chrome OS, which is great news for Chrome users.
Plus, it means Dialpad is expanding its technology investments with Google, building upon their partnership further. As a Chrome Enterprise Recommended solution, users can use Dialpad Ai Contact Center and Dialpad Voice with confidence knowing that it can improve productivity and efficiency, as well as a more modern user experience, whether they're working in the office, on the go, or anywhere in-between.
Speaking of Dialpad and Chrome…
If you've ever wanted to make a Dialpad call while browsing on Google Chrome, then we have good news: you can install Dialpad's Computer Telephony Integration (CTI) Chrome extension to make and receive calls right from the browser.
All the Dialpad call controls and messaging functionality you know and love are right there in an intuitive user interface, which means you can make your calls without even needing to look away from your Internet browser.

Oh, and did we mention the 100% uptime Service Level Agreement for Enterprise customers? Go ahead and make your calls any time, you won't have to worry about any downtime with Dialpad.
Everything you need for a hybrid world
It's an exciting time at Dialpad, as our partnership with Google continues to grow. Now you can get Dialpad's solutions right from the Google Workspace Marketplace, save money while using Google Fiber Business, and make all your Dialpad calls right from within Chrome.
And with businesses of all sizes adapting to a hybrid work world, it's never been a better time to get started with Dialpad's UCaaS and CCaaS solutions.
Ready to see why businesses worldwide use Dialpad?
Get started with a free trial today! It takes just a few minutes to get started, and you'll be set up with a virtual business number too.