Guide
A Guide to Business Phone Number Porting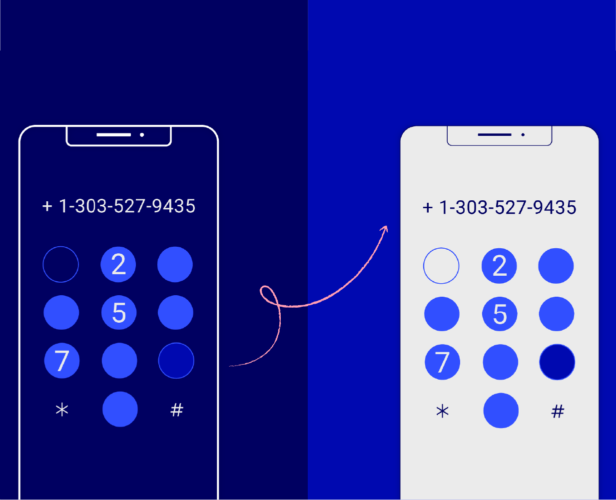 You're ready to make a change. You know that transitioning to cloud calling or voice over internet protocol (VoIP) will improve your organization's flexibility, mobility, and scalability. There's just one problem: you don't want to disrupt service to your existing customers by changing phone numbers.
With business phone number porting, that's something you won't need to worry about. In the past, companies were forced to stick with phone service providers for longer than desirable in order to keep the same business number. Now, number porting allows you to keep your existing number when changing phone service providers.
Number porting gives your organization the freedom to upgrade business communication providers without the headache of informing existing customers about the change. Because the phone number remains the same and everything continues to function normally for your customers, you gain the flexibility to choose a phone provider that best meets your business needs.
Even for a small business, number porting is important because voice calling is a major point of contact with your customers. You want to ensure that contact remains consistent and that you project a sense of stability as part of your brand.
Number porting is pretty straightforward, but it's a good idea to have an overall sense of the process so you know what to expect.
How To Port a Business Phone Number
Unlike call forwarding, which temporarily forwards calls to another receiver, number porting permanently transfers your phone number to another provider, including VoIP providers.
There are two methods of number porting: local number porting and full mobile number porting. Local number porting transfers a phone number to a fixed line. Full mobile number porting changes your mobile number to a different service provider to upgrade your existing service or move the number to an entirely different location.
Number porting requires a few steps, but all are relatively simple and straightforward compared to the ongoing higher cost and inconvenience of remaining with a service provider that can't support your business's growth.
Why Should You Port Your Business Phone Number?
There are many reasons to consider porting your business phone number to switch seamlessly to a VoIP provider.
First and foremost, the cost of VoIP providers is typically far lower than that of traditional phone service providers.
In addition to lowering costs, though, VoIP providers also offer a wealth of features and integrations that allow cloud calling to fold seamlessly into your current business operations — maximizing productivity and reducing inefficiencies.
With cloud calling, employees can also utilize their own devices, building mobility and scalability into your business's communications plan. Porting your current number to a VoIP provider allows you to access all of these powerful features without having to change phone numbers. It's a win-win.
Among the many frustrations with traditional phone service providers is a lack of comprehensive and responsive customer service. By porting your current number to a VoIP provider, you're able to access a fuller range of support services designed for your business and its unique communications challenges. That convenience and ease of use will translate into a better overall experience for your customers as well.
Downsides of Not Porting Your Business Phone Number
The interruptions that come along with changing phone service providers (and numbers) can mean that several of your business connections become lost in the shuffle, resulting in a big hit to your bottom line. Sure, you could launch a full-scale communications campaign to alert your existing customers to the change in numbers, but you risk not reaching everyone.
Even if you're able to transfer customers over to a new phone number, changing the contact information that customers associate with your business disrupts the sense of consistency and stability they associate with your brand. You want to make it as easy as possible for customers to find you, regardless of what service provider you choose.
Things to Keep in Mind About Business Phone Number Porting
Porting your business phone number should be as easy as signing up with a new provider — and it usually is — but there are a few things you should bear in mind to make the transition as seamless as possible.
1. Find Out Whether Your Current Number Can Be Ported
Not all existing phone numbers can be ported. Your first step in the porting process is contacting your current service provider to find out if it's possible to port your number.
The FCC requires all phone numbers to be portable, but there are still some portability issues that may arise. For example:
Your new provider may not have coverage in your area yet
You may have already disconnected your service and therefore can't port the number
Your new VoIP provider may not have an interconnect agreement with the phone carrier that holds your number
If you run into any of these issues, you'll unfortunately have to find an alternative to number porting, or select a new business phone number.
In addition to asking about portability, you'll also want to find out if there are fees for porting and how much time you have left on your current contract. You'll definitely want to make sure so you're not liable for early termination fees.
2. Don't Cancel Your Service Yet
If you cancel your current service before the porting process begins, you won't be able to port the number. Although you may be impatient to get out of your existing contract, wait until the porting process is complete: you don't want to interrupt service or, even worse, lose portability altogether.
3. Keep Existing Account Information on Hand
Once you've collected the relevant issue from your current phone service provider, you can put in a request for porting with your new phone or VoIP provider.
Before putting in a request, you should have the following account information available:
The full name of the account owner and address associated with the account
The full list of numbers and extensions to be ported
The current account number
The current account PIN
All of this information will be listed in customer service records or a recent phone bill, both of which you can request from your current provider.
To start the number porting, you will send a Letter of Authorization (LOA) that contains the relevant details to your new provider, who will initiate and ensure the completion of the porting process.
Once you have submitted the LOA, you should receive a response from your new provider. That response will arrive in one of the following forms:
Firm order commitment (FOC): your previous provider has agreed to release your number and that the new provider has agreed to pick it up.
Jeopardy: the port request was rejected by your previous provider due to incomplete or incorrect information
Canceled request: the new provider was unable to pick up your number due to geographic restrictions or some other factor.
Once you request service from a new company, your old provider cannot refuse to port your number — even if you have an outstanding balance — according to the FCC.
4. Keep Using Your Business Phone Numbers
The porting process can take anywhere from 3 to 10 business days. Your numbers will remain active during that time and there should be no interruption in service. Once all of the numbers have been ported, you can cancel your service with your previous provider. You should make a few test calls first to ensure call quality and consistent connectivity.
If your organization has multiple phone numbers and extensions, don't worry. All of those numbers can be ported at the same time.
Optimize Your Business Communications with Number Porting
By porting your business phone number to a VoIP provider, you gain access to all of the benefits of cloud calling without a disruption in phone access for your customers. Understanding the process of number porting — and taking important steps like maintaining your current service through the porting process — will ensure that switching to a new provider is as seamless as possible.
With Dialpad, you can easily port your existing phone numbers including any toll-free numbers your business owns, without any interruption in service.
Once you've ported your number to a leading VoIP provider like Dialpad, you benefit from lower costs, increased mobility, flexibility, scalability for your business, and improved customer service. You can start to accelerate growth for your business knowing that you have a phone service provider designed to grow with you.
And the best part is that your customers will never know that you changed to a provider that better supports your business operations — they'll only see and appreciate the increased efficiency and productivity.