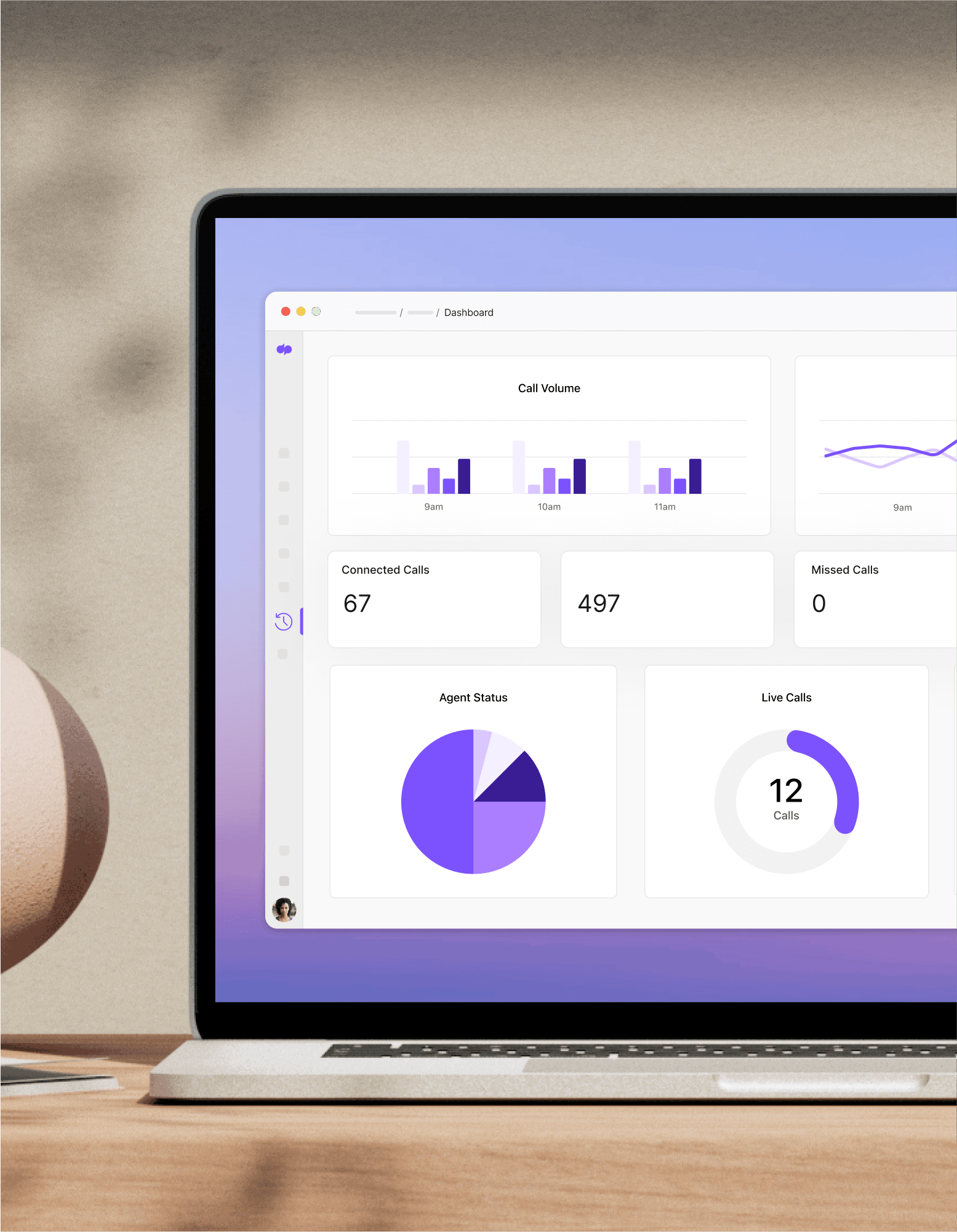 Enterprise transformation

Enterprise transformation—it's a significant undertaking, but it's also something that could deliver big benefits for your business. Learn what enterprise transformation is, how to construct a roadmap to help, and why an enterprise communications solution could be the key to success. And if you're in the market for one, see how Dialpad's AI-powered collaboration platform works with a demo!
The enterprise transformation process
Progressing from one step to the next in a digital transformation, organizational transformation, or really any transformation can be tricky. Executing a vision for your transformation takes planning and work.
In any enterprise transformation process, there are generally three key steps:
Transformation
The transformation stage of the process entails recognizing that your business process needs to evolve. You need to take steps to decide precisely what fundamental change is necessary.
Once important decisions have been made, it's time to draw up a clear plan or roadmap that will ensure transformation can be successfully achieved.
Optimization
The optimization stage of the process is where you ensure your organizational transformation is being implemented and adopted correctly, and continually make tweaks if they're not.
Control
The control stage is the point in the process when the enterprise transformation is realized and needs to be observed to ensure it's working as expected. In addition to ensuring that everything is working as planned, you also need to remain flexible and factor in any necessary further changes down the road.
Change management is critical to your transformation's success—if employees, teams, and departments aren't fully embracing the new business models, transformation will stall and bring about unwelcome effects like timelines being pushed back or inconsistent customer experiences.
Quick rundown: The 5 stages of constructing an enterprise transformation roadmap
An enterprise transformation roadmap is your blueprint for a successful transformation. There are five principal stages in building one:
1. High-level strategy identification
The first step in creating an enterprise transformation roadmap is to develop a high-level strategy. Look at your organization's long and short-term goals, future outcomes, and company-wide vision. Would your company benefit from an enterprise digital transformation? Or is a cultural transformation needed instead?
With that information at hand, break each item into actionable tasks that can move the business towards its new business transformation. Developing a high-level strategy will require collaboration between the many parties involved. With Dialpad's cloud communications platform, you get powerful collaboration tools and integrations that make brainstorming and planning efficient and easy.
Take Dialpad's team messaging capabilities, which allow employees to collaborate with each other over video, voice, or chat: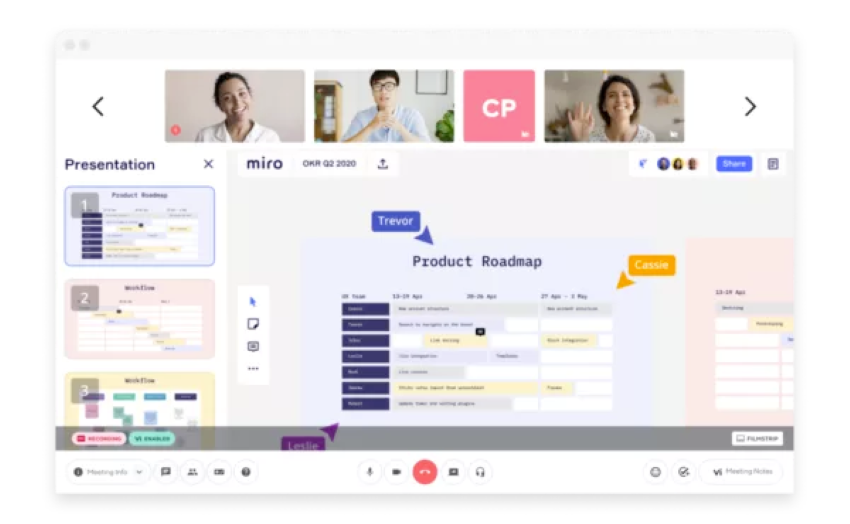 Once you have a strategy in place, you'll be able to move along through the business transformation and keep your organization on track. Have a timeline for completion in mind and adapt your strategy, leaving room for any delays.
2. Full C-suite engagement
Next, you'll want to engage the rest of the senior stakeholders in your company to ensure you have the support and cross-organizational resources you need as you move through the transformation steps. Even though, as CIO, the transformation is largely your responsibility, you can't succeed without buy-in across the board.
3. Scope and approach
There's more than one way to cook an egg; the same is true of constructing your enterprise transformation roadmap. You know what direction you want the business to go (thanks to the high-level strategy, but you have to figure out how you're going to get there. That's where the scope and approach methodology comes in—you first need to define the parameters of the project and figure out the best way to tackle it.
For example, say you know that you need to improve your organization's communications, but how are you going to do that? Are you going to upgrade and expand your existing communications solution? Or are you going to scrap what you have and migrate to an entirely new platform? What are the ramifications of each? Does it involve rethinking your entire enterprise transformation strategy?
4. Mapping and monitoring
Mapping out your progress lets you see your project as a whole, so you can keep an eye on funds, implement cost savings where possible, and see the big picture. How you decide to map and monitor your progress is up to you. Create a visual map on paper, use project management tools, or develop your own unique system.
It's critical to monitor progress throughout the transformation project. Define key performance indicators so you know whether or not the transformation process is effective. Business leaders like you should check in frequently, monitor business process metrics, and make sure steps have been completely realized.
5. Good governance
It's important to practice and maintain good governance and change management throughout your project. This means defining the rules and principles you want to maintain throughout your project and making sure they're used every step of the way.
For example, it's vital that every step of the process has appropriate documentation. We don't want to mire the team in red tape, but there does need to be a paper trail or records so that the process can be reviewed—or even duplicated—later on.
How an AI-powered solution can support your enterprise transformation strategy
When laying out your enterprise transformation strategy, you'll quickly realize there are key solutions that can make the whole process much easier (or not, if you don't have them). One of the prime examples is an enterprise communication solution.
Think of it this way: To fully realize and execute an enterprise transformation of any kind, you need to have stellar communication across multiple channels in an easy-to-manage workspace. Dialpad, for example, offers dozens of features to make communicating across large enterprises easy, even for distributed teams.
With Dialpad's AI-powered platform, which includes fully integrated UCaaS and CCaaS features, you can streamline all your communications in one app and focus all your energy on your enterprise transformation strategy. Dialpad also lets you manage phone numbers across your business from an intuitive online dashboard. You can set up new employees in minutes, not to mention new offices and departments.
Here's how easy it is to manage users and phone numbers in Dialpad:

Start the digital transformation of your business enterprise today
No matter what your enterprise transformation goals are, having a solid collaboration and customer engagement platform that comes with built-in enterprise phone system features and equips you with the tools to communicate with teams around the world is crucial. Take the first step in your enterprise transformation by signing up for a free demo of Dialpad!
Transform your enterprise

Discover first-hand how Dialpad's AI-powered collaboration and customer engagement platform can help future-proof your business communications and improve your customer experience. Book a demo, or take a self-guided interactive tour of the app on your own first!

More resources on enterprise collaboration

Frost & Sullivan Hybrid Workplace Report

The 2022 Gartner® Magic Quadrant™
FAQs about enterprise transformation
What is enterprise transformation?
When a company embarks on a major overhaul of its core business processes or organizational structure that fundamentally changes how the business operates, that's enterprise transformation.

A real-world example of such a business transformation would be the turnaround the Ford Motor Company made since almost filing for bankruptcy in 2009. Ford has regained its title as an industry leader by implementing customer-focused design principles and restructuring the organization.
Why is digital transformation important in business?
What is a transformation strategy?
What are the four main transformations?