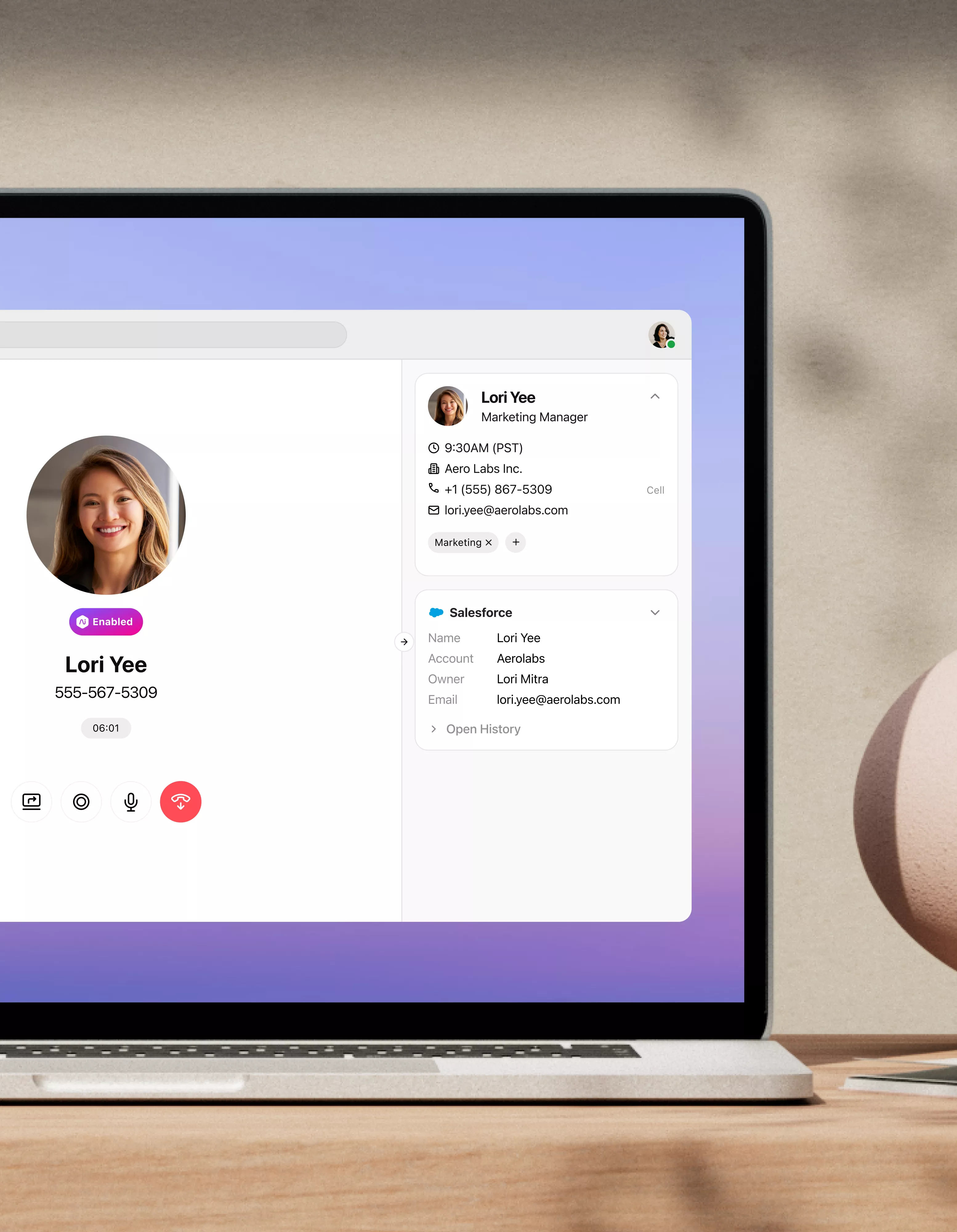 Dialpad Everywhere
Get all of Dialpad's best features inside the tools you spend your time in. With Dialpad Everywhere, the Dialpad app, you can make phone calls, see real-time transcripts, join video meetings, and more—inside other tools like Salesforce, Zendesk, and HubSpot. Book a product tour to see how it works!

One app, everywhere
Centralize all your communications in one place. Dialpad Everywhere brings your calls, messages, and video meetings straight into other software that you've integrated with Dialpad. Contact profiles are listed alongside every conversation, and built-in search functionality easily grabs the details you're looking for. All your existing tools sync through integrations, too.

Bring your own device(s)
Dialpad is device-agnostic. Get the Dialpad app for Windows, Mac, iOS, and Android. Now, you and your team can bring your own devices and save on hardware since you're able to use what you already have. Just log in and you're all set.

Conversations that move with you
Start a call on your laptop, then take it with you on your smartphone. The other person won't even notice since Dialpad's call flip feature seamlessly transitions your call from one device to another instantly. Just pick up your second device, tap "Switch to this device," and Dialpad handles the rest. Neither you nor your caller will miss a word.

Focus on what matters most
Don't let disparate tools get in the way of your workflow. Go on, spend your time in Intercom, HubSpot, or whatever software you do most of your work in. Dialpad Everywhere gives you easy access to all your usual call controls and artificial intelligence features right in those tools. It'll remain in view (unobtrusively) while delivering important information at a glance, so you can focus on the conversation.

Try Dialpad Everywhere for free
Dialpad isn't just a business phone system. It's a unified communications platform that connects you to prospects, customers, and more—but stays out of sight when it's not needed. Sign up for a free trial to try it out or, take a self-guided tour to play with the Dialpad app on your own first!