Dialpad Everywhere
Keep productivity top of mind (and screen) with Dialpad's desktop app and instant access to call controls, integrations, and voice intelligence features.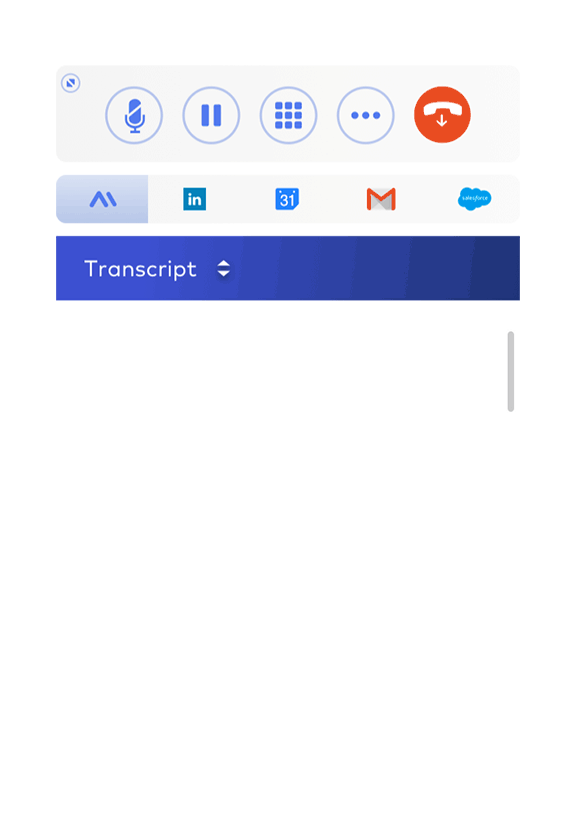 Feature Description

With Dialpad Everywhere, your business phone system now follows your workflows, not the other way around. Whether you're placing a call or receiving one, Dialpad Everywhere is always on top of whatever browser, app, or window you're viewing.
And with quick and instant access to call controls, integrations like Salesforce or Office 365, and even real-time Voice Intelligence features like transcripts and recommendations, your team can focus on the conversation at hand and not the tools that make it possible.

Setup Instructions
All Dialpad plans automatically come with Dialpad Everywhere functionality. Just toggle this feature on/off within your desktop app under your profile settings. To learn more, check out our help center.
Features & Functionality
Reclaim your Productivity
Never scramble to find what you need—Dialpad Everywhere's floating interface is always front and center.
Communications, Front and Center
Access core call controls from any browser, CRM, or software you use to get work done.
Save Time on Every Call
An expandable integrations toolbar offers quick access to actions like logging Salesforce activity or scheduling an upcoming event.
Transcriptions on Demand
Never ask "what was that?" again. Access your live transcript with one click from Dialpad Everywhere.
Recommendations, Real-Time
From common FAQs to objection handling tips, arm reps and agents with canned responses that trigger based on conversation keywords.
Frequently Asked Questions
Where can I use Dialpad Everywhere?
Just like the name suggests: everywhere! Your call widget will float above your other browsers, windows, or tabs so you always have access to call controls, caller information, Voice Intelligence features, and integrations with Salesforce, G Suite, and more.
Which plans support Dialpad Everywhere?
Dialpad Everywhere is available across all Dialpad plans.
What integrations are available within Dialpad Everywhere?
Depending on your account setup, users can connect apps like G Suite, LinkedIn, Salesforce, Office365, Zendesk, and ServiceNow. Add
What call controls are available within Dialpad Everywhere?
We give you access to all your core call controls like transfer, hold, add a caller, mute, and even call recording.
What Voice Intelligence features are available within Dialpad Everywhere?
For Dialpad Talk users, you'll get access to your real-time transcripts so you're never lost for what was said or by who. For Dialpad Sell or Support users not only will you get access to transcripts but also your real-time recommendations so you always have the right answer, right when you need it.
Where can I learn more info?
Why not check out our help center?