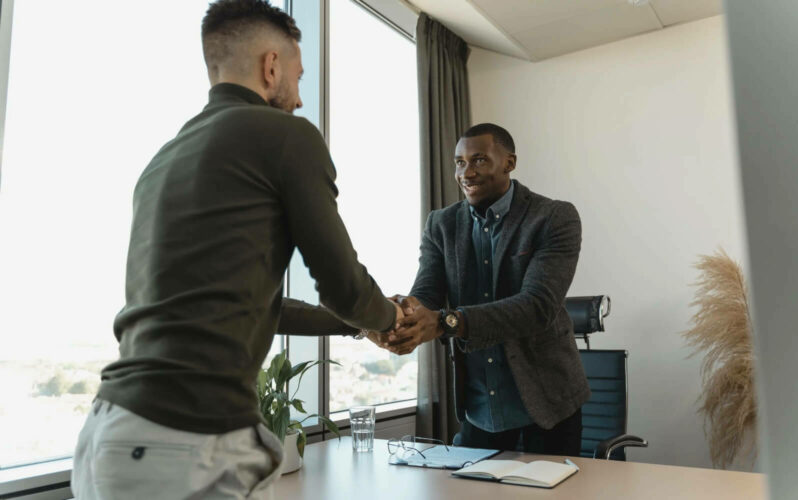 ---
For over 15 years, when insurance companies need to grow and build their teams, they turn to Knock Out Recruiting.
From health insurance to life insurance companies, Knock Out Recruiting's customers rely on them to reach out to qualified candidates, interview them, and ultimately, expand their teams.
Today, they've been focused on building out their own team and expanding Knock Out Recruiting into Canada. What this also means is they've had to upgrade their own communications tools.
"We were using Google originally," says Amanda Springer, Knock Out Recruiting's Executive Director, "But we were growing so fast that we had to get an actual dialing system."
And on top of that, she and her team were facing a pretty big challenge…
AI-powered training and reporting for a fully remote team
One of the biggest challenges that Knock Out Recruiting was facing was that everyone works from home. While the flexibility was great, it made things like training new hires a bit difficult.
For example, call recordings are important, not just for quality assurance, but also for continuous training and improvement. To do this, the team needed to be able to record calls and pull these conversations easily.
"We've always worked from home, and employee training has always been challenging," says Amanda.
"Being able to listen in and pull recordings, give feedback and coach—our team is growing a lot so being able to coach them effectively is essential."
With Dialpad, they can start and stop recording with just a click or tap from the call screen:
Managers are also able to monitor multiple active calls at the same time right from the app, where they can see live call sentiment and even scan the real-time transcripts, right as the conversations with candidates are happening:
"Dialpad Ai doesn't just save us time, it also saves us from developing bad habits because we can address everything immediately," says Amanda. "Everything's there in black and white. It's huge for us."
A better employee, candidate, and client experience
As a recruiting firm, Amanda and her team are accountable to their clients, which means that being able to gather and share performance data is crucial.
"With Dialpad's analytics and reports, we can see how many people a caller talks to in an hour," says Amanda, "We can see who the overachievers are, which lets us give out rewards and bonuses too":
"Because we can pull these analytics, we're able to see how many dials it takes to set an appointment—which lets us give the team a goal of how many calls to make," says Amanda.
"We can see what times are the best for the callers to call—for example, we know now that from 6 to 8pm is the best for getting people on the phone. Before, we were just calling in the afternoons because we couldn't track it. Dialpad has given us the analytics to see that."
On top of that, Knock Out Recruiting has a unique billing structure, where they charge clients by how many dials they make. And yes, this is all available right from their Dialpad dashboard.
"Now, we can tell our clients 'Hey, we made 100 dials for you last night,' and clients absolutely love that feedback—they love seeing who we're calling, how many times we've called them, and it's all in Dialpad's reporting," says Amanda.
Finally, with Dialpad's Ai-powered communications platform, the team can also make it easier for candidates to get in touch.
"Our applicants who apply for positions can just shoot us a text—most people today prefer texting anyway," says Amanda, "And if they get sick or can't make it to an interview, they can just text us and we'll reschedule them quickly. It takes 30 seconds, and that way we're not losing the appointment, and it makes the client happy too because there are fewer no-shows."

Getting the fundamentals right
Of course, beyond fancy features like recruitment chatbots and advanced AI-powered coaching and insights, a recruiting firm needs to have the fundamentals from their phone system or communications platform.
Namely, they need to be able to make a high volume of calls with good call quality.
"Dialpad's service never goes down, which is great," says Amanda. "If we can't make calls, then we don't have a business. I can't remember a time when Dialpad's service went down, which is great."
On a related note, recruiters also typically need to be able to use different phone numbers.
"With Dialpad, we're able to change our phone numbers weekly—we have thousands of people to call from the appointment-setting side, and it only takes one or two people to report your number as spam, even if you're a real person!" says Amanda.
"There's been times where if we didn't switch out that phone number, people just wouldn't pick up, and we wouldn't be able to schedule interviews with candidates at all, so this is essential for recruiting activities."
We can't wait to see how Knock Out Recruiting expands their operations into Canada and uses Dialpad Ai in even more creative ways to improve the recruiting process!
Are you running a
recruiting firm?
See how you can get real-time insights into candidate calls, coach recruiters in real time, interview applicants from anywhere with Dialpad Ai!