Products
Ai Voice
Overview
Theta Lake seamlessly integrates with Dialpad Ai Voice call recordings to automate everything from comprehensive capture to long-term compliant archiving, eDiscovery, supervision, and risk detection. With more than 85 built-in policy detections, Theta Lake empowers organizations in highly regulated industries such as Financial, Legal, Healthcare, and Insurance, to identify and mitigate data loss, security, acceptable use, and compliance risks in what was shared within recorded Dialpad Ai Voice Call conversations, with the option to create custom detections as well. Powered by state-of-the-art deep learning and AI, Theta Lake covers "Dialpad Ai Voice" for external and internal calls and points reviewers to a specific event within a voice call that requires further investigation. With patented AI to address risks and compliance requirements including Phishing, Abusive Behavior, GDPR, CCPA, HIPAA, FERPA, MiFID II, FINRA, SEC.
Use Theta Lake as your archive of record and securely preserve Dialpad content within our SOC2 Type 2-certified, SEC 17a-4 compliant archive. Specifically designed for collaboration platform storage, Theta Lake enables legal and compliance teams to perform rich eDiscovery and legal hold case management across messages, calls, and content shared. Alternatively, Theta Lake offers a range of integrations with legacy archives to incorporate Dialpad content with existing email retention.
Customers need an active Dialpad host account plus a paid Theta Lake subscription to get started. Contact Theta Lake at [email protected] to set up an account and for pricing questions.
Long-term Archiving + Third-party Archive Integrations/Connector
Industry Analyst & Customer Validation: Industry Analyst & Customer Validation: Gartner Peer Insights Reviews; Forrester Now Tech: Information Archiving Q1 2021; UC Today 2020 & 2021 "Best Compliance Product" & "Best Security Product"; & RegTech Awards; Gartner Cool Vendor 2019; UC Today 2022 "Most Innovative"; Gartner Magic Quadrant Honorable Mention 2022 "Enterprise Information Archiving"
Comprehensive Capture for Dialpad Ai Voice Calls: capture audio for internal and external calls for long-term archiving and supervision.
Secure, WORM-compliant archive: Theta Lake is a SOC 2 Type 2-certified, 17a-4 compliant archive. Apply rule-based retention policies on all Dialpad communications.
Email Archive Integration & Connector: Send content to your existing archive of record, including integrations into Veritas Enterprise Vault, Global Relay, Smarsh, Proofpoint, Mimecast, Microsoft O365 Archive.
Cloud Storage Integration/Connector: Copy of communications can be stored in the customer's Azure, AWS, or preferred cloud storage location
Rich eDiscovery/Search capabilities: Theta Lake offers robust eDiscovery capabilities across hundreds of search filters and metadata, as well as free-form text search on Dialpad Ai Voice (audio transcript), Dialpad SMS (text, links, images, gifs, emojis, files)
Native Format Capture and Storage: Dialpad communications are stored in native formats of audio and chat. Messages, files, documents, images, GIFs, and reactions are captured and stored in native format across the conversation history. Easily go back days, weeks, and months across SMS conversations between external parties to understand the full context.
Legal Hold Case Management: Apply legal-holds to content to extend retention periods and give select access to the legal team and external auditors
Easily Export Raw Data: Export original content to cloud storage environment, with the ability to export voice transcripts and recording analysis.
Secure Platform Trusted by Customers with a Global Footprint
SOC 2, Type 2 certified data centers: Demonstrate Theta Lake's commitment to security and privacy of captured content
ISO 27001 & HIPAA: Theta Lake's controls are mapped and aligned to the ISO 27001 and HIPAA security frameworks
STAR3 Architecture: Secure in Transit, Architecture, Rest, Redaction, and Removal
Global Footprint: Data centers in the US, Canada, UK, EU, and Australia to address data residency concerns
Automated Supervision and Data Leakage Detection
AI-based risk detection and prioritization: AI-based risk detection and prioritization: Detect risks within what was said or written across all Dialpad content for calls and SMS. Over 75 built-in policies using NLP and ML surface regulatory, corporate compliance, and conduct risks in a dedicated review space, with the added option to create custom detections.
Data Leakage Detection: Data Leakage Detection: Detects the sharing of confidential or sensitive data, personal information, and more within chat or discussed in audio calls. Apply redaction to recordings with PII or PCI.
Improve compliance, reduce risk: Identify misconduct and ensure employees are meeting quality standards as well as prevent leakage of sensitive information.
Customizable workflows and reports: Customizable workflows and reports: Using AI to power insights and automation, Theta Lake offers customizable workflows to efficiently scale the compliance review and supervision process for any sized organization.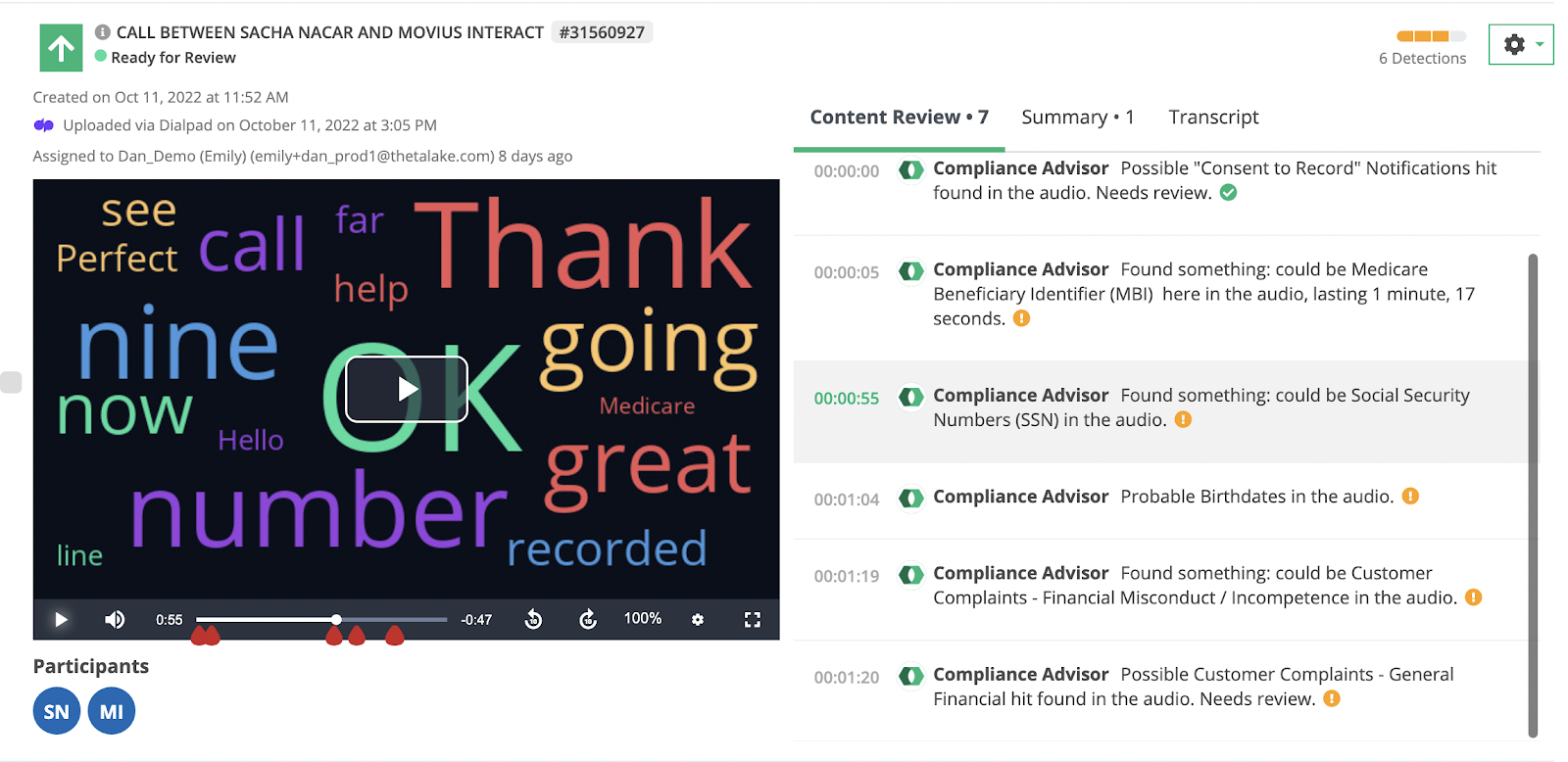 How to setup
Customers need an active Dialpad host account plus a paid Theta Lake subscription to get started. Contact Theta Lake at [email protected] to set up an account and for pricing questions.
Additional info