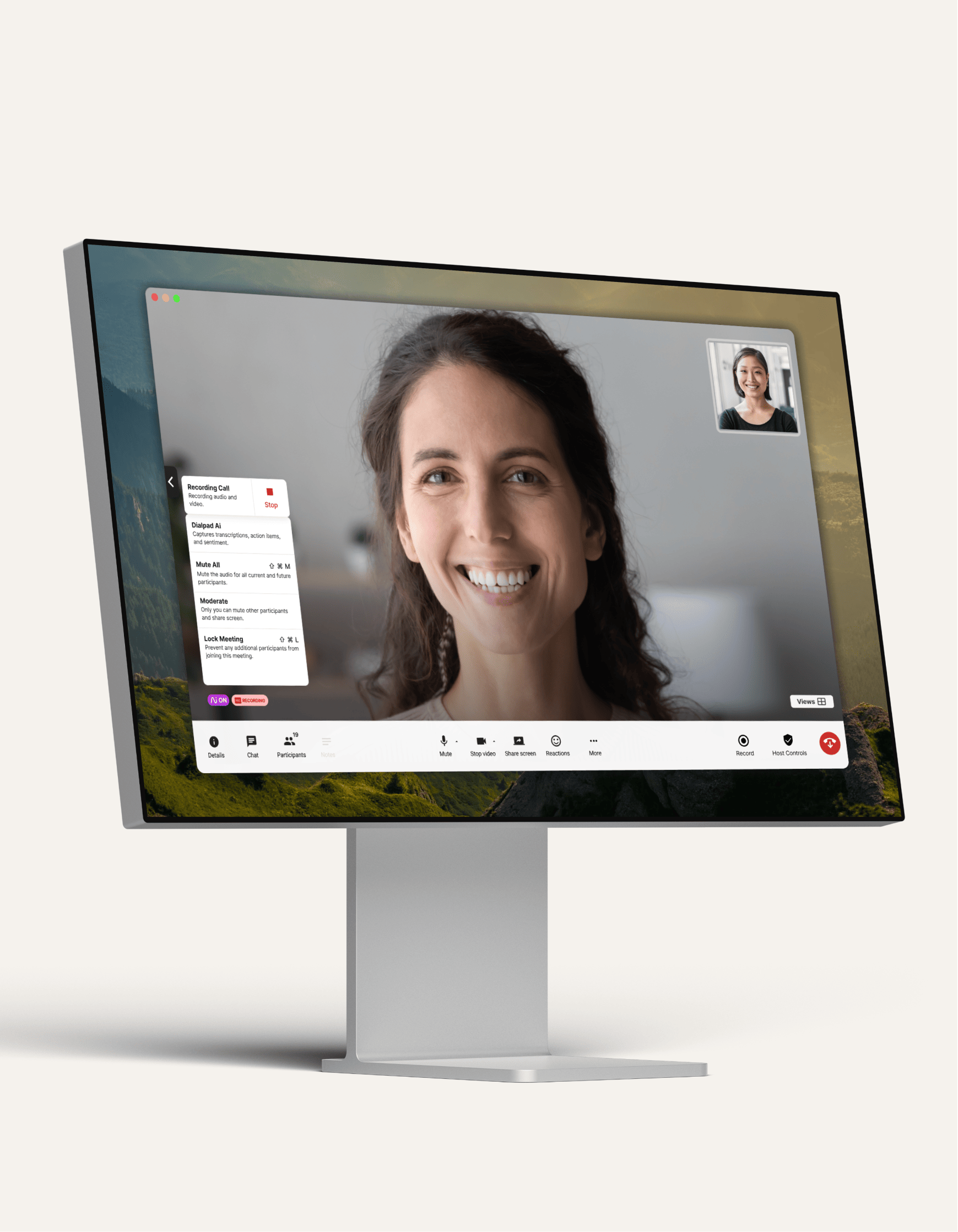 intuitive controls
Mute conference call participants
Reduce and control noise during your conference calls with Dialpad Ai Meetings' "mute conference participant" functionality. Sign up for the free plan to get unlimited video meetings and try it for free!
How often have you been on a call, only to have it interrupted by someone's dog barking or a baby crying, or a sudden coughing fit takes hold? When we say work from anywhere, we really mean it. But sometimes the "anywhere" isn't always so quiet.
That's why Dialpad lets you mute individual participants or the entire group with a click of a link.
Mute participants from the web
Connecting to a conference from the web? Hover over your participant's avatar to show the control options like their profile, mute, and more.
When you've muted a participant from the web, you'll see their microphone icon crossed out to show that they're muted.
No more wondering who's muted and who isn't: just like your other conference controls, everything is displayed right on your active conference screen:


Mobile apps are available for both iOS and Android users. Just like on the web, organizers and participants will see a "muted" mic icon over the individual Participant(s) on their active conference screen.
Mute and other powerful call controls are available on both of Dialpad's mobile app, giving organizers and participants the flexibility to take their conferences with them (without needing a desk phone).
Mute participants from your phone
For times when you're on the move, organizers and participants can use their phones via the mobile app to mute other participants or themselves.
If a PIN is needed, it'll display right on your conference dashboard for you to share with your participants. You can easily toggle the PIN requirement on and off from your settings screen in Dialpad:


To mute or not to mute
While participants have the ability to mute other individuals, only conference organizers have the ability to mute all participants at once.
Need someone to speak up? You can unmute an individual participant while the rest of the group remains silent.
Take control of your conferences
With controls like Lock, Record, and Mute All, Dialpad Ai Meetings makes conference calling easier, no matter where you're working from or what device you're using:

Mute your participants easily with Dialpad Ai Meetings
Try it for free now! Signup takes just a few minutes and you'll get unlimited video meetings, intuitive conference controls, and more.