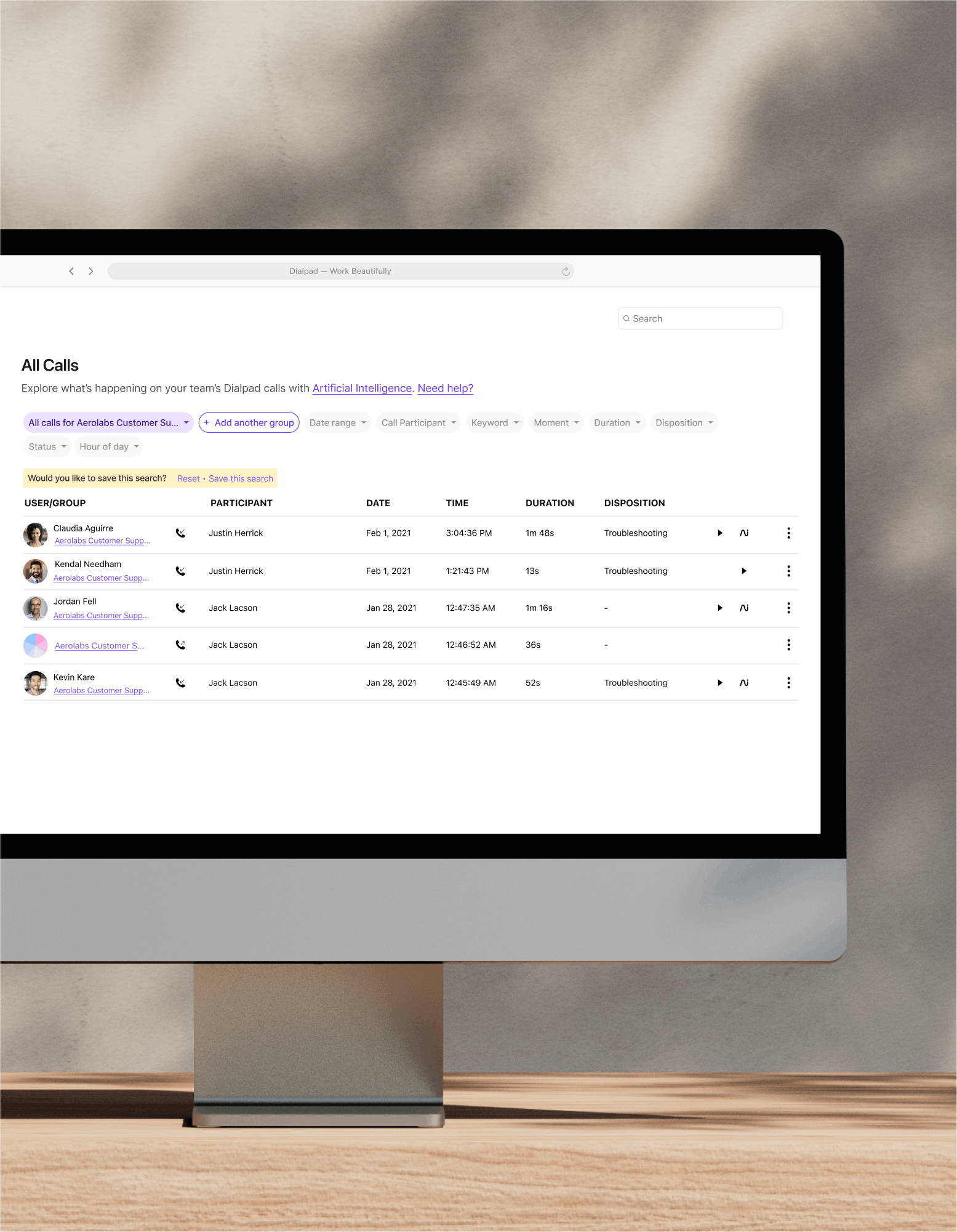 Call tagging
Does your business or call center get a ton of calls? Then you'll know how important it is to be able to easily analyze and disposition both inbound and outgoing calls. That's where call tagging comes in. See how Dialpad's easy-to-use call tagging feature works with a demo!
What is call tagging? How does it work in Dialpad?
Call tagging (sometimes also called call tracking) is a feature you'd find in business phone systems or contact center platforms that lets you categorize phone calls based on a predefined set of criteria.
It's like adding virtual labels to every call, which can help your sales and customer experience teams identify qualified leads and customer support trends, and also follow up on calls more efficiently.
Let's say you're a Software as a Service (SaaS) company. You may receive customer calls on a daily basis asking for technical support, inquiring about features, or requesting new features. Those are all different types of requests, and you want to keep track of all of them. Call tagging lets you do that.

👉 Quick side note:
Call tagging works for outgoing calls too—your sales team can tag calls with prospects as, say, "interested," "not interested," or "follow-up required" so that everyone on the team can get this customer data and interaction history, even if they've never spoken with that prospect before.
With a cloud phone system or communications platform like Dialpad, the call tagging feature lets agents label each of those types of calls in seconds after the call ends with preset or custom tags:
From there, contact center managers or supervisors can see call tags or dispositions from all the calls their agents are on, right from the online dashboard:
Get more than just call tagging with Dialpad Ai Contact Center
With Dialpad's fully integrated unified communications + contact center platform, you don't just get call tagging features—there's also a ton of other functionality that lets both customer support teams (and also any other team in your business) manage all their internal and external communications.


Real-time transcriptions
Dialpad Ai can do a lot of cool things, and one of them is that it can transcribe your customer calls and video conferences—live as the call is happening.
Live sentiment analysis
Not only that, it can also do live sentiment analysis, which means supervisors can quickly see which customer calls are potentially going south. If they do spot a potential issue, they can open up the real-time transcript to get more context before deciding whether they need to jump in.

Intuitive call routing
Need to update your IVR or call routing options? Want to switch from skill-based routing to round-robin routing? You can do all that with just a few clicks.
Unlimited call recording
Sometimes, you want to listen to the actual customer call to get a better sense of the tone or context that sometimes doesn't get captured in a transcript. With Dialpad, agents and supervisors can manually toggle call recording on and off—or set all calls to record automatically.
🔒 Dialpad tip:
For security and compliance, Dialpad also has APIs that automatically turn call recording off when sensitive information (like payment info) is being discussed.
Get a better understanding of the types of calls you're getting
Learn how to use call tagging systems to improve your call center or contact center operations. Book a demo, or take a self-guided interactive tour of the app on your own first!
Manage all your internal + external communications in one place with Dialpad

Truly unified communications
Whether you're communicating with colleagues, clients, or customers, with Dialpad you can make phone calls, host or join video meetings, send instant or SMS messages, and even manage your social media messages, all in one place.
Integrations with your favorite tools
Dialpad offers native integrations with popular business software and CRMs like Salesforce, Zoho CRM, Zendesk, Playvox, and more. Want to go custom? Build your own integrations with the open API.
Set up in minutes
Dialpad is so easy to use, you can add new agents, manage phone numbers, and yes, enable call tagging / dispositions in just minutes. Admins can add specific tags (and even add an unlimited number of tags) from their online dashboard—no IT help needed.

Customizable caller ID
With Dialpad, you can make work calls from your personal cell phone, while protecting your phone number When you're making a call from the Dialpad app, just choose the business number attached to your company name—this will make sure that even if you're making a call from your personal phone, it'll display your company number!
Does your contact center need a call tagging tool?
Why pay for a separate tool when Dialpad Ai Contact Center comes with robust call tagging functionality built right in? See how it works with a personal product tour!

FAQS about phone call tagging
Can call tagging help sales teams as well as customer support?
Yes! Sales teams need to assess the quality of leads that they have phone conversations with, so call tagging can definitely be useful for them. Is this prospect a hot lead? Does that person require a follow-up six months down the road? Reps should categorize calls with those tags (and knowing what types of calls are responding well to certain types of outreach can help with other business processes too, like marketing campaigns).
Sales reps can also tag call outcomes for potential customers too. For example, they can add call tags that specify details such as the prospect's likely pricing range or the features they're after (so that they—or their teammate—will know which buttons to press when they follow up later).
If I get a lot of angry customers, how can call tagging be useful for me?
What data can call tagging help gather?