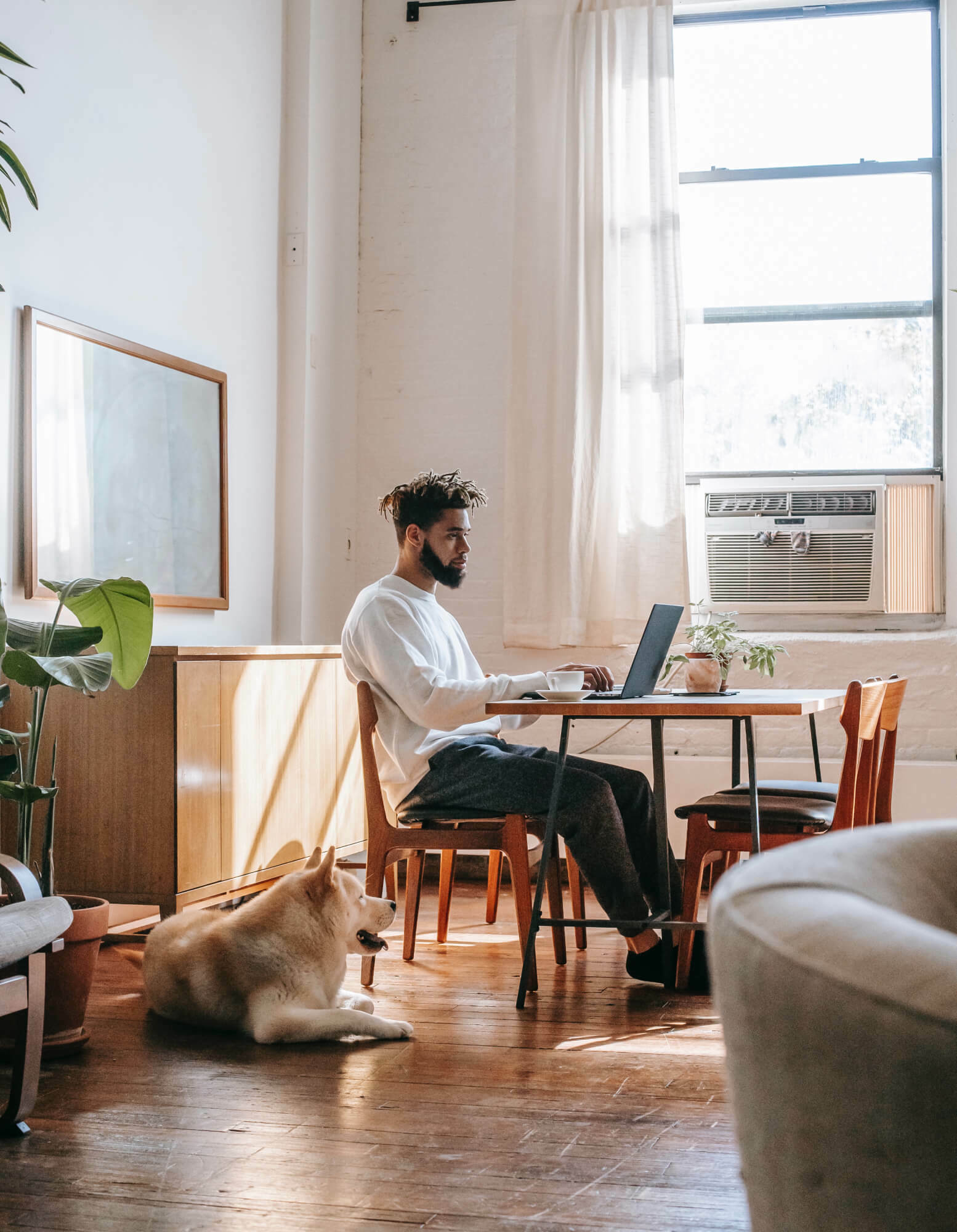 Dialpad vs. Google Voice
Which is better?
Try out Dialpad with a 14-day free trial and see how it stacks up against Google Voice. Signup takes just a few minutes (even faster with your Google or Microsoft 365 account).
Fun fact: Dialpad was actually designed by the same people who created Google Voice. 😎
If you're here because you're evaluating Dialpad vs. Google Voice, or looking for Google Voice alternatives, awesome—you're already doing the right thing by finding a product that will help you have better conversations with your customers.
Why choose Dialpad over Google Voice?
Dialpad and Google Voice are both cloud-based phone systems built on the Google Cloud Platform, or "GCP" for short. (Dialpad actually uses the cloud a little differently and is able to utilize GCP at a higher caliber—that's really getting into the weeds though and if you're interested in that, you should talk to us.)

Also, both Dialpad and Google Voice offer Artificial Intelligence ("AI"), offering their customers incredibly cool features like real-time coaching and the ability to identify call drivers and sentiment. (Dialpad actually offers even more AI features, but more on those later.)
The key difference is that Dialpad's AI is built into all its products, empowering all of Dialpad's users to take full advantage of its capabilities. Google Voice's AI, on the other hand, only works when combined with a third-party telephony or contact center provider, like 8x8, Avaya, or Cisco.

Then of course there's the list of things Dialpad offers that Google Voice simply doesn't, like contact center, call recording, toll-free numbers, IVRs (auto attendants, holiday messaging, call routing), and more.
So, if you're in sales or customer support and looking for a platform that's designed to help you close more deals, manage a big contact center (even if you're just one person), and communicate with anyone from anywhere over the phone, video, or messaging—all while delivering an exceptional customer experience—then keep reading.
We created Dialpad for you.
Telephony made easy
Taking a wild guess here—were you interested in Google Voice in part because of how easy Google products are to use?
Well, so is Dialpad.
Dialpad's business messaging platform automatically syncs across all devices. This provides a single source of truth for all your business conversations.
Picture this: You had a quick call with a colleague on the desktop app and sent her a business text on your mobile app. Both conversations with that colleague will show up when you access Dialpad. This makes it easy to find where the conversation left off, regardless of what device you're using.
Or hey, how about this: Your client joined the call a little early? You'll get a text message or email notifying you they're waiting.
Ever had to get out of the office quickly, but you're still on a work call? Dialpad lets you flip the call from your computer to your mobile device with a single tap. Unfortunately, Google Voice doesn't support this feature, which means you would have to hang up and call back or stay on the line.

"As someone who works primarily on their laptop with earbuds, I always loathed switching to the landline to hold conference calls. Not to mention, it just felt outdated and cumbersome to be tied to my desk when my primary machines are a laptop and iPad. [Dialpad Meetings] is a simple conference call system that you can dial into by web or phone."
Mike Landman
CEO of Ripple IT
More of what you actually need (now and in the future)
If you only need voice and video calling, both Dialpad and Google Voice have your team covered. But as any organization grows, their needs do as well. When you're looking for a new business comms provider, it's important to think not only about what you need now but also what you'll need one, five, and even 10 years from now. For example...
Contact center
When it's time to create dedicated call centers or outbound sales departments, you need a communication platform built with that capability so you can future-proof your company. Dialpad offers fully integrated inbound and outbound contact center software.
With Dialpad's support providing voice, video, SMS, MMS, and group messaging through its Zendesk integration, your contact center agents will be able to reach your customers however they prefer. With Google Voice, this won't be an option.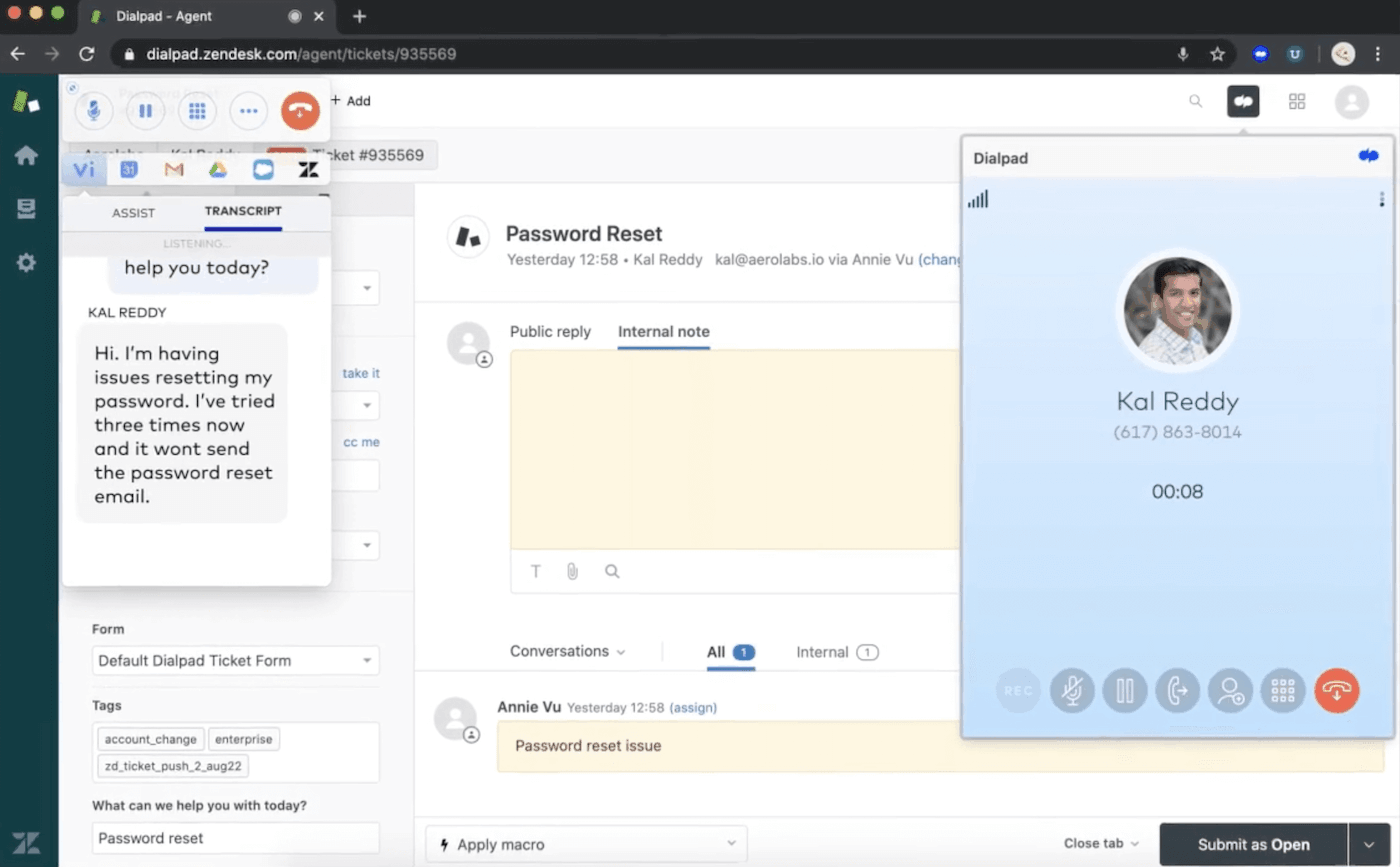 International coverage
Dialpad is available in over 70 countries. Google Voice is only available in 13 countries. So if you're looking to expand your business at a global scale, Dialpad's for you.
Toll-free numbers
Having a toll-free number for your business helps customers (and potential customers) get in touch directly with you for free. This makes your business more accessible, expands your reach beyond just your local area code or city, and can enhance your brand's credibility.
You can even have a vanity toll-free number that boosts your brand (like 1-800-HIGHER-ED or 1-800-NEW-BIKE).
Automated call management
A few other scalability things Dialpad has that Google Voice doesn't: interactive voice response (IVR), automatic call distributor (ACD), and auto attendant systems. These can be used to give callers information in an automated way, instantly route calls to people/departments, and serve as an around-the-clock solution when agents in your contact center aren't available.
Having these systems in place empowers your business to take inbound calls immediately even if agents are busy, cutting down on wait times and overall call volume.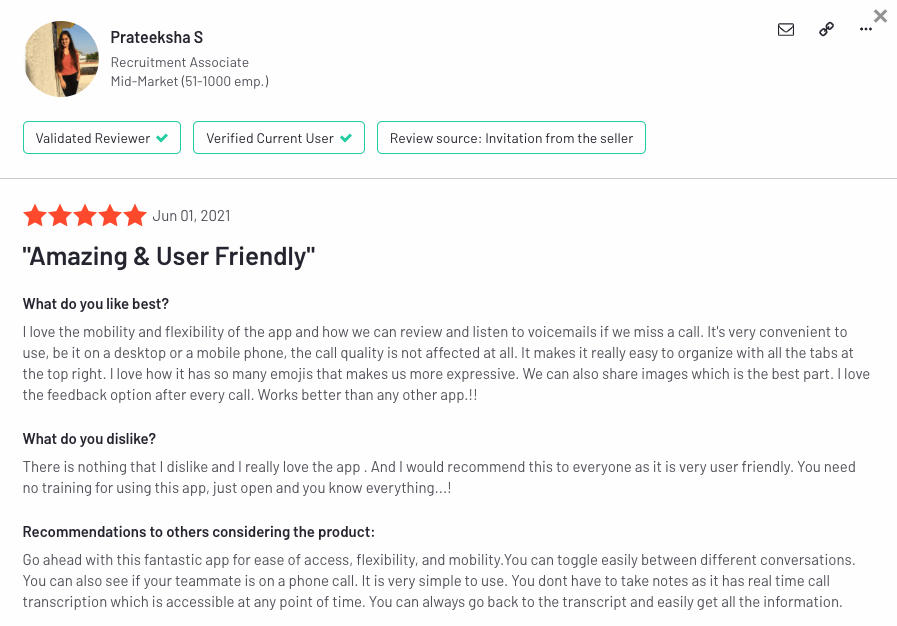 Let us show you around
Looking for something that's easy to set up and use? We've got you. Book a product tour to get a feel for how Dialpad could work for your business!
A party for all your favorite apps
Google Voice (obviously) integrates with Google Workspace. But that's pretty much the only software they integrate with. Dialpad integrates with Google Workspace and CRMs (like Salesforce and HubSpot), collaboration software (like Microsoft 365), customer service tools (like Zendesk), and more. If your organization uses or is planning on using these tools, Dialpad can easily integrate with them to improve productivity across your team.
Basically, if your team is already using Google Workspace but needs something to fill in that voice/phone gap, Dialpad's got you covered. It integrates beautifully with all your favorite Google apps: Calendar, Gmail, Chrome, you name it.
All these integrations help to further automate the process of adding and de-provisioning users. We're all about making things easy—like "no IT needed" easy. And hey if you do have an IT team, this'll ease their workload, letting them focus on other important tasks.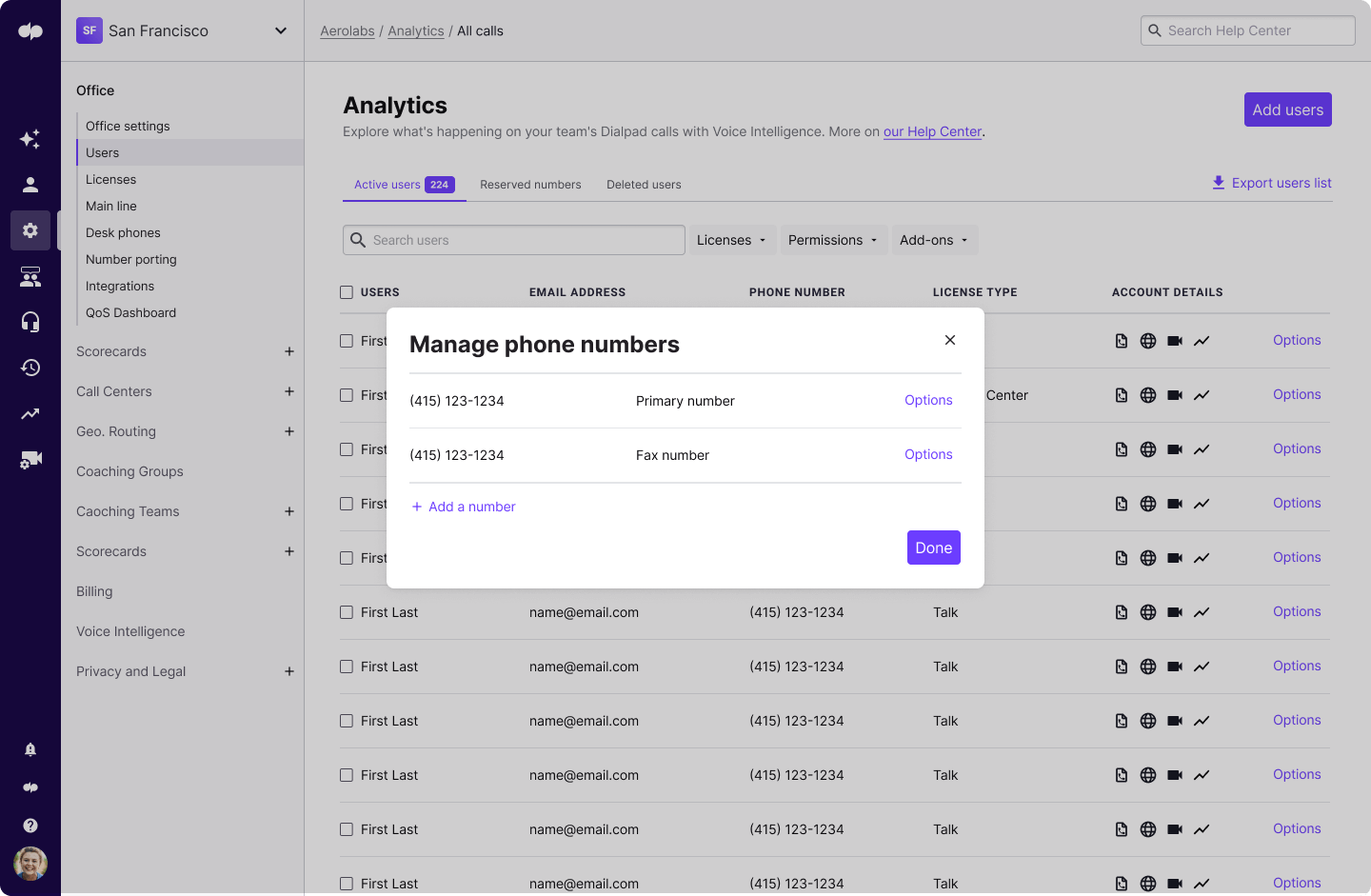 We're here for you anytime ❤️
When it comes to support, Dialpad takes the cake. Hands down.
Need support from Google Voice? They have a help center with FAQs and tutorial videos available to help you get set up and keep you aware of developments. There's an option to "send feedback" if you still need help. Expect to hear back in a few days.
Dialpad, on the other hand, offers support through the following channels:

Post call feedback

Live chat—available 24/7 globally (with a real human)

Email

Phone

Help center

Training options (in person, webinars, live online, video, documentation)
👉 Dialpad tip:
After a call completes, you'll be asked to provide post call feedback by rating us 1-5 stars. 1-2 star ratings automatically open a support ticket with Dialpad Support and—in real-time—captures all the logs and details we'll need to look into it for you.
You'll never just be a number to us. Even though Dialpad's customers run the gamut from solopreneurs to organizations with 1,000+ people, you won't be able to tell.
That's our goal. And that's also why we've designed Dialpad to be so easy to use without IT help. It should just work. And in the rare cases where something does come up (because, well, technology), our team is here at all hours of the day or night to help you. We don't run a traditional 9-to-5, and most of our customers don't either. We get it.
And our secret sauce: Vi™ (Voice Intelligence)
Artificial Intelligence can be found at many levels on the Dialpad platform—we call ours "Vi." Unlike our competitors, Vi is built into Dialpad and extremely accurate. In fact, we just surpassed Google for accuracy.
Vi is your perfect digital assistant. It transcribes every call and voicemail and swiftly packages it up in an instant call summary to your inbox. It actively helps your team members by creating meeting notes, tracking action items, and even recommending responses in real-time. While Google Voice does have AI, it's limited to voicemail transcriptions and spam filtering.
For contact center agents, Vi can also detect customer sentiment on calls based on the words they use, and pick out keywords and phrases so you can track them. If your customers are bringing up a competitor's name or asking a lot of tricky questions about price, for example, you'll know.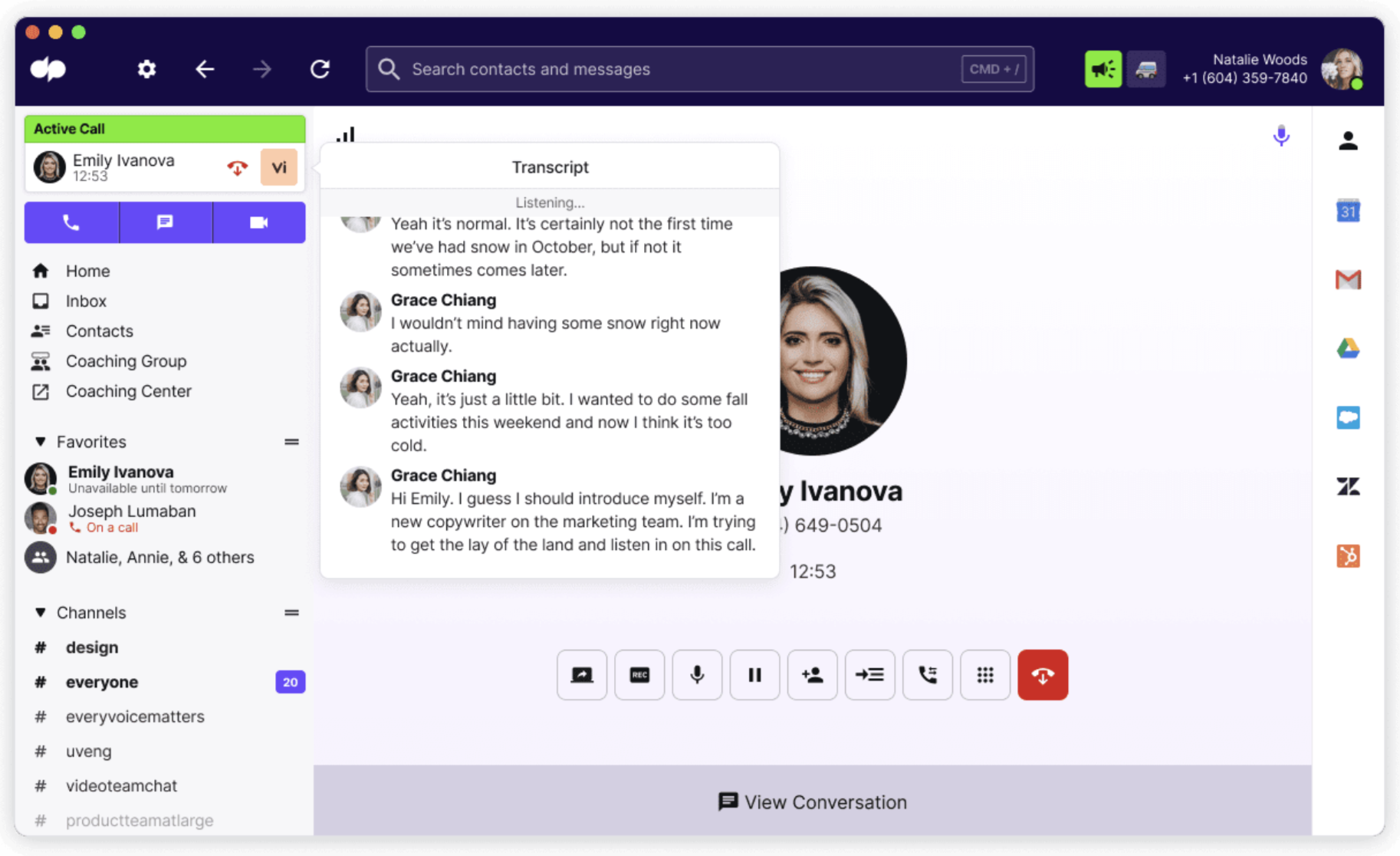 How much does Dialpad cost?
Dialpad has plans starting from $15/user per month and they include: unlimited calling, text messaging, voice, video, transcription, analytics, and more—all provided by Dialpad (with no other partners involved).
Plus, think of how much you're saving by not having to call in an IT person to do little things like add a user or change your voicemail settings. Winning.
But you don't have to take our word for it

Look, we're super proud of our product so of course we're going to toot our own horn a bit (a lot). But we get that we could come across a little bias. Our customers, however, have no reason to lie.
According to G2, folks comparing Dialpad and Google Voice found Dialpad easier to use, set up, and administer. Reviewers also preferred doing business with Dialpad overall, because they felt that our product met the needs of their business better than Google Voice.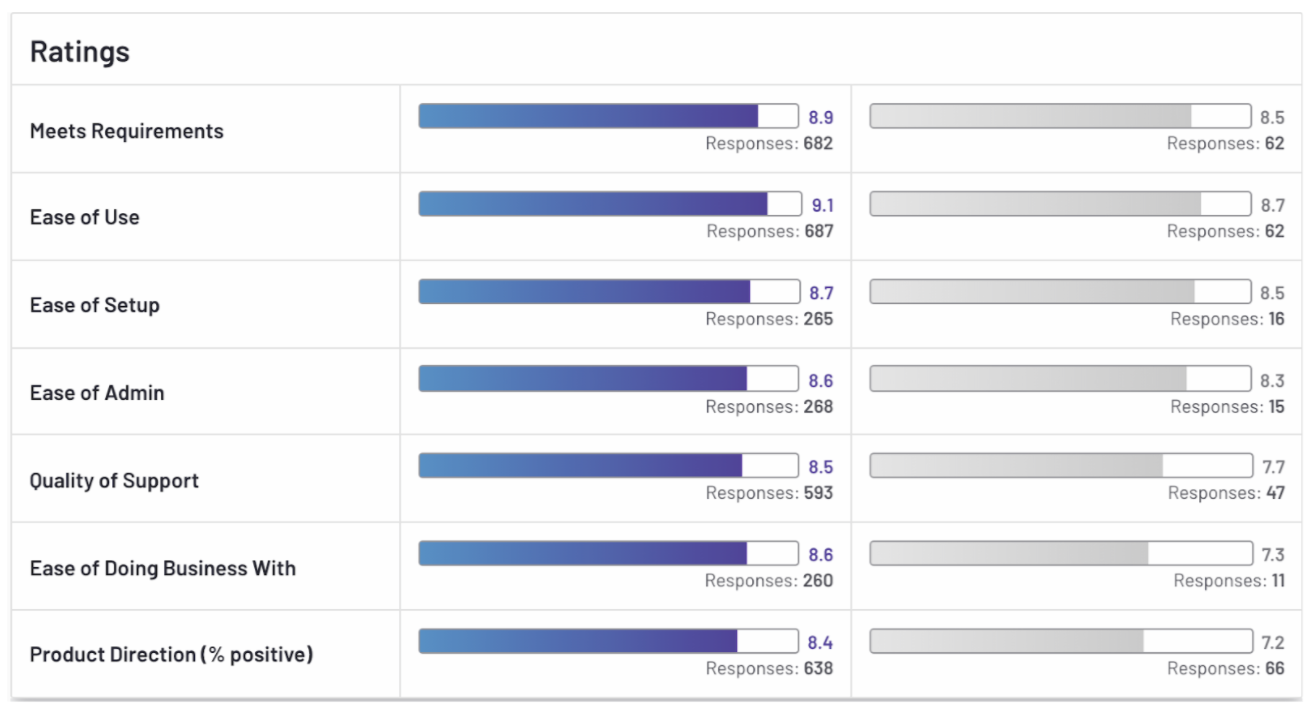 Test-drive Dialpad for free
Connect your team with a platform that powers voice, video, messages, and meetings across all your devices. Free for 14 days.