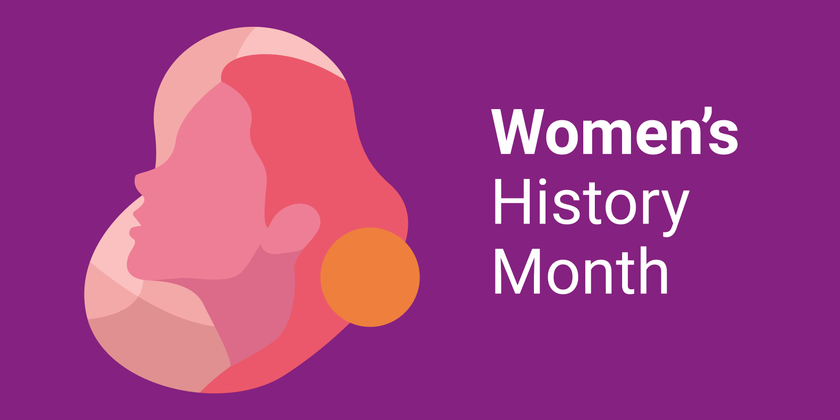 March 29, 2021
Dialpad embraces diversity at its core, and we're proud to recognize Women's History Month as a month-long celebration of the efforts and resulting accomplishments of women in our society. Yet that isn't to say the journey reached any conclusion. Women continue to reshape the workplace into an inclusive, equal environment for future generations of professionals.
Bridget O'Brien, Director of Sales Development at Dialpad, is an integral part of our organization. Joining us a little more than three years ago as a Sales Representative, she quickly rose throughout the sales division to guide sales enablement and build a small business-targeted sales team from the ground up. In her role today, Bridget leads a group of Sales Development Managers and Sales Representatives in researching prospects and generating leads.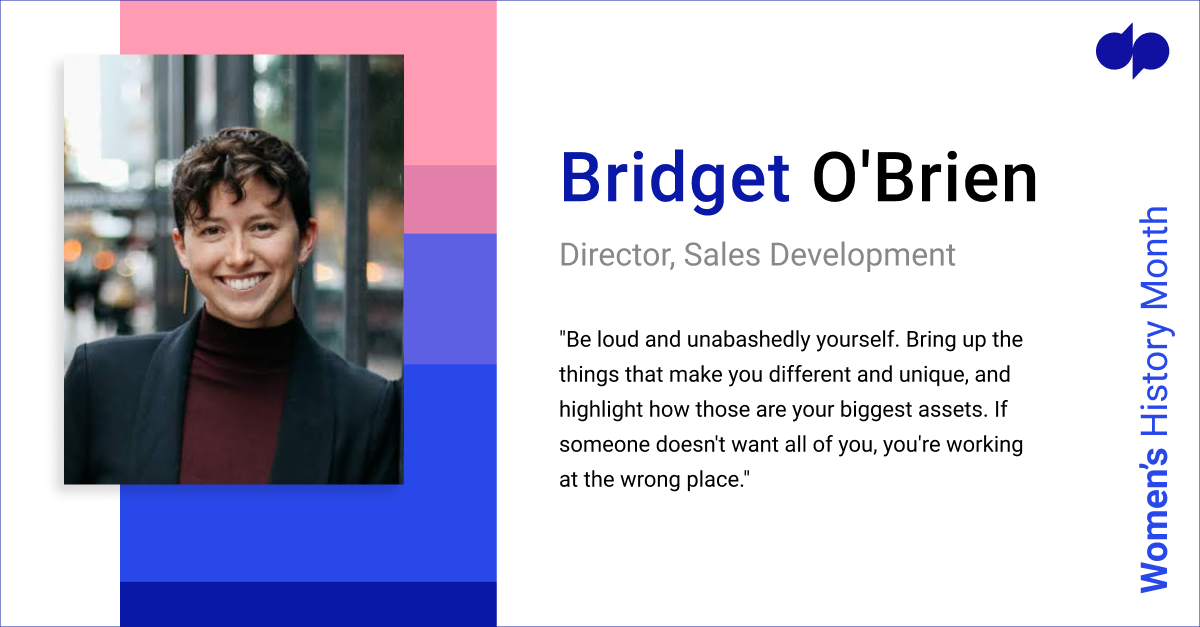 As a leading voice exemplifying Dialpad's overall values, we sat down with Bridget to discuss her career and any knowledge realized through her experiences as a woman in the workplace. Bridget described how she discovered sales as a career, the people who've allowed her to grow personally and professionally, and advice other people may leverage to achieve success in their own career paths.
Let's take a look at everything Bridget shared with us.

Tell us about yourself and your background. What experiences or learnings can you share in your life that contributed to shaping who you are today?
I was born and raised in Dallas, TX, by two psychologist parents — one a social butterfly with the magnetism to become the center and life of any room, and one a crossword puzzle nerd with the ability to make anyone feel like they were really heard — along with my gossip-loving, candy aficionado, way-smarter-than-me older sister. I was short and skinny until I grew taller and got skinnier; neither phase gave me many advantages in basketball. But I'm convinced it was the desire to be good at it that gave me three characteristics I'm immensely proud of: persistence (my dad often likened me to a mosquito on the court), a positive attitude, and a solution-oriented mindset.
Each attribute blossomed when I moved to Santa Cruz, CA. I went to tour UC Santa Cruz with my dad when I was deciding on college, and the second I saw Monterey Bay glittering from our view on campus, something clicked, I tracked down the basketball coach that day, joined the open gym impromptu that I was entirely unprepared for, and through sheer force of will managed to walk on to the team for my freshman year. I convinced my parents paying for out-of-state tuition was worth it if I got a Marine Biology degree. I ended up only playing basketball one year, but the lessons I learned from a college sport and after from the activities filling empty time helped me grow into the person I am today, and the most impactful of those in the most formative years of my life was the Marine Mammal Physiology Project (MMPP).
With the MMPP, I earned the opportunity to learn animal care and training. The MMPP conducts research through partnerships with Atlantic bottlenose dolphins, Hawaiian monk seals, Southern sea otters, cockatoos, and more. When I say partnerships, they truly are. The empathy and observation skills you learn through working with animals to achieve research goals are incredible. I typically went straight to work at a restaurant downtown after classes or a shift at the MMPP. My days were full and rich. I smelled like fish or bleach much of the time, but the exponential growth I experienced in communication, teaching, customer service, science, and data is something that I wouldn't trade for the world.
Eventually, I found what I wanted out of life: the ability to travel and pursue hobbies, to solve problems, to teach, and to watch others succeed. I discovered all of this in the tech world. I learned that my passion in life is animals, their physiology, how their brains and behavior work. But I didn't necessarily need to work with them day in and day out. Instead what I need is conviction — in myself and in what I'm doing every day, and that conviction should assist my strengths to shine through and propel me wherever doors may open. Dialpad is the luckiest door I've walked through. Since I did, I've learned sales, leadership, true mentorship, and a passion for diversity and inclusion. Overall, I've built confidence in my own ability to figure 'it' out, even if I've never actually done the 'it' before.
As a woman, what are some of the challenges that you've faced throughout your career? Are these challenges that you still observe today, whether for you or others? How do you continue to work through these challenges?
It's hard to be the 'only.' Whether it's the only woman, or the only LGBTQ+ person, and I can only empathize with and try to understand the experience of the BIPOC community. But for every cis, white, heterosexual man in sales, you have some work to do to step into our shoes and listen.
The most prevalent challenge is that the majority is always loud, no matter who it is. And if you find yourself in the majority at any moment, try to find an opportunity to listen instead. I'm grateful that I've always remained loud and never afraid of center stage, but that doesn't mean the imposter syndrome and the doubt doesn't set in, even in the moments I've already started speaking up during a meeting.
I've been the only woman in many sales leadership conversations, and the role I've fallen into is apparent even to me — inclusivity and a concern for the emotion and perception of the person on the other end of a decision. I most often speak up when I feel we've missed something about the experience of our people and how we can do better for them, and even better for the folks we don't have in-seat yet. The minuscule number of out nonbinary and trans folks in sales is something I think about frequently, and I try to prepare us to be inclusive of them before they ever enter the interview process. These topics come more easily to me because I'm usually the 'only' in the room when it comes to LGBTQ+ issues, but I have to fight against the instinct to think twice before I speak up on a topic of sales, numbers, strategy, process, and so on.
My word of advice for any 'only' in a meeting is the second you hold back, someone will say it first and get credit for your idea, and it's so much better to put yourself out there and take that risk than it is to watch someone else do it. I've learned so much more from what I chose to say than what I didn't.
What is some advice you can share that may help set people up for success as they grow their careers?
Be a proactive problem solver. If you find an issue, come to the person that oversees that issue with ideas on how to fix it. Even if they don't take any of your ideas, the impression of how you presented the problem lasts much longer than you think.
Be true to yourself. Be loud and unabashedly yourself. Bring up the things that make you different and unique, and highlight how those are your biggest assets. If someone doesn't want all of you, you're working at the wrong place. I promise those places that want all of you are out there because I'm at one. I'm a bisexual woman in sales leadership who doesn't quash any of myself at Dialpad, and we actively seek others that truly make us more diverse.
Ask for feedback often, but you don't have to incorporate it. Without a doubt, you will get bad advice many times over your career, but more often than not there is something to be learned from the feedback. Trust your gut, and don't compromise yourself but never feel afraid to be wrong.
Embrace being wrong! It's so much better to learn from being wrong than it is to be right all the time (or think you're right all the time). Adopt a growth mindset.
The power of a positive attitude is incredible, and typically the people that get noticed the most are those that have a ripple effect on the people around them. What do you want people to say about working with you? Embody it every second of every day. Uplift those around you, offer praise and gratefulness often, and don't let a bumpy road derail your demeanor.
What are some career stallers?
Here are just a few that I've picked up on over the course of my career:

Working for a place that doesn't actually want you, because you'll never get the opportunity to find that conviction in yourself.

Forgetting to recognize and thank the other people involved in any success you may have, and giving credit where credit is due.

Selfishness will always hold you back.

There's a difference between advocating for yourself and tooting your own horn.

Always choose the career option that scares you the most, it's typically where you'll find the most growth. If you don't, you may find yourself stagnant sooner than you think.
Of course there are many others, but those stand out to me the most.

Who is your role model and why?
I admired many people growing up — my mom for her social skills and magnetism, Mia Hamm, Steve Nash, and the teachers at the MMPP who I learned so much from (Beau, Traci, Courtney, and all my peers). But I don't think I really understood what a role model was until I started working for Ben Earle, Dialpad's Vice President of Sales. It was the first time I've really felt the desire to emulate someone else. I saw and felt how instantly he gained my and others' loyalty, trust, and that 'I would run through a wall for this person' feeling. He's never let me down, has always had my back, and the fact that I'm a woman has only ever been a plus in his eyes.
He makes you feel so seen and so heard, and he wants to learn from you as much as you want to learn from him. Ben cares so much about his people, is humble, and has a rule that if you want feedback from him, you have to give feedback to him too, and he wants it honest. I mean really honest. If I worked for any other leader they might not have appreciated some of the things I've had to say as much, but ask and you shall receive, Ben!
What that foundation of honest feedback provides is a sales org culture that feels like 'you can say anything, as long as you're looking to solve a problem and not ruminate on one.' Considering I describe myself as a blunt and honest person who finds a lot of joy in solving problems, I am grateful every day I get to work under this leader and this culture.
What advice would you give your 18-year-old self?
Find the piece of your life that you always want to be your best self for, and hold onto it. It can be people, relationships, family, work, a hobby, an activity... but you need something to motivate you to continue growing yourself and keep you on track. There are so many distractions, yet so many paths! So when you find that spark, do everything you can to fan it to a flame, then a fire, and let it fuel you every day.