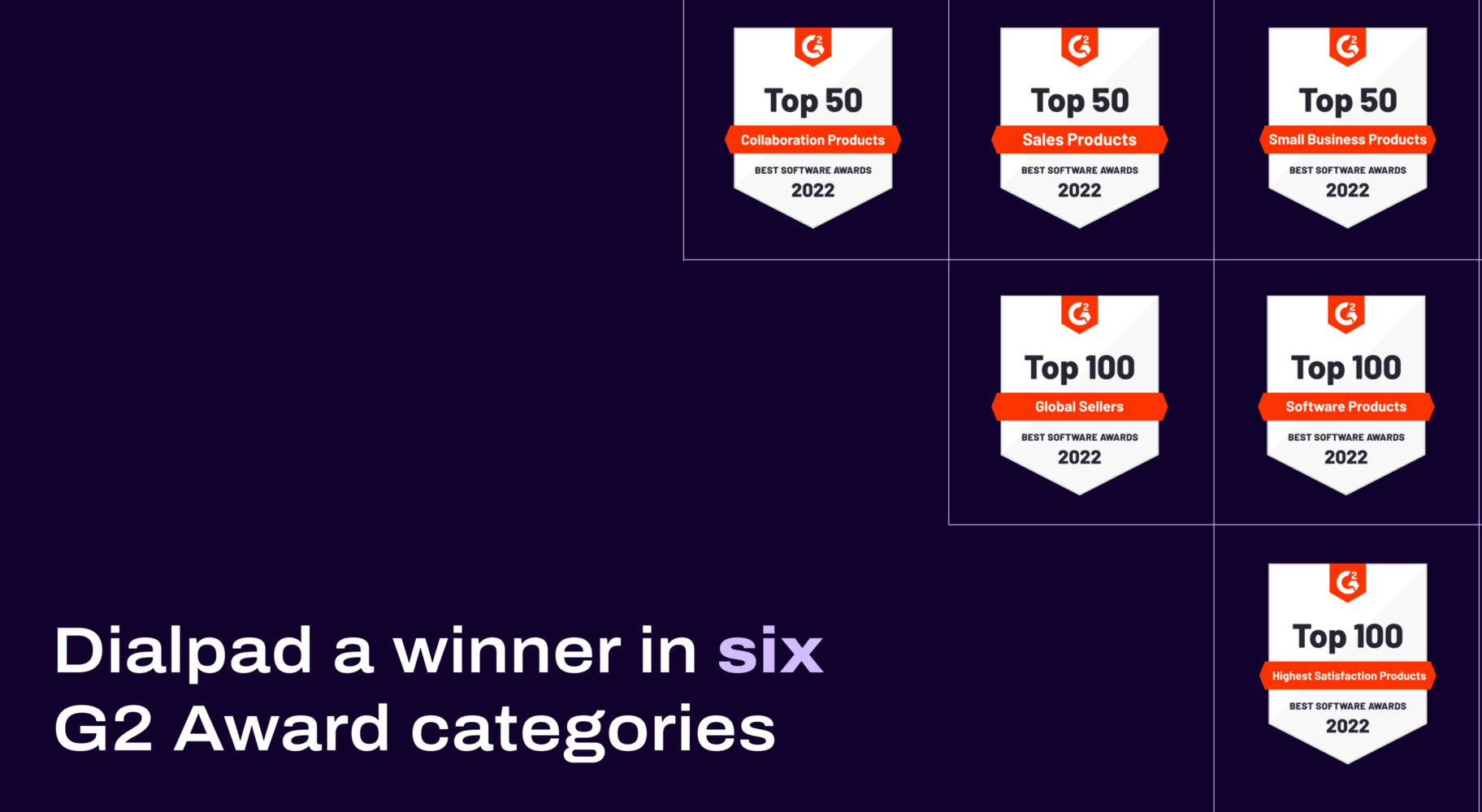 It's that time of year again: when software review websites announce their big winners. To kick things off, we have G2's 2022 Best Software Awards.
Wait for it…
We placed in six categories!

What are the G2 Awards?
Each year, G2 releases its list of the top 100 software sellers, based on a combination of their "Satisfaction" and "Market Presence" scores from user reviews. With over 100,000 solutions to choose from, there's a lot of competition!
"Simply put, G2 is where you go for software," says Godard Abel, G2's co-founder and CEO. "Our annual Best Software List aims to guide buyers on their purchasing decisions, knowing they can trust in the credibility and objectivity of our scoring algorithms. We applaud those companies named to our 2022 list, as they've earned the satisfaction among their customers as well as an impressive market presence."

How did Dialpad do?
Thanks for asking! At the start of 2021, Dialpad ranked in three categories. This year, we've doubled that, including a place in the top 10:
Best Collaboration & Productivity Products: #7 Dialpad Talk (now known as Dialpad Voice)
Best Sales Products: #14 Dialpad Sell (now known as Dialpad Ai Sales)
Best Small Business Products: #41 Dialpad Talk
Best Global Sellers: #56 Dialpad
Highest Satisfaction Products: #61 Dialpad Talk
Best Software Products: #80 Dialpad Talk

To make any list is an honor, but to also be in the top 10, top 20, and top 50—among over 10,000 competitors? What else can we say but "Wow!"
This is also our first time making the Best Software Products list, but we'll make sure it won't be our last. (Not to mention we're the only UCaaS provider to make the top 100!)
Similarly, not only is it our first year making the Global Sellers list, but we're also ahead of some huge names, like Verizon, LinkedIn, and AWS (and we're closing in on Facebook, so watch your back, Meta).

They like us—they really like us!
G2's lists are based on reviews, so none of this would have been possible without our customers. In order to even be considered for an award, a seller or product needs to get at least 50 reviews within the year (and anyone who's tried to get customers to fill out a satisfaction survey knows how hard it can be to even get one review).
In other words: anything we win is thanks in no small part to our amazing customers who let G2 know what they really think, so: thank you!
We couldn't have done it without the reviews of Dialpad users like Nathan W., who said: "[Dialpad] was instrumental in moving towards remote work with the rise of COVID-19."

Or Sohrob T., who called Dialpad "an almost indispensable tool" thanks to its ability to call and message prospects from a desktop or mobile device, all from the same business number:
Of course, we can't forget Dave P., who described Dialpad as the "best solution for our small business" with "by far the best SMS solution" when they needed "a functional, stable, and feature-rich mobile app [that] allows our mobile sales team to do everything they need on the go."
And if you've ever left a review for Dialpad on G2, then we have you to thank too. Placing on G2's lists is a validation for all the work the team at Dialpad has done to create a powerful, user-friendly, and truly unified solution. But we're only getting started, so you can expect to see more improvements and new features from Dialpad throughout the year.
Ready to see why G2 reviewers love Dialpad?
Get started with a free trial today! It takes just a few minutes to get started, and you'll be set up with a virtual business number too.