Back to Blog
Elevate your communications experience with the Dialpad summer app refresh!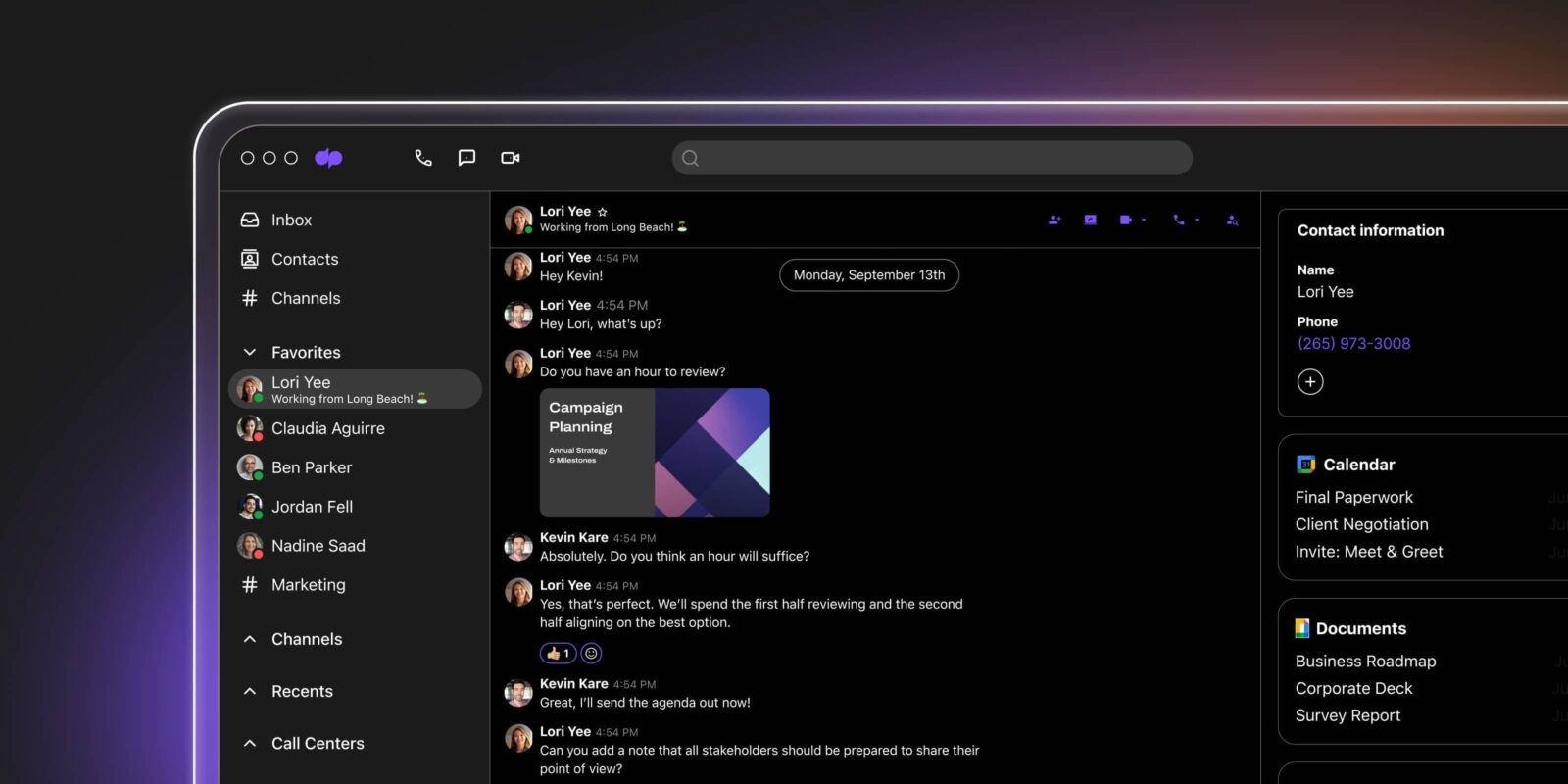 At Dialpad, we're constantly striving to provide the best communication and collaboration experience for our customers. Today, we're thrilled to introduce the Dialpad summer app refresh, a significant update that will take your communication and collaboration experience to the next level.
Hint: There are redesigned call controls, Dark Mode(!), conversation threading in channels, skinny bar, and improved meeting experiences…
Redesigned call controls: More streamlined and intuitive
A seamless calling experience is essential. That's why we've completely redesigned the call controls in the Dialpad app.
The goal: to provide a user-friendly interface that simplifies call management and makes you more productive. With the new design, calls no longer take over the entire main app view. Instead, call details and controls now reside in a sleek bottom bar, allowing you to access key information and multi-task more easily during a call. The most frequently used controls are prominently displayed, making it easier than ever to navigate and manage your calls with confidence: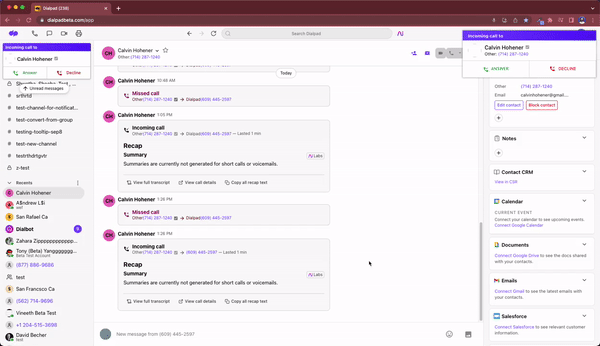 Go dark
You've been asking for it, and we've delivered. Yes, Dark Mode is here to give you a visually appealing option that adds a touch of sophistication to your Dialpad experience on desktop, mobile, and web browser.
Whether you prefer working in low-light environments, want to reduce eye strain, or just want a fresh look, just turn on Dark Mode in your settings:

Conversation threading for more organized and focused collaboration
With conversation threading in channels, you can have more focused and organized discussions within your topic-based channels, now available on desktop, mobile, and web browser.
Create sub-conversations with select team members, keep the main channel feed clutter-free, and ensure that important discussions stay on track: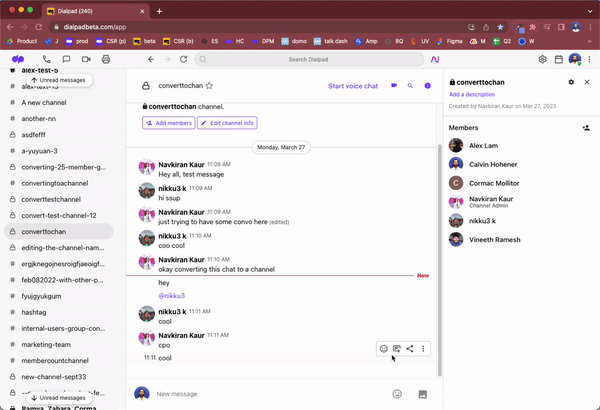 Skinny bar: Streamlined navigation at your fingertips
Introducing the Skinny Bar in Dialpad, your centralized access point for a seamless navigation experience.
Always present on the right side of the app, the Skinny Bar allows you to effortlessly open the integrations right-bar, access group chat participants, and channel settings. It serves as a gateway to new right-bar apps, providing easy switching between different applications like integrations, Ai Assist, and Ai Playbooks.
Stay tuned for future updates as we expand the capabilities of the Skinny Bar, unlocking enhanced productivity and convenience: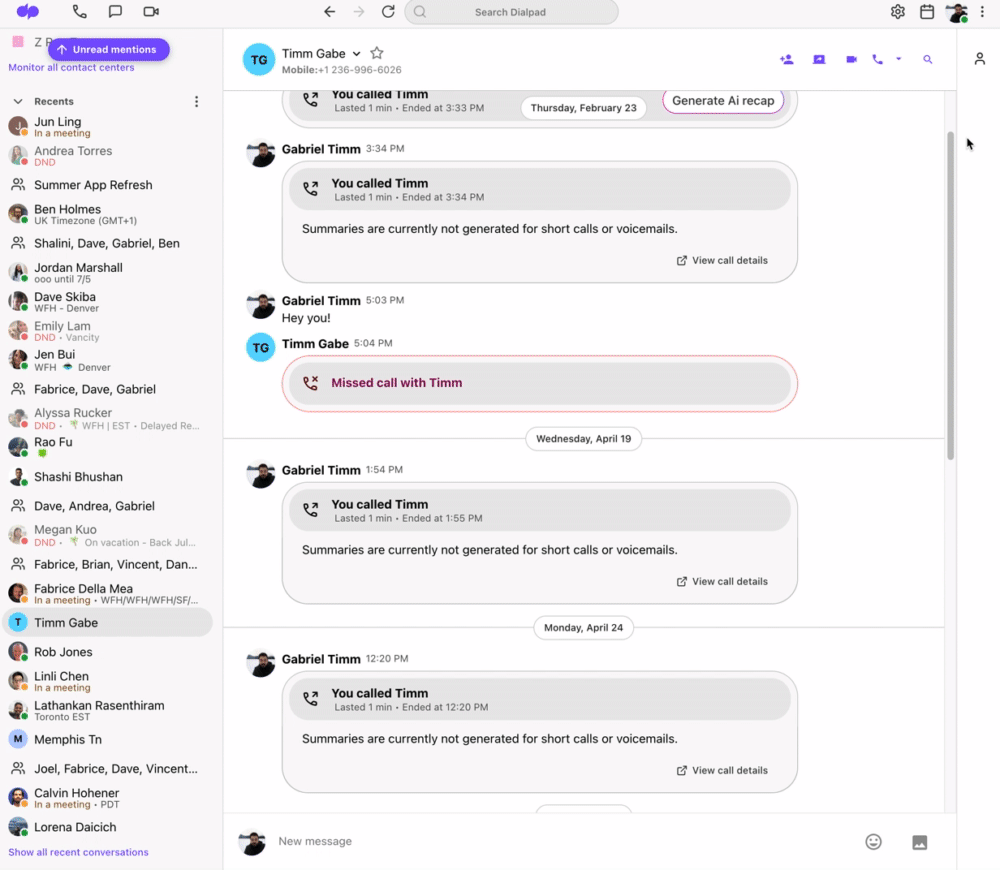 Join video meetings more easily in Dialpad Ai Meetings
Joining meetings should be a smooth and hassle-free experience, and we've improved the process to make it just that. With the improved join experience in Dialpad Ai Meetings, we've eliminated some unnecessary steps.
Now, you and your guests can effortlessly configure your audio, video, and virtual backgrounds to host better meetings. Enjoy a seamless and professional start to every meeting, allowing you to focus on the discussions and collaborations at hand:


A more inclusive dynamic view for video meetings
Having big meetings? The revamped Dynamic View for Dialpad Ai Meetings has an increased capacity and adapts based on the number of participants, creating a more engaging and inclusive meeting experience.
Say goodbye to static layouts and embrace a dynamic view that showcases active participants, whether you're hosting a small team gathering or a large conference call. The revamped Dynamic View ensures that every participant's contribution is prominently displayed, fostering better engagement and collaboration. This feature will be available soon:

Preparing for the new features
To help you make the most of the Dialpad summer app refresh, here are some tips to ensure a smooth transition:
1. Familiarize yourself with the changes: Take some time to explore the new features and functionalities in the updated app. You can find detailed information and tutorials in our Help Center to guide you through the updates.
2. Share the news with your team: Inform your colleagues and users about the app refresh and its benefits. Highlight how these enhancements will improve communication and collaboration within your organization.
3. Use our support resources: If you have any questions or need assistance during the transition, our dedicated support team is here to help. Reach out to us here, and we'll be happy to help you!
Ready for the Dialpad summer app refresh?
To experience these updates now, just update your Dialpad app to the latest version. Stay connected, collaborate seamlessly, and enjoy a more intuitive and engaging communication experience with Dialpad's latest updates. Sign up for a free trial to try it out, or book a product walkthrough with our team!