Back to Blog
Dialpad ends the search for the elusive meeting link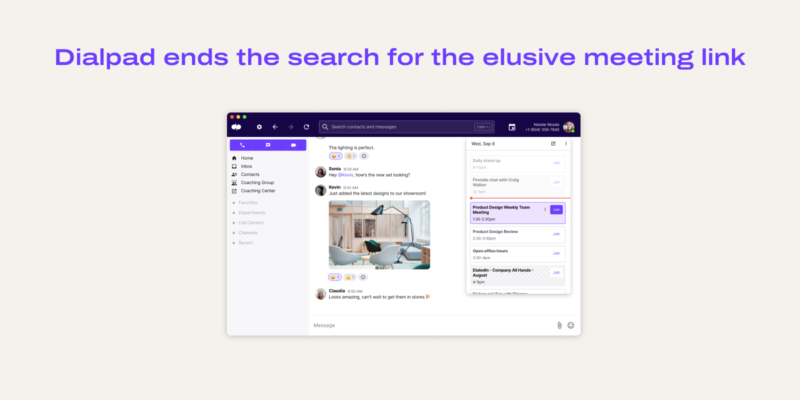 Since we're all likely considered hybrid employees at this point, chances are you are on at least one video or audio conference a day. Or for some of us, many, many video meetings a day.
So about 10 minutes before the meeting your calendar pings you with a reminder, you ignore it, then with a minute to go you get another reminder, this time sending you on a search for the elusive link to the video conference.
The process to access meeting links is arduous—you have to leave your app, toggle to the right your calendar tab or app, click on the right meeting, then find the link to join the meeting.
Dialpad's latest app feature, Meetings View, is here to remove the number of clicks it takes to start conferencing by presenting a list of upcoming meetings in their Dialpad app, shown after clicking a new calendar icon on the top bar:
Since Dialpad integrates with both Google Workspace and Microsoft 365, meetings set in the respective calendar apps are automatically pulled into Meetings View when you're in the Dialpad app. Links are transformed into a simple "Join" button that launches the meeting with one click:
Now with Meetings View, you can streamline your daily workflow in the Dialpad app while also staying organized and prepared with a comprehensive view of your engagements for the day. And all without having to leave your communications workspace!
Take Dialpad for a spin
Sign up for a 14-day free trial to get phone calls, video meetings, and instant + SMS/MMS messaging in one place. It takes just a few minutes to get started, and you'll be set up with a virtual phone number too!