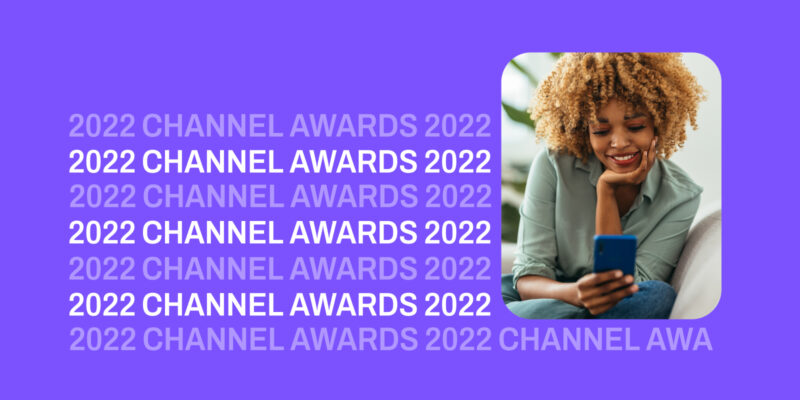 It's that time of the year again! That's right: awards season, where analysts and organizations pick the best of the bunch for communications platforms, solutions, and services. And we're thrilled to announce that Dialpad (and the amazing people who work here) have already been named winners for several awards!
Sandler Partners 2022 National Summit
Kicking things off, we have the Sandler Partners 2022 National Summit. According to Managing Partner Alan Sandler in the Sandler Partners press release: "These awards recognize trusted Providers whose names continuously come up within our Partner community. Partners consistently remark on their product quality and positive impact for businesses. They also voice their appreciation for the care and passion these recipients put into creating positive experiences for themselves and their customers."
We were honored to see two Dialers take prizes, recognized for their excellence as channel managers:
Dana Dempsey, Regional Channel Manager at Dialpad, was recognized as Top Regional Channel Manager - East Coast

National Channel Manager Rob Kolbuch won the title for Top National Channel Manager
Congratulations to the both of them, along with a big thanks for all the hard work and dedication that earned them these awards!



UC Awards
Up next, we have the UC Awards 2022, from UC Today. Billed as "a global awards event which celebrates UC and Collaboration technology innovation and industry success," the UC Awards were judged by a panel of experienced analysts from trusted organizations like UC Today, COMMfusion, and ZK Research. This year's UC Awards saw an all-time high for applications, so the competition was fierce, but we're proud to announce that Dialpad is the winner for Best Unified Communications Platform!

Dialpad was picked for our TrueCaaS platform, "providing a true unified communications experience from an enterprise cloud." And you can hear all about why they chose Dialpad here:

Channel Connect 2022
And of course, there's also Channel Connect 2022 from Intelisys. The event combined the ScanSource Partner Conference and Intelisys Channel Connect into a single event, which meant it was bigger than ever.
This year, Dialpad's John Habermann took home the prize for Intelisys Top National Channel Manager! A big congratulations to John, who worked hard to earn this recognition.

Telarus Partner Summit
Next, we have another summit where Dialpad won twice. The Telarus Partner Summit brought industry experts together to discuss all things cloud, unified communications, contact center, and more, and they took the time to honor businesses and individuals.
At the Telarus Partner Summit, Dialpad was named Top EMEA Supplier. On top of that, Rob Kolbuch took home another prize with the Telarus Charlie Lomond Award for Top National Channel Manager!


Congratulations to Rob again, and to everyone at Dialpad who worked so hard to earn that top spot!
Channel Futures Channel Leaders List
Closing off this list, we have a new award from Channel Futures. Their Channel Leaders list recognizes individuals who they believe will shape and redefine the partner-supplier relationship and set the future of their channels. The list is designed to provide an in-depth look at industry segments, and recognize the individuals responsible for their organizations' strategic direction.
For their inaugural list, Channel Futures chose Mike Kane, who was Dialpad's first-ever channel employee back in 2017. Mike's accomplishments have helped Dialpad grow and empower its ecosystem partners, as he's responsible for all channel go-to-market strategy, enablement, qualified pipeline, and revenues across North America, EMEA, and APAC. So for anyone who's worked with Mike in the past, his placement on the Channel Leaders list comes as no surprise.


Of course, the year's not over yet, and there are still more awards to come. But whether or not we win anything, we here at Dialpad will continue working hard to provide an amazing truly unified communications and contact center experience to our customers.
So while the time for acceptance speeches is over, we'd still like to thank all the Dialpad partners, customers, and employees out there who made these wins possible.

Want to see why channel partners choose Dialpad?
See Dialpad for yourself!