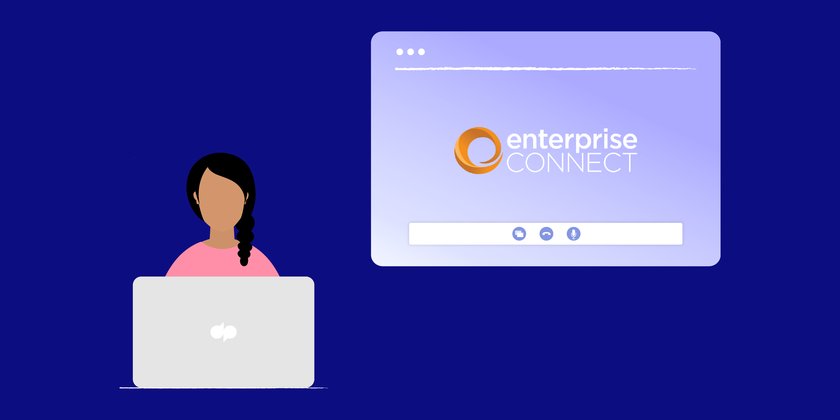 March 30, 2021
While the ongoing pandemic may prevent in-person conferences, events have still found a way to run remotely. Just as businesses have shifted to remote work environments, so too have conferences until it is safe to attend in-person again. Such is the case with Enterprise Connect, the largest gathering of enterprise communications and collaboration professionals.
As Dialpad provides cloud-hosted, AI-powered unified communications for businesses of all sizes, Enterprise Connect Virtual was an amazing opportunity for us to showcase what makes Dialpad unique and how our AI has helped our customers.

Enterprise Connect Virtual
When Enterprise Connect went virtual, it opened up new opportunities for businesses and attendees alike. Over 2100 enterprise decision-makers, service providers, analysts, consultants, vendors, channel partners and more signed up to watch or host virtual events and webinars, covering a range of topics.
Webinars covered a range of topics that are of importance to today's enterprises, from Oracle's "Why Communications Security is More Important than Ever" to Salesforce's "Optimizing the Agent Experience from Anywhere." Attendees could register to watch webinars of their choice, without needing to rush between sessions and trying to find a good seat.
Similarly, Enterprise Connect Virtual offered a digital library. Attendees could read whitepapers and industry research, watch videos from previous Enterprise Connects, and listen to enterprise-focused podcasts.

Dialpad at Enterprise Connect
Dialpad was among the vendors in attendance, with two webinars of our own:
- Dialpad Ai: Making Every Word Count
- UCaaS & CCaaS: Brought Together with the Magic of AI

Dialpad Ai
In this webinar, Zeus Kerravala, Principal Analyst at ZK Research, sits down with Jim Palmer, Dialpad's VP of Data Engineering. They discuss the importance of Artificial Intelligence, how far it's come, how it can help organizations, and concerns like bias and privacy.

AI tools have been particularly helpful for organizations during the shift to work-from-home. AI-powered tools like Dialpad Ai have helped make meetings run more smoothly, contact centers more effective, and virtual calls more productive. Yet there's the question of whether or not AI tools will remain in-demand once it's safe to work from the office again.
"Work from home is here to stay in some component or another. We're always going to be having to virtually bridge teams, team communication—and that's just even working together, but also in the B2B, B2C spaces as well," Palmer explains. " We're starting to see it all fuse together… and there's almost perfect timing being in our space, trying to find out ways to optimize and simplify that communication. Because I think most folks that are going to be watching this are definitely lamenting at some of the difficulties of the Zoom lifestyle, especially with working from home, and I'm trying to help solve that."
The Ethics of AI
Another key concern in AI is applying ethics to machine learning. This can encompass how data is acquired, what data is used, and how we can avoid bias in machine learning.

"How do we ethically train, how do we ethically show results from any one of our machine learning models, and how do we present it to the user in a way that cannot have inherent bias?" Palmer asks. "The thing that is difficult to manage in machine learning really is that bias. You're training a computer to make the same inference as a human."
Palmer goes on to explain that humans are generating data based on their own biases and are training the machine to learn the same biases. "So whatever inherent bias the humans have immediately gets placed into whatever machine learning model you ultimately have, and it's much more consistent and much more sensitive to that bias. However you can remove the bias and the judgement from inside the training data is something you have to do to try and expand that data set."
UCaaS & CCaaS: Brought Together with the Magic of AI
At Dialpad, we're proud of how Dialpad Contact Center brings the power of unified communications (UC) to the contact center. Combining UCaaS and CCaaS can empower contact centers to work more efficiently, provide better customer service, and ensure agents have the resources they need to succeed.
In the "UCaaS & CCaaS'' webinar, Sheila McGee-Smith, Founder & Principal Analyst of McGee-Smith Analytics, sits down with Joe Manuele, Dialpad's Sr. Vice President of Corporate and Business Development, and Fernan Kalaw, Director of Customer Support at InfoTrack (formerly One Legal) to discuss how UC can provide benefits to contact centers.
Fernan Kalaw discussed what it was like switching to Dialpad and how it made it easy to transition to remote work when the pandemic hit. Rather than be tied up trying to make on-premises systems work for remote employees, the cloud-based unified communications platform let InfoTrack switch to remote work easily.

"It's the power of the cloud," Manuele explains. "The common call control with UC and CC, where I can be a Biz Dev guy one day and a contact center agent the next (and the latter is a much harder job, by the way) and I can also, then, at the same time empower these agents to deliver a service they normally wouldn't be able to. The power of call control and the power of AI are two assets I personally think companies like us need to own."
Companies looking to see how unified communications can improve their contact center should be sure to watch, so they can see how UC and AI are helping CCaaS, including direct experiences from someone who has experienced the improvements they can bring firsthand. Watch the webinar on demand here.
Enterprise Connect's switch to a virtual event was a necessary change, but one that still enables enterprises, service providers, and more to interact and showcase what makes them unique. We at Dialpad are proud to have been able to contribute our thought leadership, and thank those who helped make the webinars and Enterprise Connect possible.