Back to Blog
See how Birdeye's CIO enables cross-team business excellence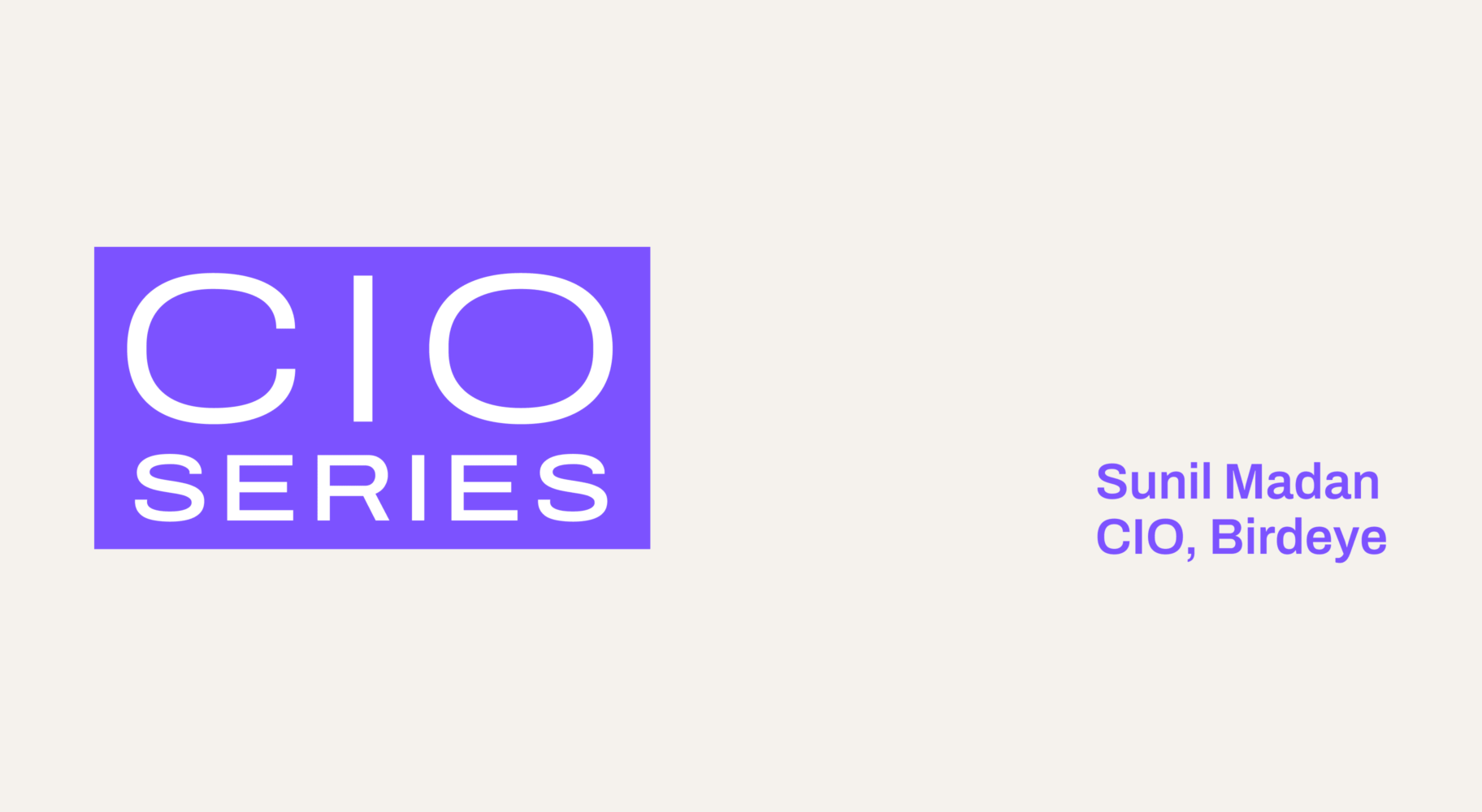 Sunil Madan doesn't just stay in his lane when it comes to his job—because he knows if he wants to make an impact and help the business in a meaningful way, he needs to be expansive. The CIO of Birdeye, an all-in-one platform that helps businesses grow through happy customers, is invested in helping every part of his organization advance to the next level.
"As a leader, you have to keep rotating within an organization to be able to make the impact that you can, otherwise you're just helping yourself, not the company," he says. "One: you're not learning the business enough as no two businesses are the same. Two: you're not helping the business enough because your decision making process is only based on your past experiences."
That mindset has helped Madan push not just his IT team, but also inspire other departments to hit higher standards with a more holistic technology and business strategy. His previous experience as VP of Business Services at RingCentral gives him a unique perspective as a CIO, and an ability to step into the shoes of his sales and marketing colleagues to help determine their operational and scalability needs.
Here's what a CIO can help to accomplish within a business beyond the usual call of duty—especially while a company is growing and scaling very fast.
Building pipeline for sales
Unlike most CIOs, Madan currently spends 60 to 70% of his time on the business side of things, and the other 30 to 40% on revenue operations and technology. For a rapidly scaling company, this mix makes sense—think about how much operational infrastructure goes into something like outbound sales motion. Having a CIO with this mindset enables sales right away.
"I spend most of my time in pre-sales because that's where I can make an impact right now," he says. "In a year or two, I'll be shifting my focus to the infrastructure, backoffice, technology landscape and enterprise readiness side of things. Leadership teams should always be ready to help in any area of the business when needed."
For now, the center of Madan's attention is building pipeline for sales. "I have my own operations excellence model for pre-sales organization," he says. Once he has the top-down numbers of how much pipeline needs to be built, and the sales goals of each department, Madan uses his operations model to determine, for example, the outbound lead cost per representative.
"I have a very healthy competition with marketing," he says. "How much are you spending to bring in a lead and how much am I spending to do the same? It becomes a very interesting conversation and with that mindset, we are always challenging each other to optimize on both sides. "
This kind of impact can be applied, from a CIO's vantage point, anywhere in the company. That's why Madan sees technology as a great equalizer in the growth phase of a company. "If we have a problem (people, process, or technology) in any of the business areas, I don't mind getting involved and fixing them or getting it to a level where they're repeatable in a scalable manner."
It's all for the good of the company.
Informed training and enablement
A CIO's experience can also be applied to training and enablement, since the role touches every part of the business. With Madan's business experience, including on the buyer side, he's able to do something else that's unique: get into the weeds with sales representatives to give them effective strategies and tools.
"I know who they are talking to on the other side and what type of questions a potential buyer will be asking, so I go through that objections-and-rebuttal process with our team," he says.
"You know, 'I am the buyer and I'm going to ask you all these questions throughout the process, and tell me how you would answer.' And that trains them really well."
Straddling the worlds of sales and technology also makes Madan better able to teach business systems to the representatives who use them every day. "We have a healthy tech stack of 50-plus business applications that my team runs, as well as the contact center," he says.
Each piece of this SaaS product tech-stack has to serve the needs of those who are using them to be productive every day. Madan's unique point of view enables him to give employees what they need when—even before—they need it.
Directing the flow of information
Madan's holistic approach also helps him to decide when to say yes to a request, and when to point out the missing pieces. "When you look at the business process, including the information structure, there's a flow of information that has to happen in a specific way. I'm making decisions in that order," he says.
Flow of information always impacts the customer journey, which is crucial during a company's growth period. Anything that validates a better customer experience is where Madan is putting his focus—including AI.
"AI has now become table stakes," he says. "You have your business process architecture and then AI is like the bottom layer supporting everything above." Wherever AI can help improve the flow of information, like within the context of a contact center's web chat or answer prompts, the better the experience will be for anyone interacting with the company.
"At the end of the day, it's all about our customer experience," he says. "And I do believe AI is an enabler that takes the customer experience to the next level."
Madan's unconventional role exemplifies how a CIO that truly understands technology to be a scale-enabler has a chance to make an impact throughout the entire organization—and help it grow to new heights.
✨ Get the CIO Playbook
Along with interviews from 11 other leading CIOs across different industries!