Back to Blog
How this CIO aligns strategy with institutional vision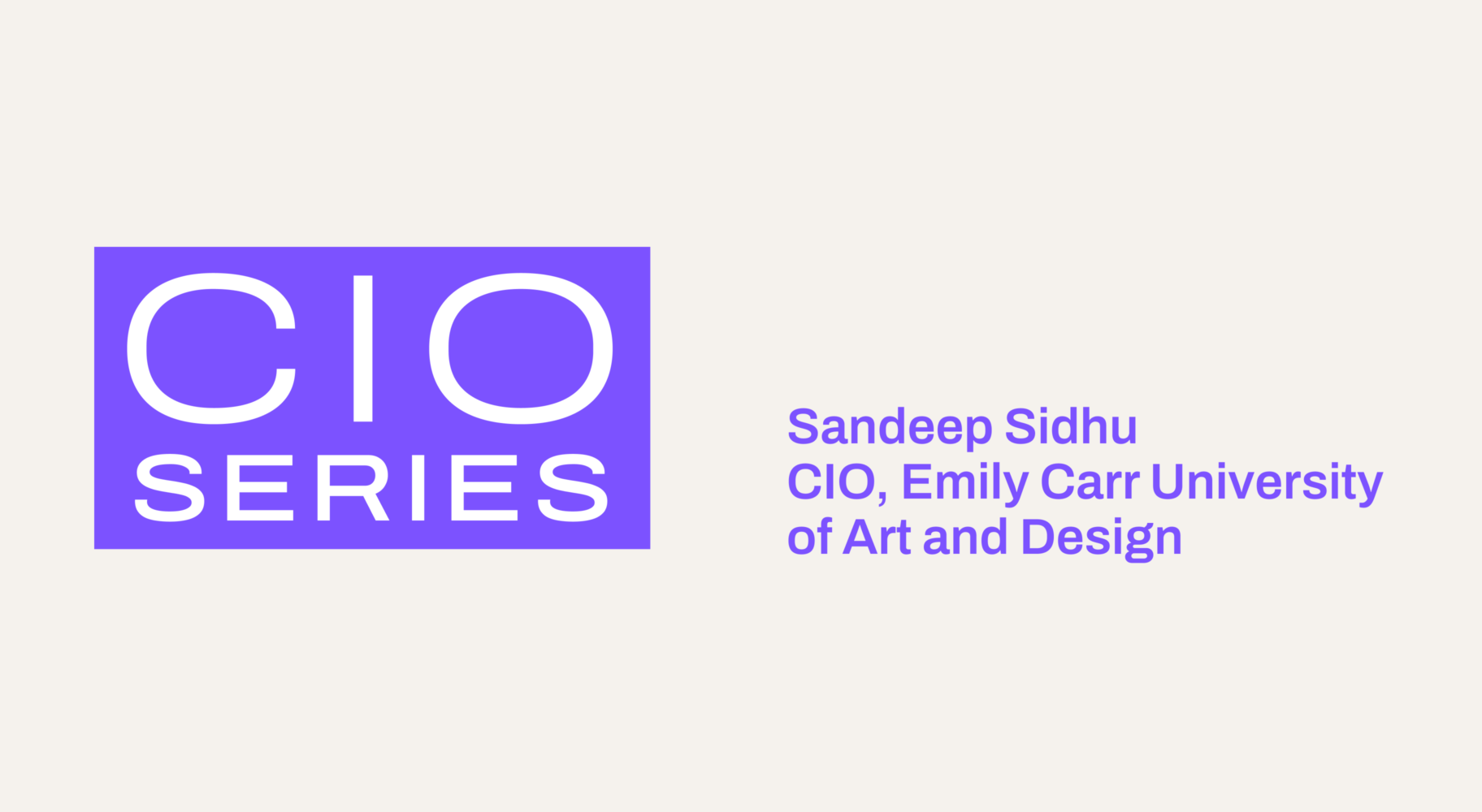 Aligning the Information Technology Services (IT) department with the rest of an institution requires creating a digital strategy that supports an organization's strategic goals. That's exactly what Sandeep Sidhu aims to do as Chief Information Officer (CIO) of Emily Carr University in Vancouver, Canada.
By focusing her time not just on the technology but on building important relationships, she's able to ensure that the technology plan for the school directly impacts and supports the business strategy of the institution. "I take pride in fostering close connections with the Executive Leadership team and partnering with them to solve business problems, which involves business process transformation and not just technology enhancement," she says. "And I think that's the right focus to have."
Here's what Sidhu is keeping in mind—and who she's collaborating with—while building out the university's long-term digital strategy.
The "three lenses" of stakeholders
In order to make a digital plan that's viable and meets the expectations of all stakeholders, Sidhu knows that as CIO she must understand the varied audiences she's serving. "Starting with students, instructors, and staff—these are the three lenses," she says.
Being able to categorize the audiences creates a clear pathway to understanding their needs. Then comes the listening portion.
"We meet with lots of these groups to understand their needs and how our work contributes to their success. We also evaluate the work we've done in the past, what's working, what's not working. This year, we'll continue to evaluate the maturity of our capabilities and skills to ensure it supports the university's direction."
Being a university campus, students are a top priority, and this audience is complex, with varied expectations. "I've been collaborating with Student Services and Academic Affairs to implement initiatives for removing barriers in student success across student lifecycle from prospective to alum," says Sidhu.
These collaborations result in improved and unified student experience at the university level rather than within one department.
The power of data
Following on the theme of an overarching view of digital strategy is Sidhu's perspective on the power of data—specifically, the ethical use of data in higher education. "We have the responsibility to ensure appropriate controls are in place for managing privacy and security in today's very complex digital ecosystem," she says.
"Data is the life blood of our enterprise systems and can be powerful with appropriate access and analytics to help students, instructors and staff make informed decisions," says Sidhu.
"It's so easy to collect data, and use tools and analytics. The question is how do we help our students understand privacy and security implications?"
"It's my belief that this learning will help them better learn about the choices they can make in the ethical use of data," adds Sidhu. The role of a CIO has evolved over the years and requires a level of care and attention in developing more progressive digital policy—not only in terms of the technology chosen and the strategy that upholds it, but in the ethical implications of how it's used.
In her role, Sidhu is also in charge of the Institutional Research and planning portfolio, which puts the IT Services team in a very good position to look at data and technology together. In 2022, our team is working on developing a campus dashboard for various audiences that assists with informed decision making."
This is another area of big-picture overlap that ensures Sidhu can create a strategy that relies on all the possible data to best serve the institutional goals.
Creating a dedicated council for digital transformation
Over the last two decades, technology has moved from a utility to a strategic asset that helps move an institution successfully through digital transformation. That's why Sidhu established a Digital Transformation Council (DTC) at Emily Carr University, which includes student representation, Faculty Deans, Financial Services, Student Services, the IT leadership team, and the privacy team.
This council is tasked to understand the changing digital landscape, university goals, and community expectations, and recommend a prioritized list of initiatives to the President's Executive Committee. These initiatives include a wide range of projects from business process transformation to risk mitigation and operational excellence.
"We strongly believe that governance is not just about control—it's more about value optimization. IT Services is also developing an Enterprise Project Management Office to lead these initiatives. Each initiative is evaluated using three lenses: strategic alignment, feasibility, and risk."
Today, the council that Sidhu spearheaded is a popular community that comes together every month.
Not only is this an excellent way to ensure that her digital plan aligns with the institution's wider strategy, it's also a way to tangibly show how a digital strategy goes beyond a single department—it's a collaborative project that involves multiple university teams working together productively.
"Having worked in various sectors, including at a large research university in my previous role, those experiences have been very valuable, and are a big reason why I spent my first year at Emily Carr U learning, listening, and understanding the university culture, stakeholder needs and expectations. Context is everything," she says.
By creating a space that actively involves stakeholders from both inside and outside the IT team, Sidhu is exemplifying how a CIO can build a holistic digital plan to help a university grow, collaboratively and sustainably, over the long term.
✨ Get the CIO Playbook
Along with interviews from 11 other leading CIOs across different industries!