Back to Blog
How does Legal Aid Ontario provide aid to clients in need?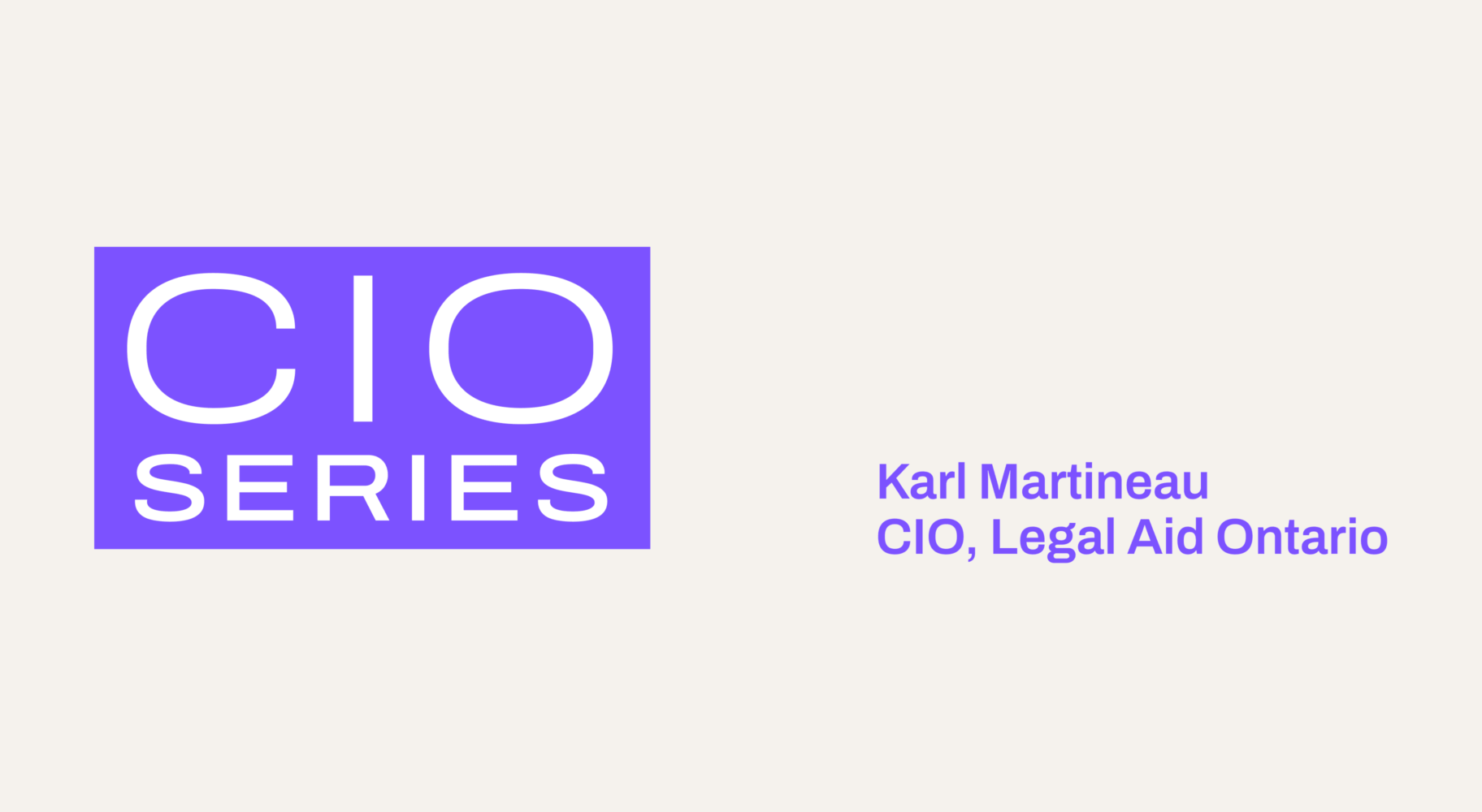 Being the CIO of Legal Aid Ontario means that Karl Martineau deals with ensuring Legal Aid Ontario's social justice advocates are able to deliver responsive legal services to clients every day. Legal Aid Ontario provides legal services to Ontarians in the areas of family law, refugee law, and criminal law for anyone who meets the eligibility criteria. Because these services are in high demand for Ontarians in need, LAO provides approximately 800,000 legal assists a year.
They provide support over the phone through their contact centers, through community legal clinics, as well as offer support within the courthouses through staff lawyers and over 4,000 private bar lawyers who provide legal services to clients. LAO supports a portal with multiple service channels where clients can go through their own self-eligibility testing. LAO uses client centric design at the core of providing clients, technology enabled legal supports and services.
Because of the nature of the information Legal Aid Ontario provides and receives, Martineau needs to keep security and compliance, accessibility, and system modernization top of mind for the organization.
Here are three secrets to success that Martineau and his teams use to streamline information and make free legal services more accessible to Ontarians in need.
Enabling executive teams to move quickly
The legal field can move slowly sometimes, so being empowered to modernize the organization into something more responsive makes all the difference in being able to help more people in more ways. Martineau and his team knew that in order to be more accessible they needed to provide greater self-access to their services. They launched a mobile app for eligibility self-assessment, as well as a client portal. Then the pandemic created new challenges like the need for secure digital signature capabilities, and more online interactive support.
In short, they needed quicker solutions to meet evolving business needs.
"Creating a more responsive organization through our cloud strategy and including our agile development approach helps us do things quicker within the organization without increasing risks," says Martineau.
"The real strength we have as an organization is that our executives have really supported the technology." Part of his role as CIO involves presenting the benefits of these kinds of changes, but having an executive team that's willing to listen helps meaningful changes actually come to fruition. "Because of the privacy and security concerns, I work very closely with our general counsel office, including the executives, to ensure what we're doing has all the required governance around privacy, data, and making sure that the business is comfortable with the solution." But having a team that understands the merits of tech has made all the difference.
"Over the years our CEO and executive have embraced technology and they've put a lot of effort into really helping us plan ahead."
Using vendors to stay nimble
Having support from above is one thing, but a solid IT team should also proactively have a plan to ensure that operations remain smooth and strategic.
"Our organization is very project-oriented. If you read through the strategic corporate plan you'll see it's very business focused, and the way IT is aligned is really business-driven," says Martineau.
"What that means is that our organization knows that for the technology to support all these client needs, and to ensure our systems are secure and highly available, our staff are always maintaining their skills in order to support new technologies."
That mandate served the team well over the pandemic, as employees were already fully capable of working securely from anywhere. "With the courts that went totally virtual, we had to ask ourselves how we could ensure that our staff have the tools to continue to provide that support."
Having a strong investment in new technology from the start, and one that continually improves and innovates, enabled Legal Aid Ontario to stay ahead of the curve during the pandemic. They were able to communicate digitally when it became the anchor point of providing services and doing business. "Having a team already up on the newest technologies was really an important part of how we managed to be responsive during the pandemic," he says. "It wasn't really unplanned. We were already on that trajectory."
Having a strong team is one part of the equation, but Martineau knows that the other side is leveraging vendors in order to accelerate initiatives. "Obviously, as a public agency, there are processes we have to abide by when it comes to procurement," says Martineau. "It's not strategic for us to implement a new technology where we would expect our staff to do all that heavy lifting for weeks in a lot of instances, as they must ensure the enterprise is supported for the client's needs. That's been part of our success."
Embracing innovation in a traditional sector
Being able to make the legal system more accessible and usable for different people requires foresight. As cultures and systems change, so too does the technology that supports those elements. Looking to the future and what innovative technologies can bring to the Legal Aid world has helped keep Martineau and his team on the cutting edge.
"Initiatives related to Oracle and Microsoft technologies are helping us to enable online secure chat. We're really seeing the cloud as a strategic piece of that, because it allows us to be secure, expand, and be responsive to the business needs," says Martineau.
Part of that expansion includes even further exploration into technologies like machine learning and AI. The use of AI in the legal field is expanding based on industry adoption, as the technology promises increased efficiency in processes like document review, and case analysis. Martineau and his team see the potential of this technology, especially when it comes to more effectively helping to automate processes with a lawyer in the loop for increasing client services per year.

"For our organization, we've been doing research and development, utilizing the local universities to look at machine learning, and what it would look like if we had decision-support tools that provide the next best legal support for our clients without bypassing our lawyers," he says.
"The way we see it is the way to improve and automate decision support tools is definitely with machine learning and AI, including blockchain. AI and blockchain are going to help add additional services, which, being tamper-proof, allow you to integrate with third parties to orchestrate a service and measure outcomes and quality of the service."
It all comes back to creating responsive solutions, and the legal world for clients in need can benefit from responsive solutions. Fortunately, Karl Martineau and his team at Legal Aid Ontario are highly skilled and passionate about using the best of what technology and innovation have to offer in order to help those most in need.
✨ Get the CIO Playbook
Along with interviews from 11 other leading CIOs across different industries!