Back to Blog
How this CIO is enabling compassionate tech at CUNY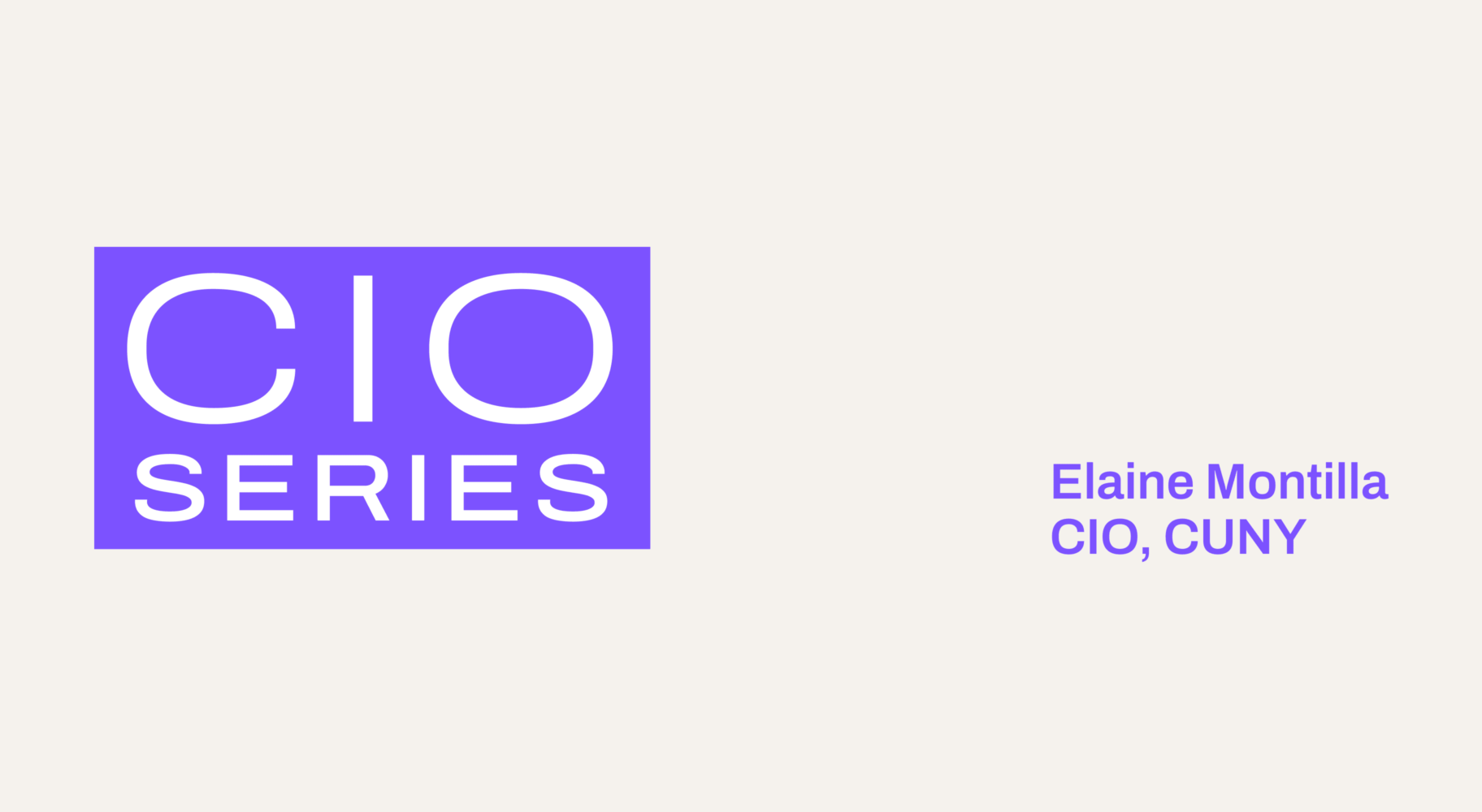 The City University of New York is the largest urban university system in the United States, and as such, it has diverse technological needs. Elaine Montilla is the Assistant Vice President for Information Technology and CIO of the Graduate Center, one of over 25 institutions under the CUNY umbrella. In her role, Montilla oversees its IT department, and the eight unit managers who work with her.
After working in tech for over 20 years, Montilla, who identifies as queer and Latinx, is able to apply different lenses to the systems she's facilitating in order to create tech environments that truly serve the communities she's working with.
Here are three areas in the overlap between higher education and technology where she's placing her focus.
Students and faculty with a voice
A big part of what makes Montilla successful is that she understands the importance of listening to multiple perspectives. Much of her week is spent taking meetings with the decision-makers and users that ultimately benefit from the IT decisions she makes. Aligning with the goals of the institution is always top of mind, and these fact-finding missions keep her one step ahead.
"I have direct input from the provost and the president of the university—we meet weekly," she says. "I'm able to hear what's going on overall and make decisions not only on what's happening around that table, but what's happening with the university and how else can we help them."
On top of meeting with higher-ups, Montilla applies that same rigor across the board with the departments she serves. "I call it 'IT Assessments' where we meet with every head of department," she says. "I gather a lot of feedback—one department might be using a system the other two don't know they have access to—so it helps inform those conversations."
But what makes her unique is that she ensures she listens up and down the ladder—the student voice is just as important as the president's. "I don't think every department does this, but I make sure that my leadership, all of my directors, meet with the student government and we bring them updates," says Montilla.
That two-way communication means that everyone's needs are met and that those with large stakes in the way technology is implemented at the school feel heard. Montilla maintains an open door policy for this reason, and makes sure to keep up with ever-changing team members to establish consistency.
"We tell them what we're doing, what's working, and we listen to them," she says. "And that actually informs the projects that we are presenting for the following fiscal year. I think that as a CIO and as leaders in IT we need to do a better job at listening."
The hybird future
When the pandemic hit, institutions leapt into action to create virtual-first environments. Where Montilla is focused now is making sure all that planning and infrastructure doesn't go to waste now that higher education is returning to hybrid or even in-person.

"I want to make sure that when the pandemic is over, we don't just go back to what we had before," she says. "I'm hoping that we can take advantage of some of the technology we've enabled today and see how we can continue to use them moving forward."

Applying short-term and long-range planning to all the areas she oversees ensures minimal wasted resources, and the most effective use of time. Because of her ongoing communication about institutional goals, she's able to best shift those resources where they need to go.
"One of the university's short term goals is to increase the number of high flex classrooms that we have on campus," she says. "So what my team has been working on is deploying portable video conferencing units instead of transforming the classroom, to increase engagement, and enable hybrid and distance learning while delivering a high-quality synchronous learning environment. We have units that can be deployed when needed instead of just having the classroom change 100%."
The expectations related to remote connection have presented some challenges, of course—speed and team resourcing being two of them. "For years as CIOs we've been dreaming about this digital transformation and convincing people this is where we need to go and then COVID happened overnight," she says. "People's expectations are very high and a lot of us don't have the staff we need to take care of things as fast as the requests are coming in. How fast people want us to deliver on things can harm the delivery itself."
Shifting into the hybrid future of higher education means thinking outside the box and making use of all the remote technology institutions have acquired over the last two years, on timelines that support expert delivery. "I know there is a need for in-person classes, but maybe we can do both," she says. "Maybe we can think about how to use both. That's one of my priorities."

Evening the playing field in technology
Montilla is persistent about adding value to the institution with everything she and her team do. One significant way she does this is by advocating for more minority representation in the field of IT.
"Every time I would go to a conference, women would come up to me and say, 'You are a CIO? I can't believe it. And you're Latina and you're gay? Where did you come from?'," says Montilla. "Even when I was asked to speak at panels I would notice that I was usually the only woman. I just thought that was unacceptable."
So she made it her mission to get more women in tech. She founded 5xMinority, a brand dedicated to empowering women and minorities in tech. The momentum only grew. "It wasn't until I delivered my TEDx talk a few years ago that everything actually changed and people started contacting me asking me to speak," she says. "I decided that I needed to use my voice and make sure that I can advocate for people that sometimes seem invisible."
That kind of dedication to diversifying the tech space only results in more thoughtful innovation, and exemplifies Montilla's human-centered approach to IT.
"COVID showed us what compassionate leadership is and why we need it," she says. "I want to be part of that."
✨ Get the CIO Playbook
Along with interviews from 11 other leading CIOs across different industries!