Back to Blog
DePauw University's CIO on taking a people-first approach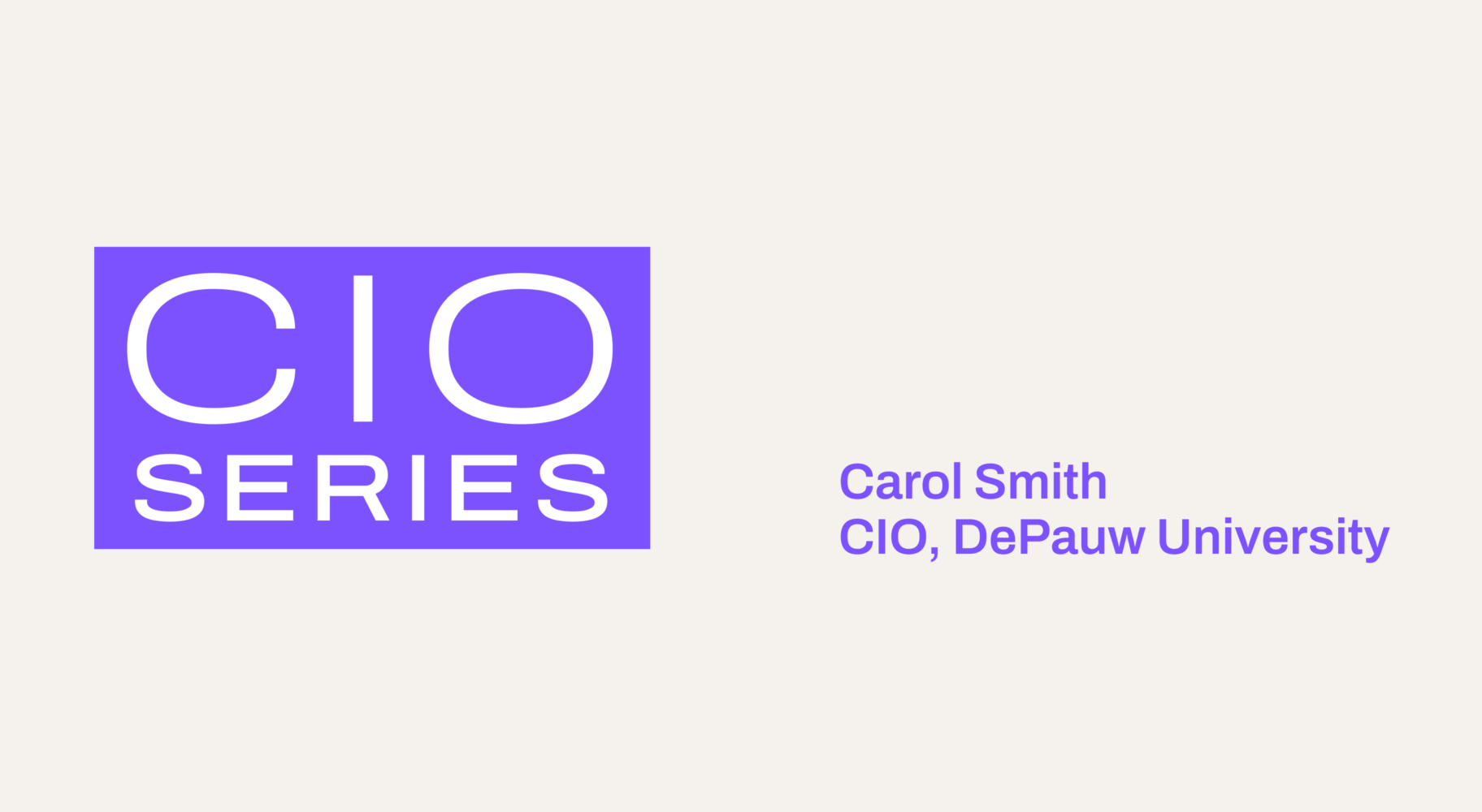 Carol Smith has been working with DePauw University, a small private liberal arts college in Indiana, since 1994. She started out in the instructional technology program, getting faculty up to speed on the technology they needed to teach their classes. This foundation is the perfect example of the type of environment she's created at DePauw now as CIO.
"We call ourselves Information Services rather than IT, because I think IT is about 'the stuff' and information services is about the people," says Smith.
Her team of 24 covers all the basics to support over 1,900 undergraduate students, as well as faculty and staff: everything from infrastructure, network, user services, help desk and support, and instructional technology to administrative systems and helping with admissions and recruiting through data analysis.
That people-centric approach means that Smith is always thinking of the big picture about connecting people with the technology they need to help them achieve their goals. "I find the people who thrive in higher education and in technology are those who are drawn in through their curiosity," she says. "And being able to connect with others and see that big picture of how it all fits together."
Here are some of the tenets she follows to keep the school's information flowing, and making sure everyone has what they need.
Create trust with students
Students come first in higher education, and this generation of students' techno-fluency is incredibly high. For Smith, listening to their needs is one way to ensure her team provides what students are looking for.
"They press us because they come in with the expectations from their perspective and that keeps all of us on our toes," she says. "Because we're student-centric, it enables us to think differently and continue to evolve in ways that maybe some organizations outside of higher education without quite that impetus do not."
Having a knowledgeable audience, like young students, also means that backend issues like the importance of security is even more top of mind for Smith.
"It's not about the data, it's about the people. People trust a higher education institution. There's a lot of information we manage and we want to be certain it's protected. We don't want to lose that trust."

Much like any other organization, in order to create a culture of trust in higher education, it's essential that all faculty and staff have both a similar knowledge base and the ability to get support when they need it. "It's about developing the campus workforce to have more technology fluency—finding a way to level everybody up so that they've got this foundational skill set with the technology they need," says Smith. "Maybe some people wouldn't think about the technology department doing that, but I think it's a critical part of providing a much better experience for our students."

Organized data makes for better policy
As the information services department, Smith and her team have access to all the data that can help the institution run more smoothly—a responsibility she takes seriously. "The data network obviously is the sort of underpinning of it all," says Smith. "That's one of those areas where no one notices it's there, unless there's a problem."
Managing the data so that others can access and use it is another way Smith puts people first in her CIO decision-making process. "It's our role to connect the data together: what's the system of record, where's the mothership for every piece of data that we should have, and then making sure that we're synchronizing that correctly with the other systems," she says.
When a student logs into a portal to register for classes or check a schedule, that information should be there—and it should be accurate. The registrar should have all the same information as the faculty teaching that class. It's all connected, and it impacts the day-to-day experience on campus for students, staff, or faculty members.
"We're all thinking a lot about the fabric of the data that we have at our institution and constantly making our best effort to create a consistent set of data that the institution and offices can use for analytics, analysis, and making decisions."

It's a mindset with a long-term and holistic view—after all, in higher education, an IT organization provides informational services to students from the day they apply to the institution, throughout their years on campus to graduation, and beyond as lifelong alumni. The information that Smith's team helps to organize and protect in that time can make all the difference in ensuring a great experience.
Collaborate with others
With such a collaborative approach, it's no surprise that Smith finds value in connecting with other IT leaders to collaborate on solutions for her campus. She also serves on the board of the nonprofit association EDUCAUSE, a community of technology, academic, industry, and campus leaders advancing higher education through the use of IT.
"It's such an honor, and it's also such a great opportunity at that level to be able to engage with colleagues from all sectors of higher education," she says. "In technology, people in higher education are very collaborative across schools."

Being able to share issues, learn about how schools of all sizes are handling common problems, or even collaborate across institutions through consortia can bring big ideas to even the smallest of teams.
"When I came to DePauw, I was struck by how much collaboration and communication happens between technology teams at other schools. And I realized pretty quickly that we couldn't do it alone," says Smith. "Collaboration is instrumental for us to be able to do our jobs well and serve our institutions."
Smith and her team are proof that IT teams at universities and colleges can focus on the experience of the people using the technology too, while still building effective and efficient systems for an institution. A lot of that comes from a place of teaching and being willing to learn. "How do you run an institution? How do you create a space where employees are thriving and are enabled to do their best work?" asks Smith.
"All of that ultimately enables us to have a strong workforce that's talented and that can build the best experience for our students."
✨ Get the CIO Playbook
Along with interviews from 11 other leading CIOs across different industries!