Back to Blog
We won? Oh wow! Celebrating our Channel partner awards from 2021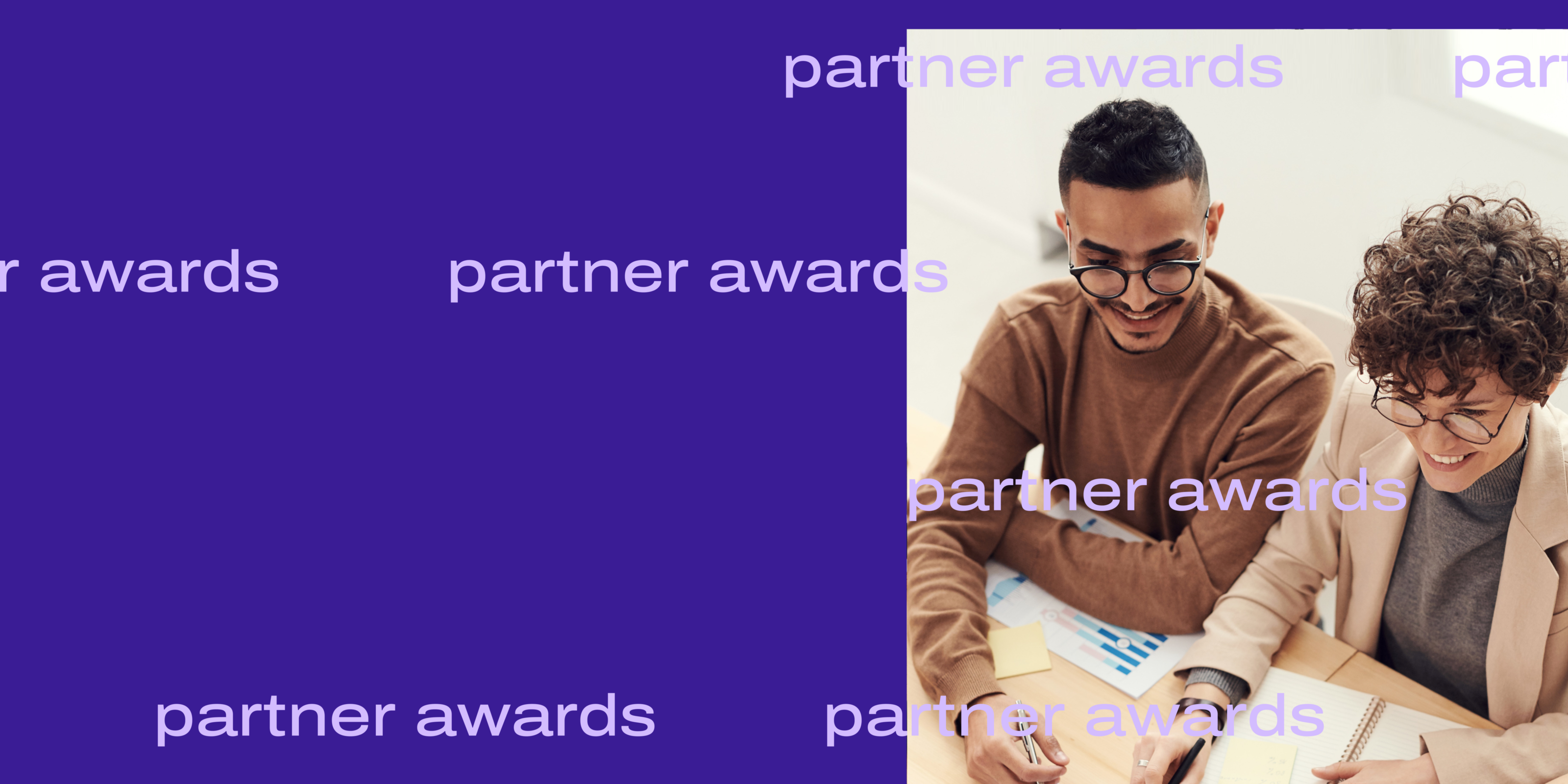 It's that time of year again: The time when businesses are recognized for their successes throughout the year with awards and accolades. And while the satisfaction of our partners and their customers is what matters most to us, well, we can be pretty proud of the awards we've earned too.
That's why we're thrilled to share that Dialpad has won several new awards this year from the Channel community. So, if you'll permit us a moment to brag, let's take a look at a few of our most recent wins, and what they say about our Channel program and how Dialpad helps our partners win more deals.

They like us—they really like us!
This year, two (count 'em—two!) Master Agents announced awards for Dialpad.

TCG Partners Choice
First, at TCG's annual conference, Dialpad won the "Partners Choice" award. This wasn't a case of one or two judges making a decision for all the partners—this came from a partner-wide vote TCG held. Out of all the vendors, the majority of their partners chose us, and frankly, we're still in shock but feeling the love.
Big thanks to Dialpad's John Habermann and the rest of the team, for all their hard work at building this partnership for us!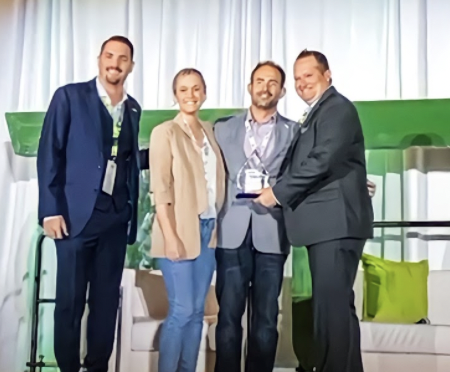 Telarus Coin of Excellence
Our second win comes compliments of Telarus, a premier technology services distributor. Their "Coin of Excellence" is awarded to individuals who display (as the name suggests) excellence in their work and company's products.
Winners of the Coin of Excellence are members of the channel community who go above and beyond. They're the ones who deliver incredible partner experiences, across departments and geographies, and embody the idea of "excellence" at their jobs.
This year, Ryan Taylor, a Dialpad Channel Manager, was awarded the Coin of Excellence, and we couldn't be prouder of him. Telarus' announcement highlights how "His technical expertise, coupled with his knowledge of the channel, has proven vital in supporting our Canadian partnership growth."
Way to go, Ryan!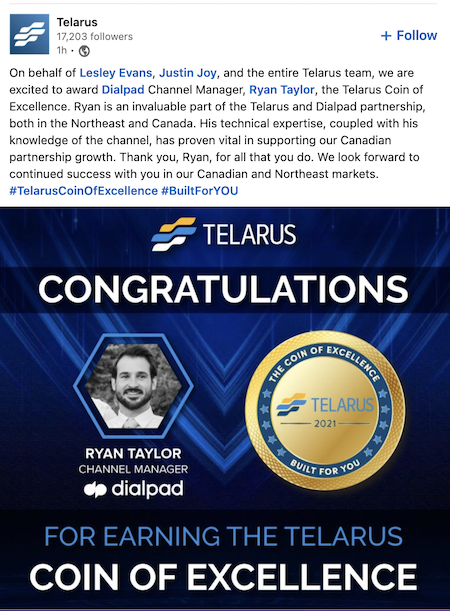 But wait, there's more
In addition to those awards from Master Agents, Dialpad has plenty more wins to share:
Ally Murtlow, our Director of National Channel Sales, won AVANT's Hustle Award for Top National Channel Person during its Special Forces event thanks to her focus on curating and dedicating high-touch support for channel partners.

Dialpad's own Mike Kane, VP of Global Channel Sales, won Allbound's Channel Chief of the Year award in recognition of all the work he's done building Dialpad's channel team and helping "educate, advocate, and inspire [companies] to adopt the channel model."

Dialpad also won Allbound's Most Innovative Partner Program award! Voters chose us because "The Dialpad Partner Success Portal includes more resources and tools to help resellers and agent partners grow their unified communications-as-a-service (UCaaS), contact center, and collaboration businesses."

Faith Sizto, Dialpad's Senior Manager of Partner Marketing, was placed in CRN's Women of the Channel list for 2021, stating "As a critical partner to the channel sales team, Faith is a pivotal driver in the team's overall success with data-driven metrics and goals, thoughtful and innovative strategies, and a hustler mindset towards execution."
Channel partners around the world
If you want to bring Dialpad's award-winning solutions and service to your customers, the best way to do it is by joining our Channel program. We're always welcoming new partners from around the world, as demand for cloud-based communications continues to rise everywhere from Canada to Australia:
"Within the past year, Dialpad channel growth has been represented in several ways including global expansion, a rapid increase of new partners and growing participation from Dialpad's existing partner base. The Dialpad international partner base in Europe, Australia and New Zealand (ANZ) has grown dramatically in 2021 with a 208% increase year-over-year on international bookings and the channel team is consistently welcoming new active partners."
In fact, our growth in Australia has been nothing short of remarkable. Earlier in 2021, we added three new leaders to the Australia go-to-market (GTM) team: Roger Rivera, Niall Madden, and Cheyenne Egelton. Between their decades of combined experience, they've helped Dialpad grow and thrive in the land down under.
And we haven't forgotten our neighbors to the north. When Telarus awarded Ryan the Coin of Excellence, it was for his work in the Northeast and Canada. Our Canadian partnerships have continued to grow, from Ontario to Yukon, with no signs of slowing. On top of that, our Dialpad for Good program supports over 80 startups in Canada, providing them with the communications solutions they need to get that competitive edge and grow.

What about contact centers?
Got customers in need of a contact center solution? We've got you covered. According to our friends at AVANT, 32% of IT decision makers are looking to adopt additional CCaaS tech in 2022, so there's still plenty of growth to go. Now's an excellent time to get in on that expanding market, and there's no better way to do it than by joining Dialpad as a Channel partner.
While winning awards is great, what matters more is what they signify: that we've managed to not only satisfy, but exceed the expectations of our Channel partners and helped drive growth around the world. If you want to join our partners and see what Dialpad can bring to your customers, sign up now and start 2022 strong.
Want to see why channel partners love us?
Get started with a free trial today! It takes just a few minutes to get started, and you'll be set up with a virtual business number too.