Back to Blog
Bringing Business Intelligence to your contact center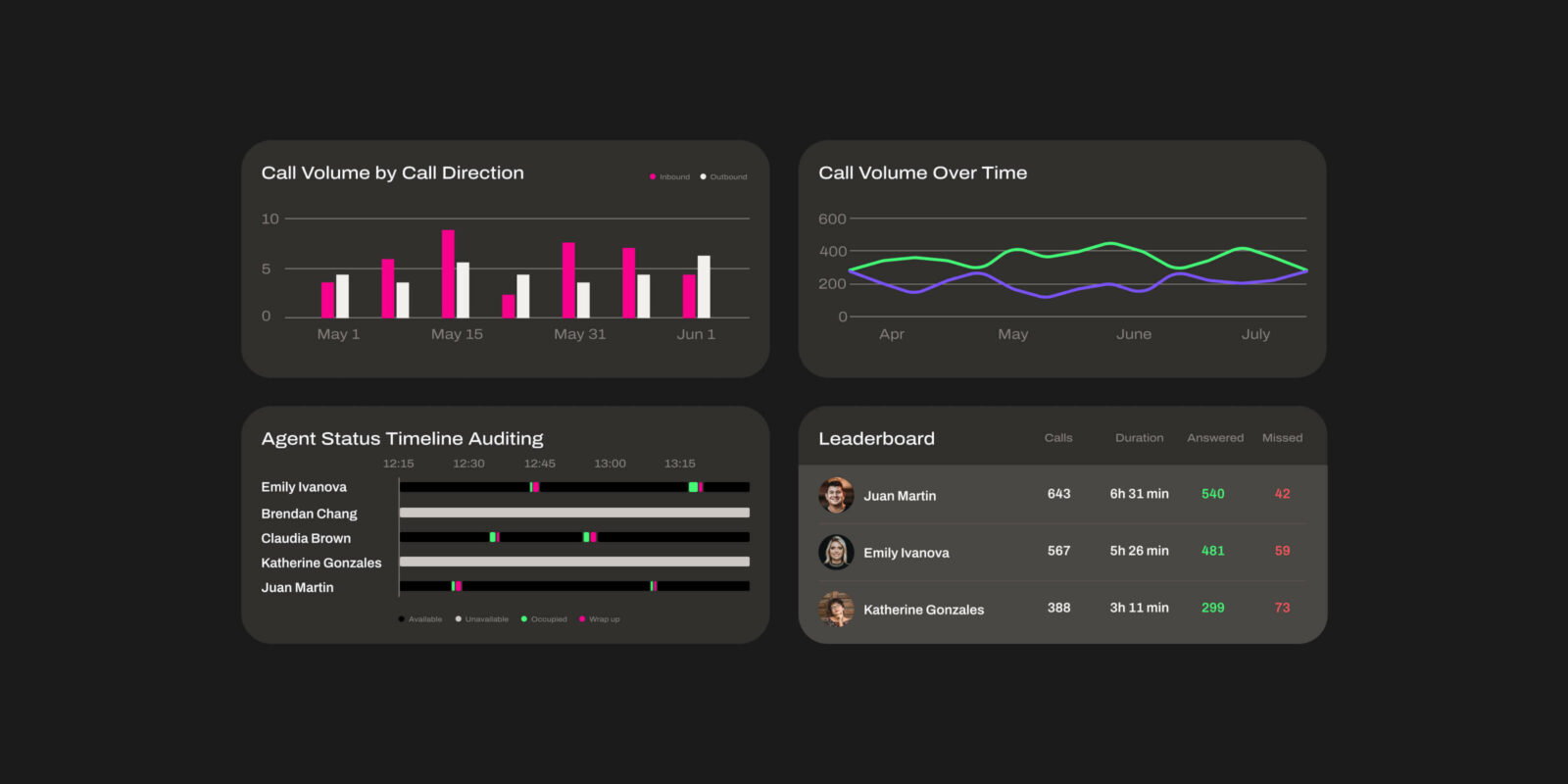 No matter how big or small your business is, no matter what industry you're in, one thing remains consistent: contact center managers want to know how their centers are working.
That means they need data. Specifically, they need tailored reports that show them their contact center operations, customer interactions, and communications. If they can analyze that data and coherent reports, then make improvements based off of them, they'll be positioned for success.
This includes data on:
Wait times

Call queues

Where your customers are coming from

What makes agents succeed
If your business is customer-facing, that's even more important! After all, you need to create those positive customer experiences if you want to last. In fact, according to the August 2022 CCW Market Study, 90% of contact center managers expect analytics demand to grow (especially from the executive suite), but 50% still don't have the analytics insights they need.

The challenge businesses face (third parties won't cut it)
Getting all that information is easier said than done. Contact centers create a lot (and we mean a lot) of information. Oftentimes, that data needs to be sorted, analyzed, and replicated by hand. That's an expensive and time-consuming process—at least several hours per report!
So businesses often port their data into a third-party analytics tool, and leave it all to a team outside the contact center... Except that means they're at the mercy of the third party's schedule. Even then, they can't create custom reports, and will generally have to jump through hoops whenever they need something new.
That creates a problem: how can businesses gather the data, analyze it, sort it, and create reports for anything they need, when they need it?
They'd need something built right into their contact center. Something like…

Dialpad Business Intelligence
Dialpad is always striving to make work quicker and more convenient for our customers, and that doesn't stop when the call is over. That's why we're proud to introduce Dialpad BI (Business Intelligence)! Dialpad BI brings you the robustness and power of a full-featured Business Intelligence tool, and draws upon your Dialpad data to create customized reports with the metrics and data you want:


Imagine: a single pane of glass where you can create custom reports on the fly, right from your contact center. All your data, reporting, and visual assets are in one place—no need for third party tools or delays.
Well, that's exactly what we aimed to make with Dialpad BI. There are 13+ report templates you can use and insert your data into, or you can make custom reports based on your needs. These reports can include:
Call metrics (both historical and in real-time)

Agent status metrics

Reports on individual contact centers or all the contact centers in your organization

20+ different ways to visualize your data, including bar charts, line charts, heat maps, and data tables

Reports based on hourly, weekly, or monthly increments—or even five-minute increments

Custom rules for exporting data
What can you get from Dialpad BI?
Well, for starters: customized reports! (But you knew that by now.)
And that's really just the beginning.
Dialpad BI gives you more power to analyze your data. After all, these are your contact centers and your metrics—you should be able to access and analyze it however you want. All the while, you're saving time, because Dialpad is producing the reports as you need them:


This also gives you new ways to view your data. This includes data aggregation, the ability to filter and sort data as needed, and custom calculation options so you can get the specifics you're looking for.
It starts with a pre-built report template library, which includes all the common data analysis tasks our customers use. These templates can also be used as a starting point to build more customized reports.
Additionally, you can distribute reports throughout your organization, so everyone is in the loop.
The result? Precise reports that save time on repetitive manual labor and waiting for analytics teams outside your organization—and no more having to pull reports from third-party tools. You can send reports to your contact center managers automatically, complete with reliable and timely insights to help with decision making:


With that data, you can make sure your contact center is moving as it should, or identify anomalies as soon as they emerge with real-time metrics. Or, if you prefer, use historical metrics to go back in time and see what happened days, months, or even years ago.
It's your data. You should be able to access it, analyze it, and view it as you need. Now, with Dialpad BI, you can.

Get a demo of Dialpad Ai Contact Center
See Business Intelligence in action!