Back to Blog
Ai Playbooks: An automated way to give your sales reps live guidance on calls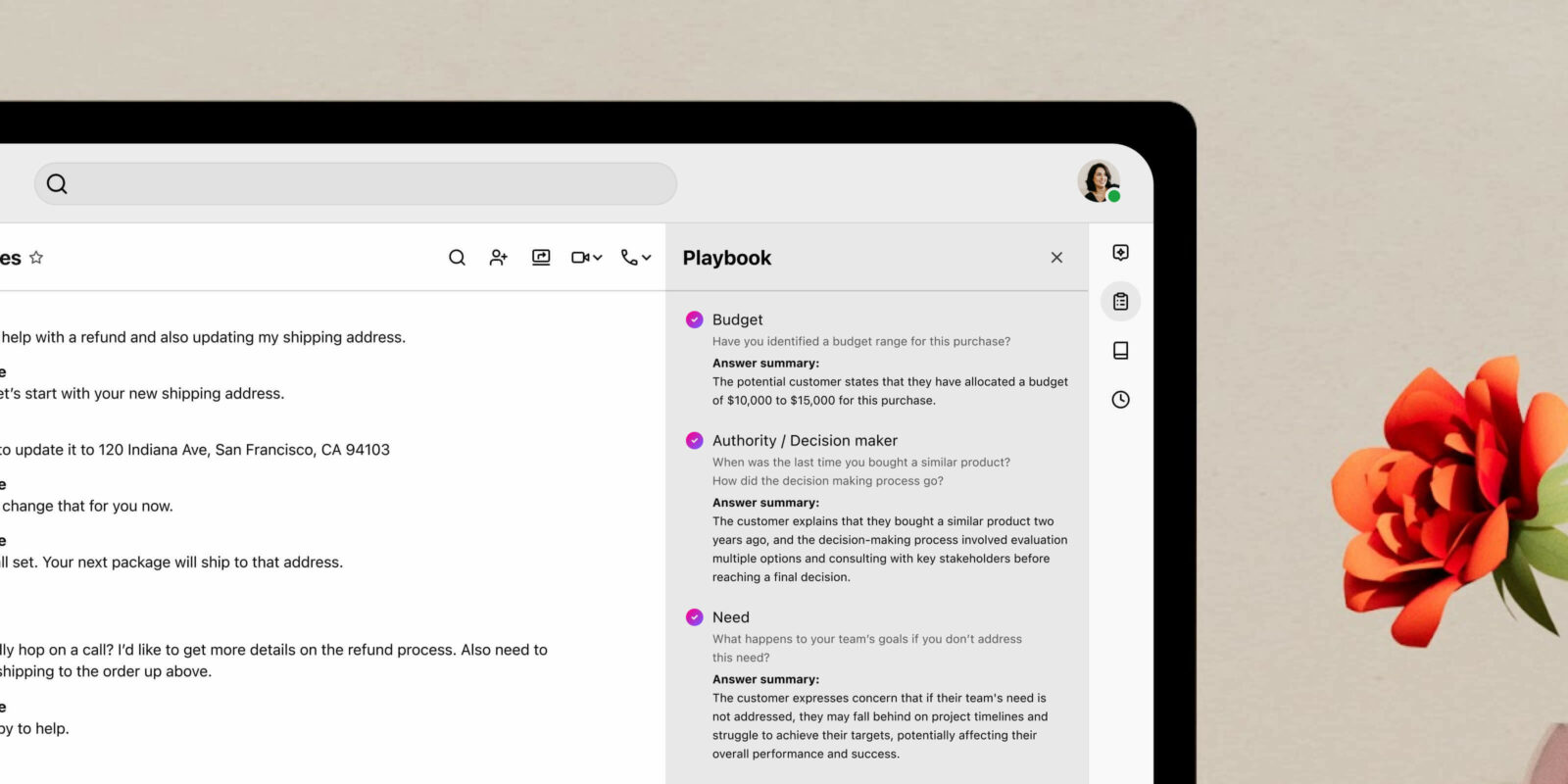 Sales managers are busy. On any given day, they have to define standard processes for reps to follow on calls, monitor the actual conversations themselves, make sure reps are adhering to compliance requirements—and more.
The problem: managers can't reasonably monitor every single call, which means many of them are probably in a constant state of worry that reps aren't following guidelines or processes.
Well, worry no longer.
With Dialpad's Ai Playbooks, which leverages our real-time speech recognition technology and generative AI capabilities to offer suggested questions and check off on-call tasks as they are completed, sales leaders can now ensure consistent behavior from their teams. And more importantly, they can do this at scale.
Ai Playbooks: What are they?
With Dialpad's Ai Playbooks, sales leaders now have a dynamic tool that supports their teams' processes by tracking agent adherence to specific requirements.
For example, you could have an Ai Playbook based on a sales methodology (like BANT, SPIN, or SPICED) that tracks rep adherence during live sales calls and also in post-sales call reviews.


How Ai Playbooks work
There are several components that make up a Dialpad Ai Playbook:
1. Playbook templates
To start, just choose a playbook template from one of the templates that are available as a default in Dialpad.
You'll notice that Dialpad already comes with Ai Playbooks based on BANT, SPIN, and SPICED to help sales teams speed up adoption.
Of course, you'll also be able to edit and create your own Ai Playbook templates that align to the unique needs of your team or business.
2. Ai-based adherence
When a rep uses an Ai Playbook-recommended phrase or question, Dialpad's generative Ai and speech recognition capabilities will understand that the behavior was met and check the item off the playbook's list.
(This also helps speed up QA review for managers in post-call reviews.)
3. Live playbook guidance
Sales reps can see the Ai Playbook in real-time as they interact with prospects and customers, which will help ensure they hit all the mandatory tasks, questions, and any scripted items that are expected of them.
4. Post-call coaching & support
Coaches, managers, and leaders can easily see which reps are following or not following Ai Playbook behaviors to better understand who needs additional coaching and for which specific steps that are outlined.
Dialpad's analytics and dashboards provide a detailed view of Ai Playbook adherence over time to show leaders, managers, and sales reps their improvement in specific skills.

Who should use Ai Playbooks?
Sales leaders
Business leaders can use Ai Playbooks to make sure their sales teams are providing a consistent customer experience, and build their own company- or industry-specific playbooks to align departments to expectations and organizational KPIs.
Sales managers
Reps' direct managers can use Ai Playbooks to streamline coaching and speed up ramp times by providing consistent guidelines for ongoing training and QA.
They can also do both real-time and post-call analysis more easily, verify that playbook guidelines have been followed, and quickly identify coaching opportunities.
Sales reps
Reps are able to ramp quickly by viewing their playbook on live calls, with instant guidance into the questions to ask and best practices/behaviors to follow.
Reps can focus on key aspects of the sales process in real-time to stay aligned with the sales methodology and proven practices.
Ai Playbooks provide reps consistent expectations to follow to avoid confusion and utilize best practices and proven sales methodologies/scripts.
Dialpad Ai automatically checks off the playbook behaviors to show their managers that they are adhering to best practices, or identify areas of improvement for better coaching and skill building.
Coaches and managers can use Ai Playbooks as a helpful coaching tool to show reps what they should have done to align with best practices and improve results.
How to start using Dialpad Ai Playbooks
Contact your Dialpad sales rep to add Ai Playbooks to your Dialpad Ai Sales account today! Or, book a demo of Dialpad's AI-powered sales engagement platform with our team to see how Ai Playbooks can help improve your topline revenue.

See how it works
Book a personal walkthrough of Dialpad's Ai Playbooks with our team, or take a self-guided interactive tour of the app first!