Products
Ai Voice

Ai Messaging

Ai Meetings

Ai Contact Center
Overview
DataGrail is the privacy platform modern brands rely on to build customer trust and transparency. We untangle the complexity of data privacy and help brands build privacy programs that work, giving them an easy-to-use platform to automate and scale privacy, and stay compliant with regulations like GDPR, CCPA, and CPRA.
DataGrail is the only privacy platform that provides continuous system detection, delivering an automated inventory of your data assets. DataGrail's integration with Dialpad supports the accurate, worry-free data mapping you need to meet compliance.

Key Features:
Request Manager

Request Manager fulfills Do Not Sell (DNS), access, and deletion requests. Automate data subject requests for the GDPR, CCPA, and CPRA. Working with Dialpad, DataGrail's proprietary identity verification improves the consumer experience, and streamlines the internal process.

Preference Card

DataGrail allows synchronizing preferences across all systems to improve the consumer experience.

Consent Management

Obtain, manage, and document cookie consent for visitors to your website or native app to meet compliance with GDPR, CCPA, and more.
How Dialpad Integrates with this App:
The DataGrail integration is available as a CTI on the DataGrail environment.

How to setup
Connect Dialpad
Head to the DataGrail Portal (window should be open in a separate tab).
Click Connect within the Integration page for Dialpad.
Click Connect Dialpad.
Please review and accept the following permissions that are required to perform access and deletion requests:

users
userdevices
transcripts
offices
departments
contacts
conference
company
callcenters
app

After confirming DataGrail application access permission you will be redirected back to DataGrail Portal.
If there are additional Dialpad accounts to integrate follow these instructions:

Click Edit Connection within the Integration page for Dialpad.
From the drop-down, select +Add New Connection.
Under Connection Name, enter a new name to identify this separate account (ex: Dialpad Training Account).
Click Connect.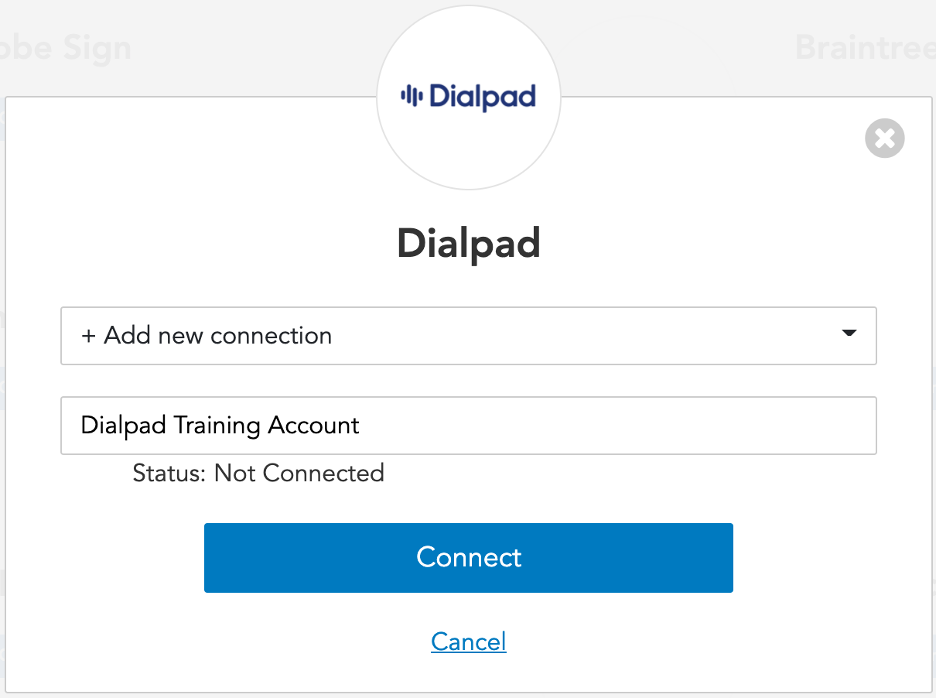 In the DataGrail Portal, if you have any other integrations not connected (no green check mark) please click Connect to complete the configuration and reference the Help Docs link for instructions.
Please email us at DataGrail at [email protected] with any issues or questions regarding your integrations!

Additional info
More information is available here: